We're half way through 2021! It's time to take stock, adjust course as required. Here is a simple framework for #leadershipreflection.
The Thrive Global Community welcomes voices from many spheres on our open platform. We publish pieces as written by outside contributors with a wide range of opinions, which don't necessarily reflect our own. Community stories are not commissioned by our editorial team and must meet our guidelines prior to being published.
We're half way through the year! It's time to take stock, adjust course as required. Here is a simple framework for leadership reflection.
It is based on my meta model of Great Leadership Principles: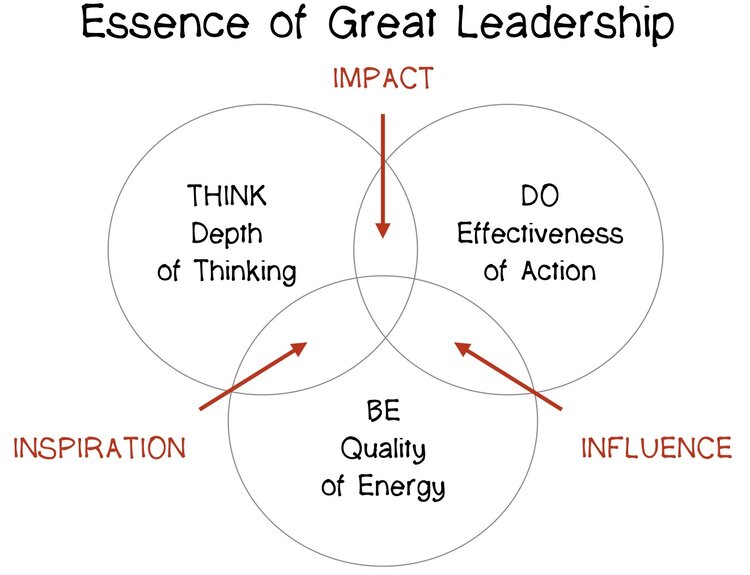 Reflection is an essential leadership practice
BE: Quality of Energy
To take stock, I always start with Energy. If this is sluggish, the entire system is weak. Here are the reflection questions around energy:
Energy: Overall, how was my energy day to day? How would I describe it? How would I rate it on a scale of 1-10?
Habits: What habits did I track? How successful was I in sticking to my commitments to these? What got in the way? What worked? What needs to change? What change to my environment can I make to encourage consistent better choices? (e.g. to focus on drinking more water I have my water bottle on my desk, top off, ready for drinking)
Commitments: Have my choices added energy to my experience or detracted from it? What are energy boosters? What are energy drainers? What do I need to add? What do I need to scale back or ditch?
Leadership effectiveness needs solid thinking
THINK: Depth of thinking
I love to work with leaders on depth of thinking. Helping leaders see in layers and systems is crucial for being able to make wise and compassionate decisions.
Learning: What new insights have I gained for my leadership practice? What experiments did I run? What were the results? How have I applied those insights?
Reading: What books have I read that helped me to develop new insights and strategies? Who did I share these with? How have I applied what I learned?
Self knowledge: What have I learned about myself? Who did I ask for feedback? What insights were useful for me? What aspect of myself do I wish to develop more of? Which aspects do I want to let go of? Where can I be more kind to myself?
What we actually do determines our leadership effectiveness
DO: Effectiveness of Action
This is where the rubber hits the road. Did we actually get the results we intended?
Results: What were my measures of success? How am I tracking against these? Were my expectations reasonable? What do I need to adjust?
Inputs: Where am I focusing my attention each day? What distractions are getting in my way of performing better? Is there anything I should be delegating? What do I need to STOP doing? START doing? KEEP doing?
Outcomes: What am I proud of? How am I better now than six months ago? A year ago? Who have I helped? How? What am I grateful for? What's fabulous about where I am, right now?
If you have any other reflection questions that you love, please share them!
*** 
Related Articles:
Mid-Year leadership reflection questions
Perspective: an essential leadership principle
A leadership framework for personal and organisational resilience
***
Zoë Routh is a leadership mentor and speaker. English-born, Canadian-raised, Australian-adopted, Outdoor Adventurist and Experiential Educator, Truth Teller, Learner, Cancer Dancer, One-Time Belly Dancer, Aspiring Telemark Skiier, Slayer of Dragons, Mother of Chickens.
From the wild rivers of northern Ontario to the remote regions of Australia, Zoe has spent the last thirty years showing people how to work better together.
She is obsessed with assisting leaders to be truth-tellers and stand strong with their own voice. Her programs in truth-telling with leaders and teams develop robust relationships and assist in navigating uncertain change. Her high impact leadership learning adventures take place indoors and outdoors in spectacular settings.
With over 30 years experience developing leaders, she has published three books: Composure: How Centered Leaders Make the Biggest Impact, Moments: Leadership when it matters most, and Loyalty: Stop unwanted staff turnover, boost engagement, and create lifelong advocates.
Share your comments below. Please read our commenting guidelines before posting. If you have a concern about a comment, report it here.