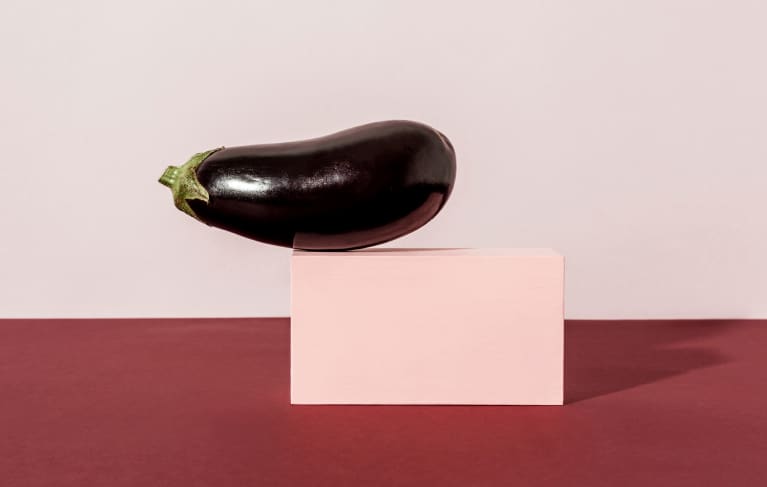 Our editors have independently chosen the products listed on this page. If you purchase something mentioned in this article, we may earn a small commission.
Here's the thing: there's a lot of hacks out there for finding the best produce (like picking the perfect watermelon based on the "yellow belly"). But one I hadn't heard before is that you should be picking your eggplant based on its gender—so of course, I had to investigate.
After coming across this tip in a cookbook, and again on a few blogs, I had to dive into the research to see if it's legit. Here's what I found:
Are there really male and female eggplants?
According to the Farmer's Almanac, there is a difference between male and female eggplants, and here's what they look for: "To differentiate between male and female eggplants, inspect the flower end," the site says. "The male has a small, round, smooth end; the female has an irregular, less smooth end." Additionally, "male eggplants have fewer seeds," they write, "and are less likely to be bitter."
Though I was prepared to accept the Farmer's Almanac version of reality, I kept looking and discovered that it's one of very few places that corroborates the story of the gendered eggplant.
In a post on the University of Washington's Botanic Garden website, they share a quote from nutrition educator Mary Keith, who says there's no truth to the rumor: "There are not 'male' or 'female' eggplants," she explains, "They all come from the female organs of the flower."
The likely root (pun intended) of the gendered eggplant myth, however, may tie back to the fact that flowers do have different portions that are often labeled "male" or "female." It seems there's no conclusive reason to base your eggplant selection on it's supposed gender.
So how can you pick the perfect eggplant? By following a few simple guidelines, that leave far less up to guess work.
How to pick the perfect eggplant.
Though you can feel free to follow the guide of the alleged male vs. female eggplant to find the least bitter option, there's other ways to pick the perfect eggplant. There's a few basic things to look for, a few of which may seem intuitive.
Look for smooth, blemish free, maybe even (naturally) shiny skin.
Give it a squeeze: fruit that's firm, but not too hard, is ideal. It should give some, but spring back quickly, not stay indentented.
Reach for smaller fruit. Apparently, the seed area that can make eggplant bitter is more present in larger ones (regardless of their non-existent gender).
Like all fruits and veggies, try to cook eggplant when it's in season (they peak between July and October).
https://www.mindbodygreen.com/articles/how-to-pick-eggplants