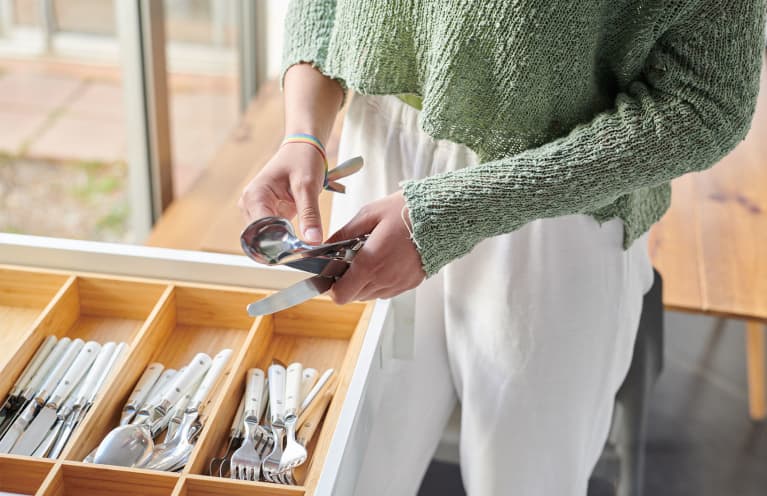 Rarely is forgiveness an easy action to take. This is largely because it usually centers on some form of hurt or wrongdoing. Often, we think of forgiveness in terms of an extension of grace that we give to others, people we care for enough to allow them another opportunity or a chance at redemption.
Because of our emotional nature, it can be hard to extend such a generous offering of compassion to others. And surprisingly, it can be even more difficult to extend it to ourselves.
Why forgiveness is essential to decluttering.
The overwhelming emotions that you encounter as part of acknowledging that you have more than you need may not wait until you are done with taking inventory. They can emerge at any time, rushing over you in waves, threatening to bring you to your knees. In those moments, it may be difficult to think about forgiveness, let alone extend it to yourself. But you have to. It's the only way you can move forward in your journey to live with less in a healthy way.
If you find it difficult to begin the process of forgiveness, I invite you to use the following reflection to begin this important work.
Although I am a firm believer in the power of speaking words aloud and into existence, forgiveness is a personal matter, so feel free to honor this process in whatever way works best for you, such as writing letters of forgiveness in a journal or holding the forgiveness in your heart. The lesson here is not how to forgive but rather to commit to the actual act of releasing any feelings and emotions that may keep you bound to your past.
A prompt to practice self-forgiveness:
As I commit to my journey to live with less, I acknowledge that I have more than I need and forgive myself for the choices that have led to my excess. I also forgive others who have, knowingly or unknowingly, contributed to my behaviors and spending habits, and I release any and all negativity that I may be harboring as a result of their influence. I have a right to experience everything that I am feeling. So, I allow myself to acknowledge these feelings, but I refuse to let them hold me captive and bound to my past. As I continue to do the work to live with less, whenever I feel negative emotions, I will acknowledge them. And then, I will release them. And I will repeat this process as many times and as often as necessary. Because I am worthy of and capable of forgiveness.
And with this extension of grace to myself and others comes the power to move forward in confidence with my decision to become a more mindful, intentional consumer. I commit to doing so not only for myself but also for the people and community I love. Now I move forward with renewed purpose and gratitude for the gift of forgiveness.
Now that you have acknowledged that you have more than you need and are committed to the beautiful and important work of forgiveness, you have finally reached the mile marker on your journey I know that you've been waiting for: It's time to let go of what no longer serves you, to make space for what does.
For people of the African diaspora and other marginalized communities, the complexities of our history and family dynamics can easily lead to us blaming others for behaviors and spending habits that have contributed to our excess. Therefore, it is important that your forgiveness extend to your caregivers and your community as well.
Extend grace to anyone who helped raise you and understand that they may have been doing the best they could under the circumstances, whether it was due to lack of education, resources, or guidance. Practicing forgiveness is an opportunity for you to acknowledge these challenges and complexities…and to make a decision to do things differently going forward. And not just for yourself but for your descendants and community as well. Consider these words by Indigenous writer Tommy Orange as part of this process:
"What we are is what our ancestors did. How they survived. We are the memories we don't remember, which live in us, which we feel, which make us sing and dance and pray the way we do, feelings from memories that flare and bloom unexpectedly in our lives like blood through a blanket from a wound made by a bullet fired by a man shooting us in the back for our hair, for our heads, for our bounty, or just to get rid of us." —Tommy Orange, There There
As you work through the many extensions of forgiveness that you may have to give to family members and friends, remember many choices and beliefs are remnants of what our ancestors had to do to survive. So, forgive. And commit to making different choices to benefit our community, individually and collectively.
Let's recap the forgiveness process:
Forgiveness is an act of redemption and grace that we extend to ourselves and others who may have knowingly or unknowingly contributed to our lives of excess.
Forgiveness is an opportunity to release any and all negative emotions that are the result of acknowledging that we have more than we need.
Forgiveness is a gift, a way to free ourselves from the harmful behaviors of our past so that we can move forward with renewed hope and confidence on the journey to live with less.
https://www.mindbodygreen.com/articles/why-practicing-self-forgiveness-is-essential-to-decluttering