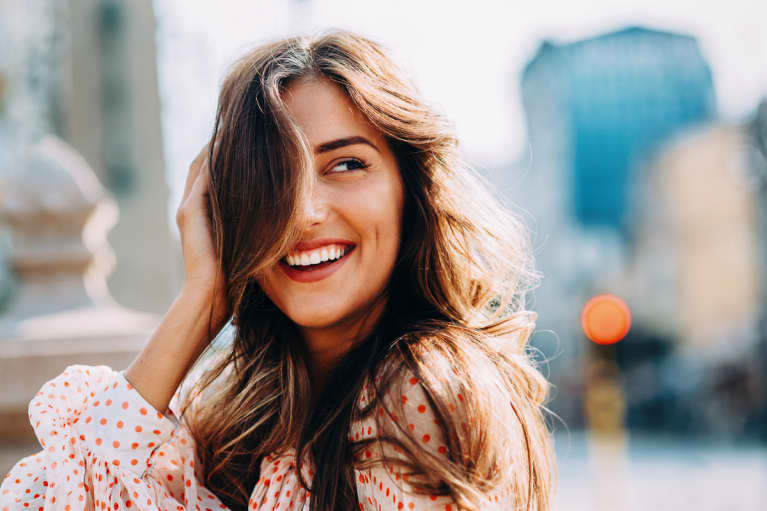 October 25, 2021 — 9:02 AM
Hair care isn't an exact science: We all have unique qualities to our strands that influence the products, routines, and styling tips we utilize. Not to mention, it's pretty fluid: What we do to achieve a desired result or look will change almost daily! That's why hair is so fun to experiment with—you never know what new trend will end up being a home run for you. Or (gasp) a total disaster.  
And New York City–based hairstylist Matt Newman has become something of TikTok's favorite guinea pig to test all those trends out. If you scroll through his social media channels, you'll see him play with claw clip hacks, detangling buns, and so much more. 
Well, he's on the most recent episode of our podcast Clean Beauty School, where he shared all his best hair care routine tips, some product recommendations, and what viral trend he's been trying lately. 
The heatless curl headwrap.
The trend du jour: getting a heatless, bouncy "blowout" while you sleep. Using a long circular piece of fabric, like a rolled-up microfiber towel, people are wrapping their hair around it in sections—with the end result looking something like a halo of hair. (Having a hard time visualizing this? Here's an example.) For some hair types, the results are nothing short of flowing, soft curl perfection. 
But not all hair types: "If you have anything more than a minor wave or any amount of texture, these aren't going to work for you," he says, noting there might be some outliers who can manage—but for the most part anyone with type 2 to type 4 hair should skip this trend. "It's just not going to give you that same effect that you see in those videos of people with straight hair." 
Overnight purple shampoo.
Purple shampoo is a very popular at-home toning product that has been recommended by the pros for a while (check out our favorites), and recently it made the rounds on social media. Essentially, the purple pigments can color-correct unwanted undertones, such as yellow in blond hair. And they're stellar products for anyone who colors their hair who wants to lessen yellow hues. 
However—there's always a "however" in the world of social media!—recently people have started using them as overnight treatments. Yes, people are wearing shampoo while they sleep. "It doesn't matter if you use sulfate or non-sulfate shampoos; the ingredients in shampoo should not be on your hair overnight," he says. "We don't need surfactants and ingredients in our shampoos on our strands for eight hours at a time—that is so drying." 
But as for shampoo's hydrating and nurturing sibling, a purple conditioner? Go right ahead. "I have no problems with someone wanting to sleep in a purple conditioner," he says. "The problem is most people don't know those exist! They only know about shampoos, so that's what they use."   
Blending serums & dry shampoos.
Dry shampoo questions come aplenty—like how often you can use it, which are the best, and what it does to the scalp. One that Newman gets all the time? What do you do if you accidentally go overboard? 
Well, his trick was one of his first to go viral: "If you put on too much, just tap on a bit of clear serum—it will cut through the white cast right away," he says. Sure, he notes that this is just adding more product, but "sometimes you gotta clean up the oil and then add a bit more to get it exactly where you want it." 
https://www.mindbodygreen.com/articles/social-media-hair-trends-and-if-they-really-work