There's a new documentary from Neutrogena that's going viral (more than 7 million views on YouTube), and for good reason: Skin health is finally being recognized as a *super* important part of overall health. Through personal stories of skin cancer survivors, the film opens eyes to some aspects of melanoma—one of the most common types of skin cancer—that you likely never knew. And while many of these hard facts are enough to change your behavior for the better around sun protection, the moral of the story is the best message of all: Ninety percent of melanoma cases are preventable, and there are lots of ways to keep your skin healthy and happy in the sun this summer. Here, the biggest lessons you can learn about skin health from watching the doc, and most importantly, how to shield your skin each and every day.
You need to wear sunscreen year-round.
Come sunny days, overcast skies, or even wintry weather, UV rays do not discriminate. In fact, 80% of the sun's rays can pass through clouds and reflect off surfaces like water, sand, snow, or pavement, which increases the amount of UV radiation you receive, according to the Skin Cancer Foundation. What's more, UVA rays can also penetrate windows—i.e., the car, the office, your living room. So, exposed skin should be protected with a broad-spectrum (meaning, it shields against UVA and UVB rays) SPF 30 or higher year-round, not just in the summertime or at the beach or pool. And if you need another incentive: According to the Skin Cancer Foundation, daily sunscreen use can cut the incidence of melanoma in half. For your face, try Neutrogena Ultra Sheer Face Mist Sunscreen Broad Spectrum SPF 55. The invisible, lightweight formula dries to the touch and imparts an oil-free finish that won't leave your complexion greasy, so it's ideal for everyday use under makeup and super easy to reapply on the go.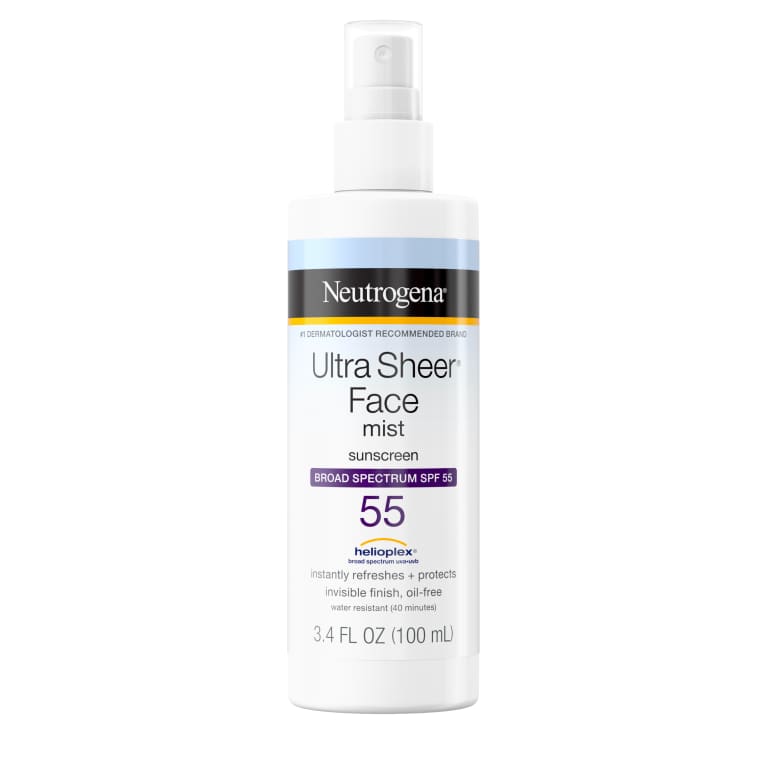 Skin cancer can crop up in areas where the sun doesn't shine.
Melanoma can develop anywhere on the body–even places that don't see the light of day, like the palms of your hands, your fingernail beds, the soles of the feet, between your toes, inside your mouth, etc. And that's because sun exposure is not the only factor that increases your chances of developing skin cancer. About 10% of melanomas are caused by a gene mutation, or change, that passes from one generation to the next, according to research published in the Journal of the American Academy of Dermatology. And out of those 10%, studies show, the majority of people who develop skin cancer in areas that aren't commonly exposed to the sun are those with darker skin, so it's important to check yourself regularly (for tips on self-checks, visit skinselfexam.com).
People of color are also susceptible to skin cancer.
While skin cancer is less prevalent in people of color than among the white population, contrary to popular belief, people of color are not immune to melanoma just because they have darker skin. And in fact, when skin cancer occurs in people with melanated skin, research shows it's often found at a more advanced stage, and the prognosis is worse compared with white patients. Scientists believe this could be due to a lack of awareness about skin cancer as well as barriers to care.
Melanoma can affect children.
When you think about people who have skin cancer, chances are, you picture the elderly or those who've had years of sun exposure. And though relatively uncommon, kids can get melanoma. The Melanoma Research Foundation reports about 500 children in the U.S. are diagnosed with melanoma each year. In fact, rates have been rising 2% a year since the early 1970s, a study in Pediatrics found. While the risk of developing skin cancer for children is (thankfully) low, it's most important to note that studies show the younger you are, the more dangerous sun exposure is because it can contribute to melanoma later in life. Having five or more blistering sunburns between ages 15 to 20 increases the risk for developing melanoma by 80%, according to a study in Cancer Epidemiol Biomarkers Prevention. 
There are more cases of skin cancer than all other cancers combined.
Skin cancer is no joke. One in five Americans will get skin cancer by age 70, and, in the past decade, the number of new invasive melanoma cases diagnosed annually has increased by 44%, according to the Skin Cancer Foundation. While the statistics are alarming, when melanoma is caught early, not only is it highly treatable (the dermatologist will remove the malignant area along with a bit of normal skin, according to the AAD), but the five-year survival rate for patients is about 99%, reports the American Cancer Society. The key is to pay attention to your skin, get an annual skin check, and see your doctor if you find new moles or notice any that have changed in size, color, or shape.
Skin cancer is the most preventable form of cancer.
The good news is, knowing how to protect your skin and practicing sun safety every time you're outdoors can save you from developing skin cancer. Thirty minutes before going out in the sun, apply a broad-spectrum sunscreen of at least SPF 30 from head to toe. And then make sure you reapply it every two hours. The sun's UV rays can damage your skin in as little as 10 minutes depending on your skin type, studies show. A high SPF like Neutrogena Ultra Sheer 70 Spray provides powerful protection, and particularly at the beach or pool. The lightweight formula is oil-free and imparts UVA/UVB protection in a way that's not greasy. Keep in mind, the sun is strongest between 10 a.m. and 2 p.m., so be sure to seek shade during those hours and any time your shadow is shorter than you are, says the American Academy of Dermatology.
Watch the doc, right here.