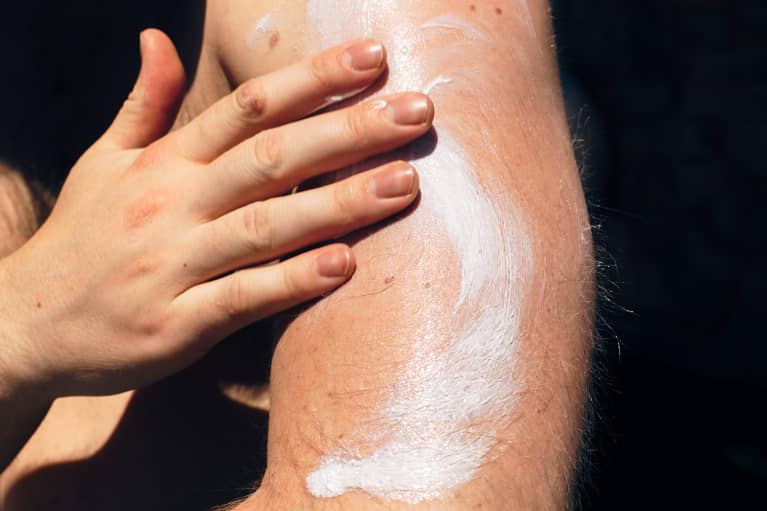 As we inch closer to summer, sunscreen tends to command the beauty conversation—and rightfully so. We know it's important to slather on year-round, but it's even more crucial when you spend more time outside and shed all those layers of winter wear. And plus: A refresher on SPF is always welcome, no? 
The brush-up is especially pertinent this year: After news broke out that actual SPF values were actually lower than what was stamped on the label, even the most dedicated beauty fans were left a little unsure of how to navigate the market. It seems the Environmental Working Group (EWG) came just in time with their 15th annual guide to sunscreens, where they evaluate over 1,800 SPF products for efficacy, ingredients, and application methods—and we've got the cliff notes. 
1.
Seek out products with UVA/UVB balance. 
Both UVA and UVB rays can be harmful to the skin, and a good sunscreen will protect against both. Let's not forget: UVB (which is tied to the SPF value on sunscreen labels) damages the outermost layers of the skin and is associated skin inflammation and sunburns, while UVA rays can penetrate more deeply into the dermal layer and cause free radical damage and oxidative stress by damaging collagen. 
The European Union requires a proportional amount of UVA and UVB protection on sunscreen labels, with all sunscreens offering UVA protection at least one-third as potent as the SPF. (Example: If a label boasts SPF 30, the UVA protection must be at least 10.) And according to the EWG, the United States simply misses this mark—in fact, a 2017 study tested 20 common U.S. sunscreens and found only 11 met this EU criteria. 
That's not to say there aren't any sunscreens that adequately protect against UVA and UVB rays in the U.S. market—you just have to actively seek them out on your own (catch our recs, below) until more stringent regulations are put into place.
In terms of the types of UVA filters out there, the only FDA-approved ingredients are avobenzone and zinc oxide (and we recommend the latter). Europe includes a few more in that list—namely, Tinosorb S and Tinosorb M, regarding both ingredients as sunscreen-safe in concentrations of up to 10 percent. The EWG urges the FDA to consider these adds, as they appear to be more effective and stable than avobenzone, although more research is needed before the FDA can make the call. 
2.
As we've said before: Be smart about SPF numbers. 
Perhaps one of the hottest beauty debates of late was when a cult-favorite sunscreen was rated at SPF 15.8 and SPF 19.2 in in-vitro and in-vivo tests, respectively, as opposed to the SPF 84.5 like the label claimed. It wasn't the only brand to have radically different test results (Procter & Gamble previously tested an SPF 100 product at five different labs, and the results varied from SPF 37 to SPF 75), but it surely sparked a question among the beauty world: How much can we trust our SPF labels? 
Although, it's not necessarily the brands' fault for these oversights: According to the EWG, the testing methods to determine SPF value are not always accurate. See, the tests performed with UV light in a lab can yield different results than real-world conditions. 
We've also previously discussed the issue of user behavior—if you trust that an SPF 100 will keep you protected, you might not reapply every two hours like you should—and the recent controversy makes it more imperative to diligently slather on, no matter the number stamped on the label. 
3.
Stick to mineral formulas, if you can.
The EWG does have their list of non-mineral formulas, but they do recommend mineral options (with titanium dioxide or zinc oxide), as these are the only sunscreen ingredients regarded as safe—the 12 other common sunscreen ingredients still require additional investigation. 
If you are going to opt for chemical sunscreens, though, do your best to avoid oxybenzone. The common sunscreen ingredient has been shown to absorb through the skin in remarkably large amounts and is a potential endocrine disruptor, which means it could impact hormone levels and reproduction.
Again, the EWG points across the pond: While the European Commission proposed a concentration limit of 2.2 percent for oxybenzone, sunscreen manufacturers are legally allowed to use the chemical at concentrations up to six percent. Until further regulations are put into place, they recommend steering clear. (Good news: Mineral options aren't too difficult to find and come in the most creamy applications—find our favorites here.) 
4.
Continue to be mindful of sprays. 
More than a quarter of the sunscreens in EWG's guide are in spray form, and they note that sunscreen sprays are seeing a steady increase on the U.S. market. For good reason, of course: Sprays make application, well, a breeze. 
The issue arises, according to the report, with inhalation risks—to date, we just don't know how the nanoparticles affect your lungs when they're accidentally breathed in or consumed, even with non-nano mineral sprays. Further testing is necessary, but again, it's something to be mindful of until we have the research to back it up. 
On the application front, you'll also need to spray it on quite thick to achieve the 1-ounce benchmark (or a shot glass worth, in case you need the visual) and receive adequate protection for your entire body. So while a quick spray or powder trumps in terms of ease, a lotion may fare better in the long-run.
Some of these points may sound familiar, but we're all due for a refresher, right? According to the EWG, we shouldn't wait for the FDA to place more stringent guidelines on sun care—it's up to us to prioritize sun safety. Check out the EWG-approved products below, and gear up for a scorching summer. 
Shop these products: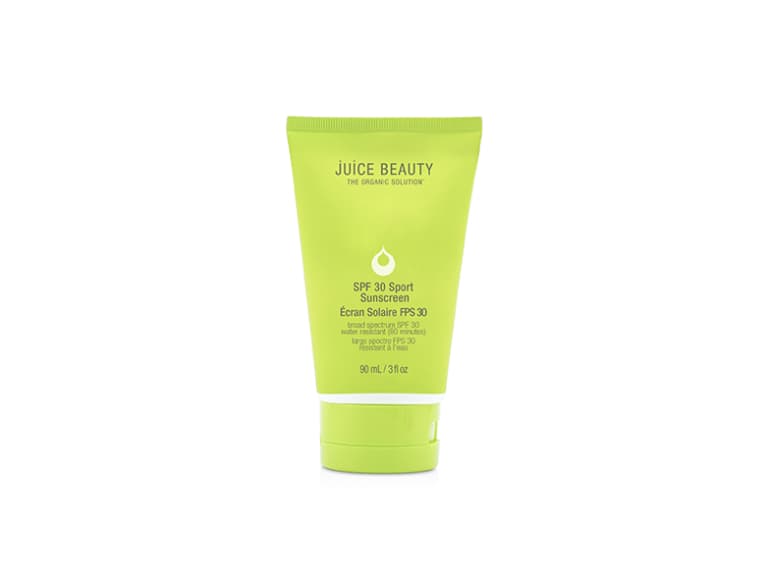 Juice Beauty SPF 30 Sport Sunscreen
Juice Beauty SPF 30 Sport Sunscreen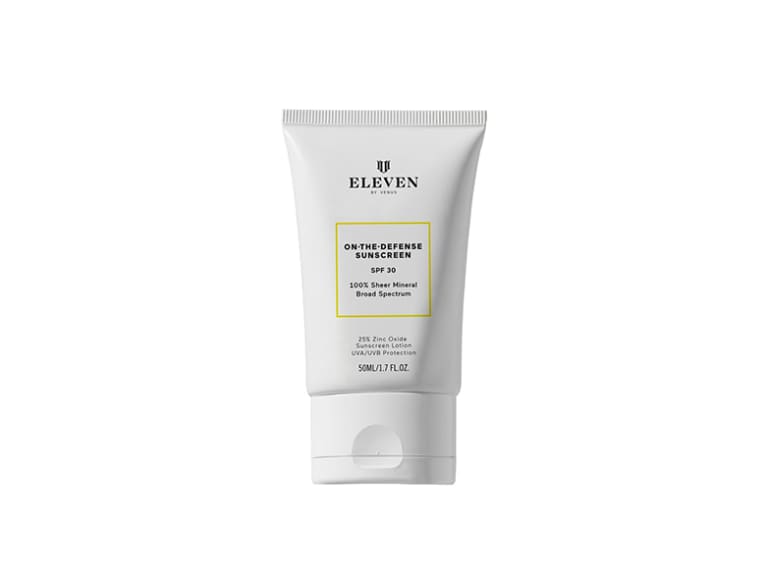 Eleven By Venus Williams On-The-Defense Sunscreen SPF 30
Eleven By Venus Williams On-The-Defense Sunscreen SPF 30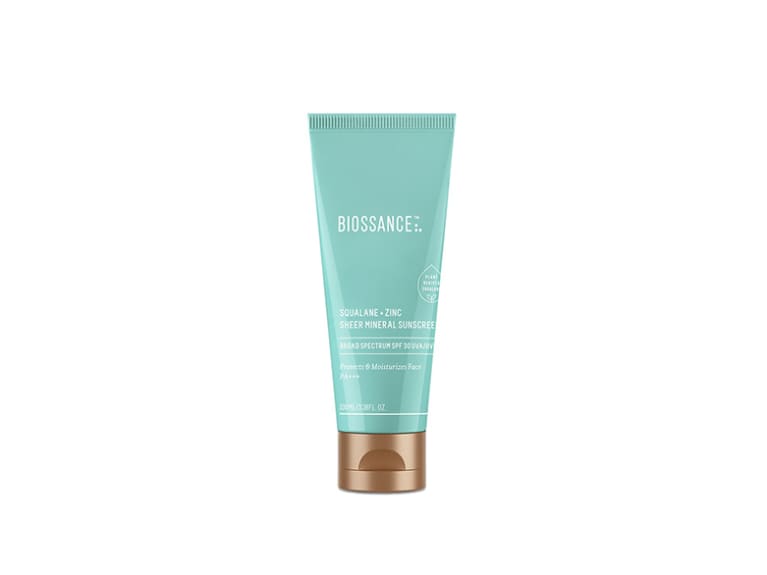 Biossance Squalane + Zinc Sheer Mineral Sunscreen
Biossance Squalane + Zinc Sheer Mineral Sunscreen