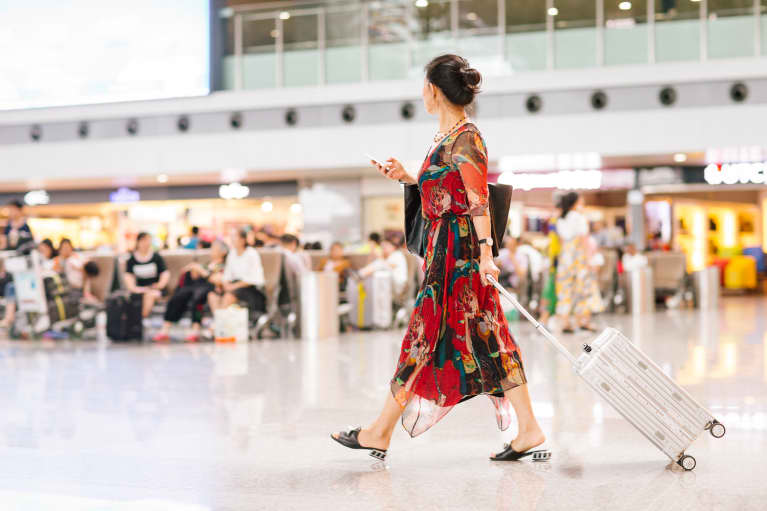 After over a year of canceled plans and missing our far flung friends and family due to the pandemic, people are taking to the skies again. And though we had some pretty good travel cleanliness routines in place back in 2019, we're likely a bit out of practice. Since getting sick is always a risk when on the road (or, more technically, in the air) we thought we'd refresh your memory on one particular spot you might not have thought to wipe down before settling in—but you definitely should be.
The one spot on the plane you might not think to clean
While most of us know well enough to wipe down the seat, seat belt, and tray table (a whopping 2,155 bacterial colony-forming units per square inch tend to reside on that last one), what we might fail to do is look up.
If you're planning to use your air vent, you should definitely be wiping it down before switching it on. According to some data, it actually has more bacterial colony-forming units than even the lavatory flush button. Yikes! And since ventilation is likely on many of our minds lately, there's good reason you'd be reaching for it.
We should say airplanes are, in fact, pretty well ventilated—and turning on your own air vent will probably only help keep air moving, since fresh air is pumped in pretty regularly. That, in combination with masks, hand washing, and social distancing where possible are our best practices for keeping ourselves safe from illness.*
What else can you do to stay healthy while traveling?
Sure, some strategic sanitizing can make a huge difference towards staying healthy, but what else is there that you can do? That will largely come down to healthy habits before and after traveling—the everyday choices you can make to support a healthy and resilient immune system.*
When we spoke with her, integrative family physician Bindiya Gandhi, M.D. told mindbodygreen four of her priorities for supporting immunity as the world re-opens, and luckily they're all pretty easy to adopt. It starts with basics like eating a nutrient rich diet and getting quality sleep, but also includes prioritizing time in the great outdoors and taking targeted supplements for immune support.*
It was with that in mind that mindbodygreen created immune support+, the formula which combines two cutting-edge bioactives called quercetin phytosome and beta-glucan with well known essential nutrients like vitamin C, vitamin D3, and zinc bisglycinate—which together work to help strengthen your body's natural defenses.*
If you are pregnant, breastfeeding, or taking medications, consult with your doctor before starting a supplement routine. It is always optimal to consult with a health care provider when considering what supplements are right for you.
https://www.mindbodygreen.com/articles/most-important-thing-to-clean-on-airplane