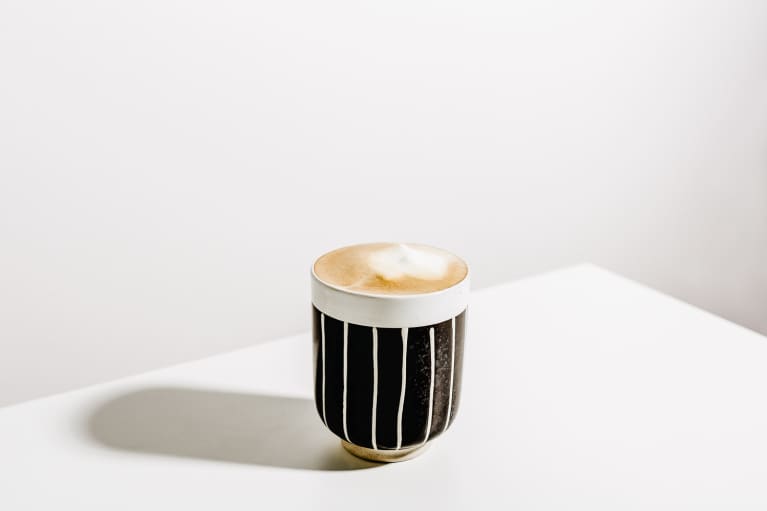 For the years I spent working as a barista, there was one question I seemed to be asked more than any other: "Which drink has the most caffeine?" Look, I get it; oftentimes we venture into a coffee shop for a pick-me-up in the form of a caffeinated treat, so the question is worth asking.
The other form of the question we'd frequently be asked was "Do lattes or Americanos have more caffeine than a classic cup of coffee?" Well, while there is an answer to that question, it's not so straightforward. Here's why:
Espresso vs. drip coffee: Which has more caffeine?
The answer is yes, technically espresso has more caffeine. Brewed using hot water, nine bars of pressure, and a more concentrated ratio of coffee grounds to water, a standard 1-ounce espresso does have more caffeine than 1 ounce of brewed coffee would. (Find our ranking of other caffeinated drinks here.)
The actual numbers? According to the U.S. Department of Agriculture nutrition data, 1 ounce of brewed espresso has just about 63 milligrams (mg) of caffeine, while the same source says that an ounce of standard brewed coffee has about 12 mg of caffeine. But what that doesn't account for is serving size—after all, while you might have a single shot of espresso, you're hardly sitting and drinking a single ounce of brewed coffee.
What does that actually mean for the different cups of coffee?
A small coffee at the majority of U.S. cafes is usually around 12 ounces. When you compare the caffeine in that 12-oz. cup of drip to the caffeine in the standard shot (or two) used in espresso-based drinks, the information gets even more jumbled.
Based on the above numbers, your standard shot of espresso has around 63 mg of caffeine. In my experience, some cafes use a double shot as the standard—in which case, a latte or Americano would have around 126 mg of caffeine (give or take a bit) in a 12-ounce option. By comparison, a 12-ounce cup of coffee would have around 144 mg of caffeine—so certainly more caffeine, especially if the espresso-based drink starts with a single shot.
Basically, yes: The assumption that espresso is more caffeinated, and therefore will get you more wired, is technically correct. But since you're hardly ever going to drink such a small amount of drip coffee that it would matter—for reference, to have a drip coffee with less caffeine than an espresso, you'd have to drink less than 5 ounces of drip coffee.
Instead, make sure you know how many shots of espresso are going into your drink when you do order that way, and pay close attention to the way your body reacts to your different orders. If you feel like you ought to be cutting back, espresso might actually be a good way to go: Try ordering a single-shot Americano in place of your classic black coffee as a start. You could also try integrative gastroenterologist and mbg Collective member Marvin Singh, M.D.'s solution: caffeine microdosing.
https://www.mindbodygreen.com/articles/caffeine-espresso-vs-drip-coffee