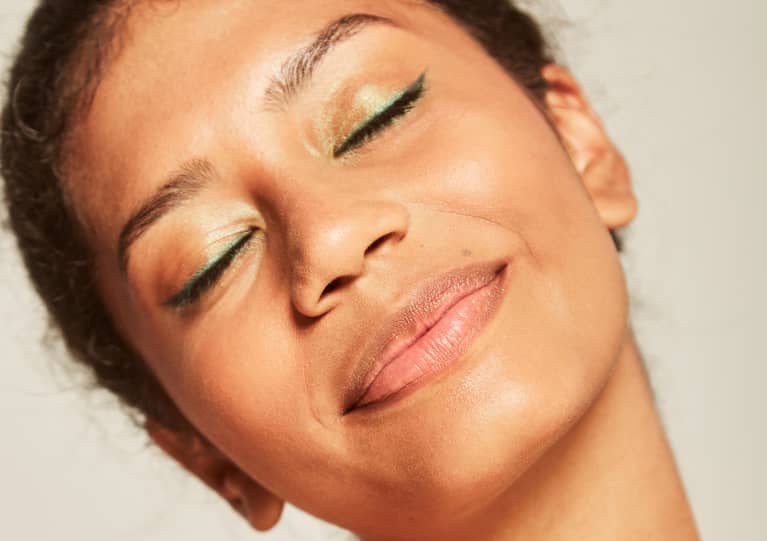 Our editors have independently chosen the products listed on this page. If you purchase something mentioned in this article, we may earn a small commission.
If you have liquid eyeliner on your list of life skills, I'm officially jealous. Please tell me I'm not alone when I say: No matter how steady I try to keep my hand, the line often ends up shaky and uneven (perhaps also why I tend to fail at nail art). Practice makes perfect, I know, but I usually end up just nixing the liner in the name of ease. 
Until, well, now: Recently, I came across a fun hack that helps you nail that perfectly tilted wing without any grief. It's low maintenance (as low maintenance as liner can be, anyway), and the technique can actually make your eyes appear naturally wider. 
Behold, the kitten eye—prepare to fall in love with this lower-lift trick. 
According to celebrity makeup artist Jenna Kristina, think of the kitten eye as a wearable, smaller version of the cat-eye—the liner look's little sister, if you will. A sharp cat-eye is bold, dramatic, and makes a statement; the kitten eye dials it down a notch, with more of an everyday feel—you get the idea. 
Because of its mini size, the kitten eye also requires less precision to get right: "There is less pressure to achieve a perfect line with the kitten eye because you are doing less eyeliner on your lid overall," says Kristina. "It's kept closer to the eye [rather than] dragged across the full eyelid."
Because you don't have to drag pigment across the entire lid to get that quintessential cat-eye contrast, you have less of a chance to mess things up. 
You'll use the same trace-and-flick motion; you'll just start in the center of your eye and keep the wing as understated as possible. Follow along below: 
Grab your liner (we love the extra-fine felt tip on NakedPoppy's liquid liner) and trace short, thin strokes starting from the center of the eye along the lash line. It's best to keep your eyes open and focused straight ahead while you draw the line, especially if you have a hooded eye shape.
"Give it a small flick at the end to get that subtle winged look," notes Kristina. Keep the line short and sweet: It should almost look like an extra lash at your outer corner. That way, the tiny wing elongates the eye without taking up any lid space (thus making your eyes appear larger, Kristina mentions).  
Of course, this is liquid liner we're talking about, which may take a pinch of prayer and practice—even if the wing is adorably small. But if the line looks jagged or stretches far too long, you can always clean up the stray bits with a micellar-soaked cotton swab or strategically placed concealer. "The great part about the kitten eye is that the eyeliner isn't dragged across the full eyelid, so you don't have to worry about messing up your eye makeup if you need to make adjustments," Kristina reminds us. 
If you can't seem to nail a cat-eye (or just want an understated look), try the kitten eye for a smaller, less intense option. At the end of the day, you can rock whatever liner you choose, but for those, like this editor, with shaky fingers, a smaller flick can still make an impact.