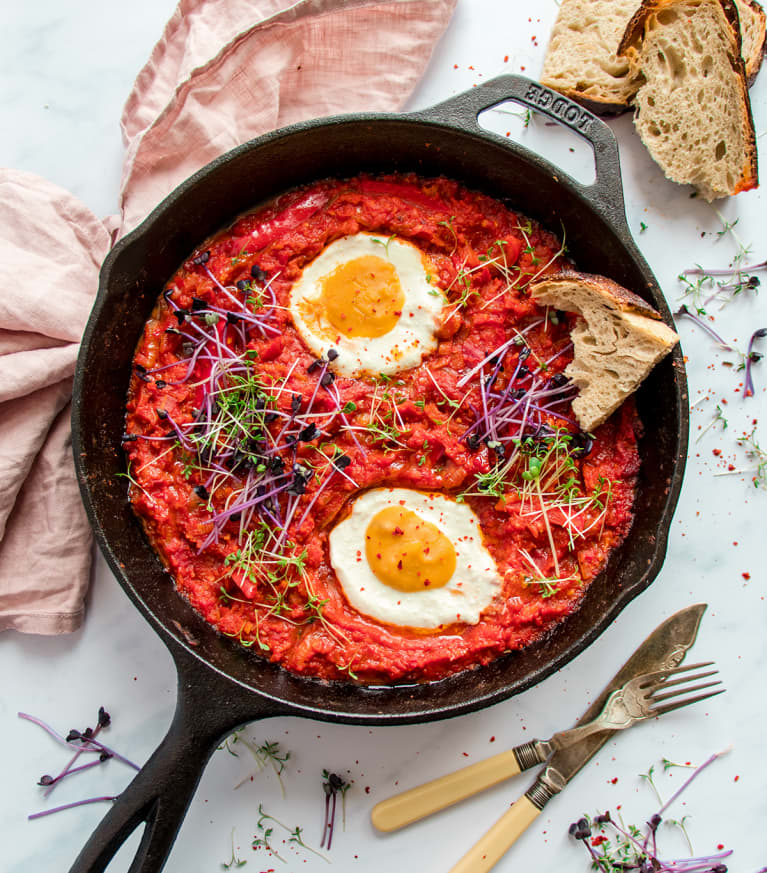 Our editors have independently chosen the products listed on this page. If you purchase something mentioned in this article, we may earn a small commission.
We make plenty of one-pot meals for lunch or dinner, but breakfast? In this case, the entire meal is made together in one pot, and its layered with the rich flavors of a tomato and pepper-based sauce.
Shakshuka (also sometimes spelled shakshouka) is a dish with origins in the Middle East and North Africa, and the word itself comes from Arabic. It's a dish that can be found on brunch menus across the world today, but the core of the dish is certainly the stunning sauce—even if the details vary across the cultures that make the dish (or something similar: In Italy, the dish Ova 'mpriatorio, or "eggs in purgatory" is similar). Many versions of shakshuka, particularly the ones I've seen served in the U.S., do include eggs in the dish—which is where this recipe comes into play.
To finish this vegan breakfast, you'll create the two components of a runny "egg": yolks are made from sweet potato, nutritional yeast, tapioca starch, and kala namak; the whites include silken tofu plus more tapioca starch and kala namak. Also known as sulemani namak and "black salt," kala namak is a rock salt commonly used to make vegan egg substitutes, thanks to its vaguely eggy (or 'sulfurous') scent.
2 medium red bell peppers, stemmed and seeded
2 medium carrots, peeled
3 tbsp extra-virgin olive oil
1 large white onion, diced
4 cloves garlic, minced
1⁄2 tsp fresh sliced chili pepper
1⁄4 tsp dried chili flakes
1 tsp sweet paprika
1 tsp brown sugar
1 tbsp tomato paste 
1 tsp salt
1⁄4 tsp black pepper
4 tomatoes, diced
1⁄2 cup tomato purée
2 oz sweet potato, peeled and boiled until soft
1 tsp olive oil
1 tsp nutritional yeast
1 1⁄2 tbsp tapioca starch 
Pinch of kala namak
For the vegan egg whites:
2 oz silken tofu 
1 tsp tapioca starch 
Pinch of kala namak
2 to 3 slices toasted bread 
Handful of alfalfa sprouts
To make the shakshuka, place the bell peppers and carrots in a food processor and pulse a few times until you have nice small pieces. Set aside.
Put the oil in a large skillet over high heat. Add the onion and sauté for 1 to 2 minutes, then add the garlic and fresh chili and sauté for another 30 to 40 seconds. Add the chili flakes, paprika, brown sugar, tomato paste, salt and pepper, and sauté for another minute until the mixture is fragrant. Turn the heat down to medium, add the tomatoes and cook for about 20 to 25 minutes, until the tomatoes have broken down completely. Then add the passata and cook for another 10 minutes.
While the tomatoes are cooking, prepare the vegan eggs. For the yolks, add all the ingredients to a blender and blend until smooth. Set aside. Do the same for the egg whites, adding 1 teaspoon of water, and set aside.
When the shakshuka is ready, use the back of a large spoon or a ladle to make two or three wells in the mixture. Add a few spoonfuls of the egg white into each well and top each with 1 teaspoon of the yolk mixture. Let it cook for about 5 to 10 minutes, until the eggs have firmed up. Serve with some toasted bread and sprouts.
Reprinted with permission from The Traveling Vegan Cookbook by Kirsten Kaminski, Page Street Publishing, Co. 2021. Photo credit: Kirsten Kaminski.
https://www.mindbodygreen.com/articles/vegan-shakshuka-recipe