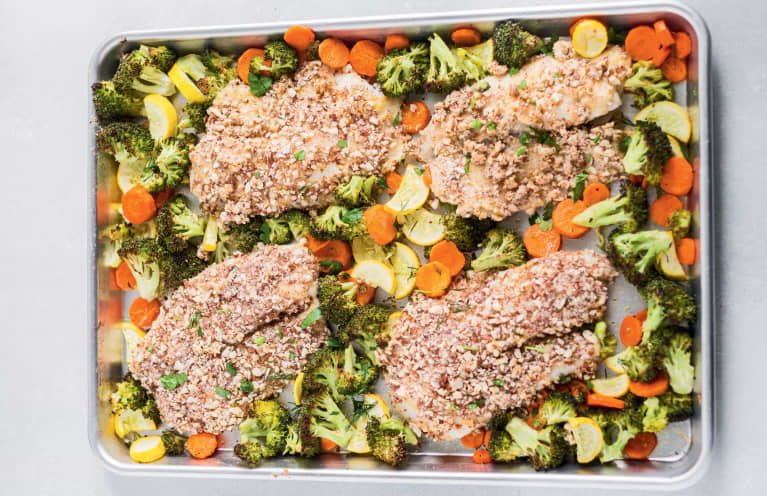 Our editors have independently chosen the products listed on this page. If you purchase something mentioned in this article, we may earn a small commission.
There's always a lot to love about sheet pan dinners, but come summer they're particularly wonderful, as meals that only require one heat source become ideal. Making simple meals doesn't mean they can't be rich in nutrients, though: the omega-3s in this dinner will help support brain health, and they've also been linked to helping reduce inflammation.
"You get double omega-3s in this recipe with the tilapia and almonds," writes Molly Thompson in The Anti-Inflammatory Diet Made Simple, "The crust is crunchy and flavorful and the veggies are crispy, and it all cooks up to perfection in one pan!"
The final dish is gluten and dairy-free, and takes less than an hour to make. If you wanted to swap in some different veggies, you might have to adjust the cook time, but otherwise you'd be able to use the same simple combo of garlic, salt, and pepper with almost any veggies.
Sheet Pan Almond Crusted Tilapia and Veggies
2 large carrots, peeled and thinly sliced
3½ cups chopped broccoli
1 yellow squash, halved lengthwise and thinly sliced crosswise
2 tablespoons olive oil
1 teaspoon garlic powder
1 teaspoon salt
¼ teaspoon black pepper
For the almond-crusted tilapia:
1 cup raw, unsalted almonds
2 large eggs
¾ cup almond flour
¼ cup tapioca flour
1 teaspoon dried dill
½ teaspoon paprika
½ teaspoon salt
4 (4-ounce) tilapia fillets
Lemon wedges, for garnish
Preheat the oven 425°F. Line a rimmed baking sheet with aluminum foil.
To make the veggies, combine the carrots, broccoli, and squash on the prepared baking sheet. Drizzle with the olive oil and sprinkle with the garlic powder, salt, and pepper. Toss to coat, then spread out the veggies in a single layer. Bake for 20 minutes.
While the veggies are roasting, prepare the tilapia. Put the almonds in a food processor and pulse for 20 to 30 seconds until the almonds are broken up into tiny pieces. Transfer to a medium bowl. In a separate medium bowl, beat the eggs.
In a third medium bowl, whisk together the almond flour, tapioca flour, dill, paprika, and salt.
When the veggies are done roasting, remove the baking sheet from the oven and push all the vegetables to one side.
Create an assembly line with the three bowls and the baking sheet. Pat one tilapia fillet dry and dip it into the almond flour mixture, then into the egg wash, and then into the crushed almonds, pressing to help them adhere.
Place the coated fillet on the empty side of the baking sheet. Repeat with the remaining fillets.
Bake for 11 to 13 minutes, until the vegetables are fork-tender and the tilapia is cooked through and golden brown. Serve right away with a squeeze of lemon juice
https://www.mindbodygreen.com/articles/sheet-pan-almond-crusted-tilapia