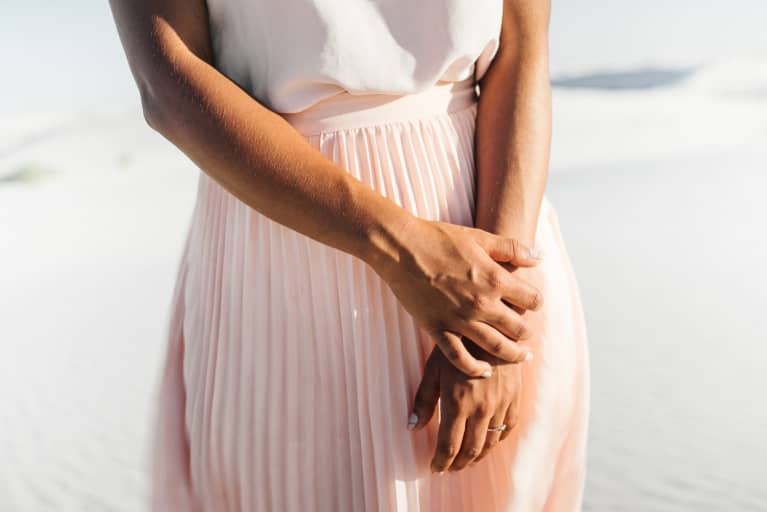 Our editors have independently chosen the products listed on this page. If you purchase something mentioned in this article, we may earn a small commission.
September 16, 2021 — 11:12 AM
September is Polycystic Ovary Syndrome (PCOS) Awareness Month: a month dedicated to furthering research initiatives and increasing education about the disorder. And since advocacy is not just about raising awareness but also dispelling misinformation, we wanted to get to the bottom of common PCOS misconceptions. 
To do this, mbg chatted with Felice Ramallo, MSCN, R.D., L.D., the lead registered dietitian at Allara, a virtual care platform for PCOS patients. Below she debunks two common myths about how to manage PCOS symptoms:
Myth 1: People with PCOS should cut out dairy and gluten.  
"One of the biggest pieces of misinformation out there is that people with PCOS need to cut out entire food groups," Ramallo tells us. Two of the most commonly axed? Dairy and gluten-containing grains. 
While she agrees people with diagnosed allergies or intolerances should remove these food groups from their diets, Ramallo says it's not the right approach for everyone. In fact, "both of these products can actually improve PCOS," she says. (We were surprised, too!) 
"Full-fat or whole dairy products are shown to improve ovulation, balance hormone levels, and fight insulin resistance," Ramallo explains. Additionally, "gluten-containing grains like wheat, spelt, or Kamut are loaded with fiber when eaten in their whole-grain form." 
Myth 2: You have to lose weight to treat PCOS. 
Some people with PCOS believe they have to lose weight in order to help manage their symptoms. This belief comes from some research, which states that people who fall into the "obese" BMI category ("which is a notoriously faulty index," Ramallo notes), have experienced improved PCOS symptoms and outcomes after losing 5% to 10% of their body weight. 
However, focusing on weight loss alone, rather than developing healthy and sustainable lifestyle habits, will likely only lead to short-term results—and may have damaging impacts on your mental health. "Taking something one cannot control (weight loss) off the table, and instead focusing on what one can control (healthy behaviors) is the golden key here," Ramallo tells mbg. 
Bottom line? "The healthiest weight for anyone is the number at which they are most stable and can easily maintain after implementing a full spectrum of health-optimizing behaviors spanning diet, exercise, sleep, stress management, and mental health," she says. 
When it comes to managing your symptoms for PCOS, trust your own body. "If you listen, it will tell you its wants and needs. "I always say to treat your body like the ultimate source of wisdom on how you nourish itself," Ramallo says. "If you listen, it will tell you its wants and needs. That is the best way to maintain a healthy weight for you, and prolong good health for as long as possible." 
If you need further support, she suggests seeking high-quality, evidence-based advice from a credentialed registered dietitian nutritionist (R.D./RDN).
https://www.mindbodygreen.com/articles/common-misconceptions-about-managing-pcos