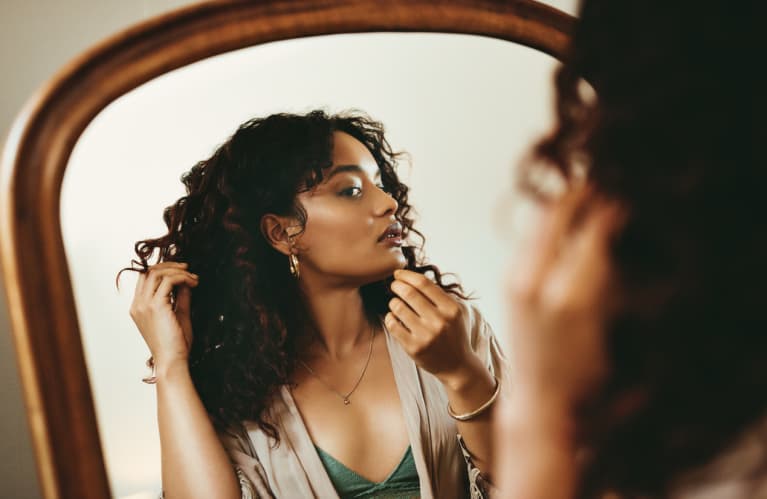 December 5, 2021 — 11:23 AM
In the search for a quality beauty supplement, do you know where to turn for the best recommendations? Of course, experts like dermatologists and estheticians can offer valuable insight. Beauty editors and journalists can help you navigate the vast market with ingredient know-how and insights into their own trials. (Speaking of, check out our favorite beauty supplements here should you be curious.) And when they're authentic, even influencer and celebrity endorsements can be valuable. But as far as honest feedback, there's nothing like a customer review. 
The appeal of word-of-mouth reviews is simple: Getting the day-to-day experiences of those who actually take it, then chronicle the results, and share that experience can help you, can help understand what the supplement might do for you in the short and long term. Getting ingredient dossiers and science jargon is useful, but sometimes you just want someone to straight-up answer the question: Does this actually work? 
And for mindbodygreen's cellular beauty+, the answer seems to be a resounding yes. This vegan supplement contains potent doses of premium botanicals and phytochemicals clinically shown to support skin hydration, elasticity, smoothness, barrier function, and wrinkle reduction.* In the cutting-edge formula, you'll find phytoceramides to support a healthy skin barrier structure, astaxanthin to preserve a healthy collagen layer, ubiquinol CoQ10 to promote skin cell "cleanup" (aka, getting rid of debris) and rejuvenation, and polyphenol-containing pomegranate whole fruit extract for photoprotection.* 
These high-quality bioactives work together, and the result is nothing short of wow-worthy.*
"I've found just the thing!"
"As a skin care fanatic, I'm always on the lookout for ways I can keep my skin healthy and vibrant. More recently I've been exploring ways to maintain my skin from the inside out, and I think I've found just the thing! Especially excited about CoQ10, which I also use topically all the time in various products. I've been using cellular beauty+ for a few weeks now, and I'm excited to continue."* —Caroline R.
"Transformed the texture of my skin."*
"cellular beauty+ has truly transformed the texture of my skin. I have struggled with skin clarity and smoothness for years. So, an overload of attempts at different skin care regimens have taken their toll on my skin barrier. I have tried everything for glowy skin—from tons of products to cleaning up my diet. I was skeptical that a supplement would be the thing to finally work. This unique formula has added that extra boost of skin hydration and elasticity I've been searching everywhere for."* —Lexie
"This product is so unique and really piqued my interest. It helps ward off fine lines and wrinkles. Count me in!"* —Nancy C. 
"I'm proactive about the health of my skin and staying ahead of wrinkles; I pay attention to the latest beauty topicals and supplements, and I have not found another supplement like cellular beauty+. The 4 ingredients in this formula are truly premium and their skin benefits are backed by science. This beauty-from-within approach will continue to be a daily staple for me."* —Cora Q. 
"Brighter and healthy-looking."*
"I could tell a difference within a month! My skin is brighter and healthy-looking."* —Joan
"My skin feels hydrated."*
"This is a genius product! As I get older, I've been overwhelmed by the sheer volume of topical products and aesthetic treatments marketed to women my age. I was excited to try an easy daily supplement that could help tackle some of my main concerns: fine lines, dryness, UV damage. With cellular beauty+, my skin feels hydrated, my wrinkles appear less noticeable, and I've got a glowy feel I can't believe is possible from a supplement!"* —Cece
"I'm an active guy, and by active I mean I get out there—into the great outdoors. Long runs, water sports, skiing, mountain biking…the sun, the wind; well, the elements take their toll. So I jumped for joy when I found this product. It's the perfect combination of ingredients to not only buffer my skin from UV damage and oxidative stress but also to keep my energy up and help me recover faster so…as I get older, I can keep playing hard but age easily."* —Andy
"Made a difference in how I look."*
"Love this product so much! It has made a difference in how I look and feel."* —Kathy 
"This product is amazing! I've already seen such an improvement, especially with how hydrated and glowy my skin looks even after nights of little sleep. I'm loving it and already got my friends hooked!"* —Aubrey
"What a difference in my skin."* 
"I began taking this supplement, and what a difference in my skin. My pores are smaller, and my skin feels firmer and has a glow. I'm 74 and my friends and family tell me I look like I'm in my 50s."* —Jan G. 
"I love the ingredients."
"I love all the ingredients and the benefits."* —Rebecca
"I have used cellular beauty+ for 8 weeks. I have more energy and a greater sense of well-being in general. My skin looks fresh and I have seen my fine lines fade."* —Eve
https://www.mindbodygreen.com/articles/cellular-beauty-customer-reviews