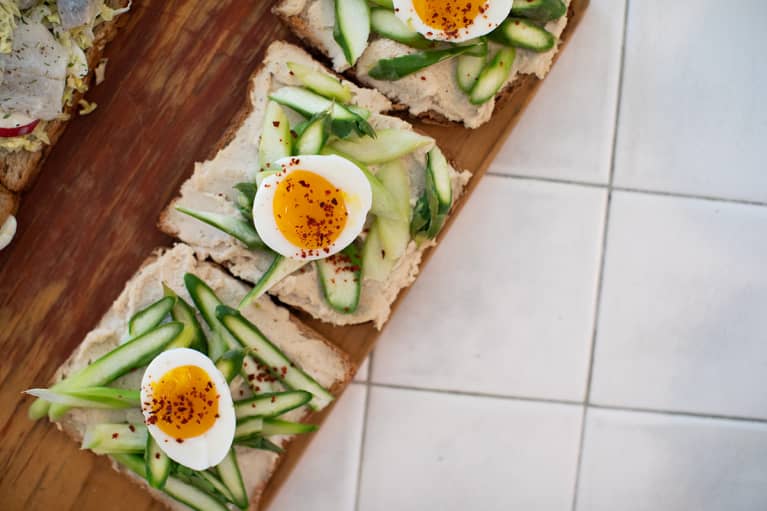 Our editors have independently chosen the products listed on this page. If you purchase something mentioned in this article, we may earn a small commission.
April 30, 2021 — 10:24 AM
It's asparagus season once again, which means our immediate response is to fire up the grill or the oven to roast this iconic spring veggie to tasty charred perfection—but this year, maybe it's time to try something a little different. These recipes were inspired by the produce at Satur Farms in Cutchogue, New York, and they take a fresher look at asparagus.
The first dish is a take on smørrebrød, a traditional Danish open-faced sandwich that's usually made with rye bread. This one is covered with a homemade white bean spread, lightly poached asparagus, and a soft-boiled egg—a perfect balance for lunch or even breakfast.
The second recipe is a simple salad, which like the first uses shaved asparagus, but instead tosses it with peppery arugula, radishes, and a homemade dressing with the perfect amount of creaminess.
Asparagus offers some important antioxidants like vitamin E, vitamin C, and glutathione—plus, it's a good source of insoluble fiber. This green veggie is in season until June, so keep your eyes open at the farmers market.
Asparagus & White Bean Smørrebrød
Ingredients for the white bean spread:
1 can white beans, drained, or 1 cup dried beans
2 cloves garlic, minced
½ cup tahini
¼ cup freshly squeezed lemon juice
Kosher salt and freshly ground black pepper
If using dried beans, soak overnight, then cook with 4 cups of water until softened, about 25 to 30 minutes.
Combine all ingredients in the bowl of a food processor and process until super smooth, about 5 minutes.
Season with salt and pepper, and process until combined.
Ingredients to assemble the smørrebrød
2 large eggs
8 stalks asparagus
4 slices dark rye bread
White bean spread
Kosher salt and freshly ground black pepper
Aleppo pepper, for garnish
Bring a small pot of water to a boil, and gently add the eggs. Cook for 7 minutes, then shock in cold water. Peel eggs, and slice in half lengthwise. Set aside. 
Bring a medium pot of water to a boil, and add asparagus. Cool in an ice-water bath. Slice into 1-inch pieces on a bias. 
Spread each bread slice with white bean spread. Arrange asparagus in a decorative pattern on top, and place half an egg on each. Sprinkle with salt and pepper and Aleppo. 
2 bunches asparagus (preferably a thicker variety)
4 radishes, thinly sliced
2 cups wild arugula
1 cup English peas, shucked and blanched
½ cup roughly chopped basil leaves
½ cup pitted kalamata olives, chopped
½ cup slivered almonds, toasted
Kosher salt and freshly ground black pepper to taste
1 small shallot, minced
1 tablespoon mayonnaise
2 tablespoons white wine vinegar
2 teaspoons Dijon mustard
1 teaspoon honey
⅓ cup extra-virgin olive oil
Whisk together all the ingredients for the dressing except the oil in a medium-size bowl. Slowly drizzle in oil, whisking until absorbed.
Using a peeler, shave strips of asparagus and place into a bowl. Add remaining ingredients and toss with dressing. Season with salt and pepper, and serve immediately.
https://www.mindbodygreen.com/articles/fresh-seasonal-asparagus-recipes