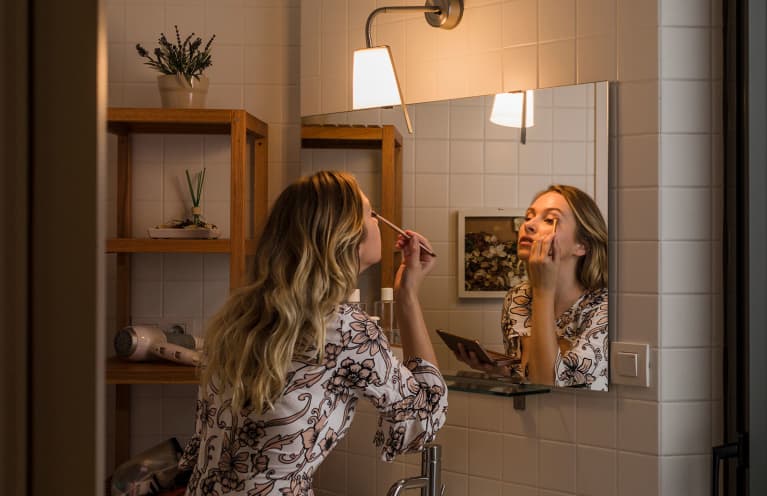 December 20, 2021 — 10:02 AM
Somehow, I've ended up in a corner of TikTok that can only be described as "the most complicated makeup tutorials known to man." Every time I open the app to scroll, I'm met with faces dotted with pigments and come with instructions that rival pro-level paint-by-numbers. I'm someone who has worked in the beauty industry for several years now (and grew up loving makeup), and yet their routines leave me feeling like a novice. 
But as global makeup artist and wellness influencer Alexandria Gilleo reminded me on today's episode of Clean Beauty School, "We don't need to overcomplicate beauty. It can be something that we just do for fun." Instantly I felt better about my finger-painted makeup and easy-breezy aesthetic. "I always tell people to go for soft additions that will enhance your look," she says. 
In this (very fun!) chat, we talked about her favorite makeup looks right now, how she preps skin, and easy tips everyone can follow. 
Don't go overboard with concealer.
"I never put concealer under the whole entire eye because when it's like under the outer corner of your eye area and underneath, you really can see all of those fine lines," Gilleo says. "And I want to look as young as possible."
While makeup has the incredible ability to transform you, it also can age the appearance of your skin when you go overboard. Yes, one of the easiest ways to look more vibrant and youthful is to pare back how much you're applying. 
"I only do concealer in the inner corner, since that's where darkness hides," she says. "I just put a dab on the inner corner and then blend it with either a tiny BeautyBlender, a little brush, or even like your ring finger."
Find your desert-island mascara.
Always start with curling your lashes, Gilleo says, to add some lift—an instant trick to make you look more polished. Then, "a good mascara will go a long way. Find one that will immediately open and brighten your eyes," she says, noting Ilia's Limitless Lash Mascara is her go-to. (Can I just chime in and say I agree very much? It's an all-time great product.) And when you're applying, it's all about the hand movement: "You're almost putting your mascara on not forward and upward, but more to a slant outward," she says to give you a soft, doe-eye look that she says is flattering on anyone. 
Use the right brow shade.
When all else fails, tend to your brows. "We love a brow pencil," she says. But many people may be wearing the wrong shade for their hair and skin tone. So Gilleo says to find "something that's like two shades darker than your hair. You don't want to go too dark, and you don't want to go lighter than your hair color." Here are our favorite brow pencils, should you be in the market.
https://www.mindbodygreen.com/articles/makeup-artist-tips-that-will-work-for-anyone