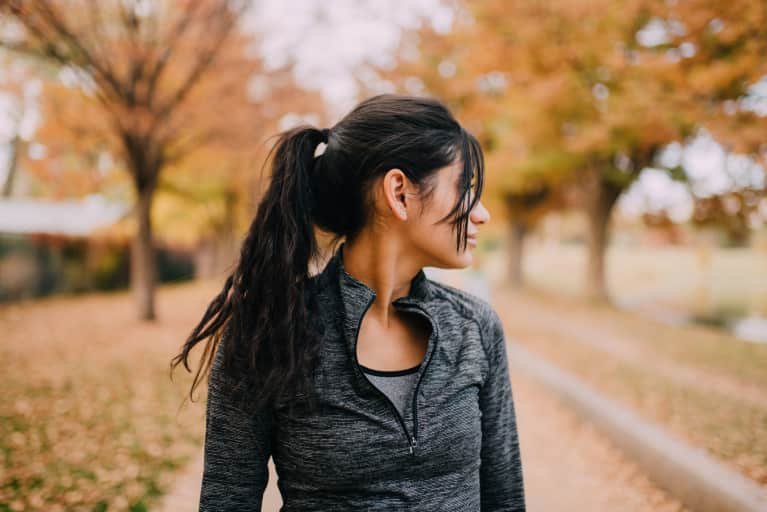 September 25, 2021 — 11:04 AM
Happy pumpkin spice latte season to all who observe! There's plenty of reasons to celebrate fall: sweater weather, tasty treats, Halloween, Thanksgiving, and the list goes on. In order to stay in tip-top shape for all of the upcoming occasions, it's important to maintain a strong immune system (as we all know, seasonal changes can sometimes get in the way of that).*
So, as the air turns crisp and the leaves begin to fall, keep these tried-and-true tricks in mind.
1. Eat a nutrient-rich diet. 
Eating a diverse diet with plenty of vegetables, fruits, and whole grains is essential for overall health—and there are specific nutrients that play a role in supporting the immune system. 
For example, integrative family physician Bindiya Gandhi, M.D., suggests trying to "get lots of vitamin-C-rich foods, like bell peppers, oranges, carrots." Additionally, "pumpkin seeds and oysters are rich in zinc and great to support your immune system," she says. (Here: 23 immune-supporting foods and drinks to add to your repertoire.)
2. Take a targeted immune-support supplement.*
If you're not getting those recommended nutrients through diet alone (which can be challenging to do), Gandhi recommends adding a vitamin C (ascorbic acid) or zinc supplement to your routine.* 
Along with those two nutrients, mbg director of scientific affairs Ashley Jordan Ferira, Ph.D., RDN, says to consider two particular plant bioactives, quercetin phytosome and yeast-derived beta-glucans.* During an mbg podcast episode, Ferira explains that quercetin supplementation has been shown to strengthen immune function, while beta-glucans act as antioxidants and immunomodulators that prime our immune system for what's ahead.* 
To deliver all of these nutrients (plus vitamin D3) and bioactives in one supplement, mindbodygreen created immune support+, which can help support a healthy and resilient immune system.* 
3. Get good-quality sleep. 
While it's important to be proactive about your immune resilience all year long, during seasons transitions "you really want to stick to healthy habits, like adequately sleeping," says functional medicine doctor Amy Shah, M.D.
Not only does sleep help manage cortisol production (aka the stress hormone), says Gandhi, but it also allows the immune system to rest, repair, and produce helper T-cells. 
Spending time outside supports the immune system in three ways: It increases your endogenous vitamin D levels, encourages movement, and helps manage stress. "Managing stress is always the key when talking about supporting your immune system," Gandhi says. "Make sure you have carved out time weekly for self-care and to do things that nourish your soul!" As the temperatures begin to drop from the high high heat of summer, adding back in outdoor jogs, walks, or what have you, should be even more enjoyable.
As a new season embarks, it's important to keep our immune systems as strong as possible. The four tips above are a good place to start!
https://www.mindbodygreen.com/articles/support-your-immune-strength-for-fall