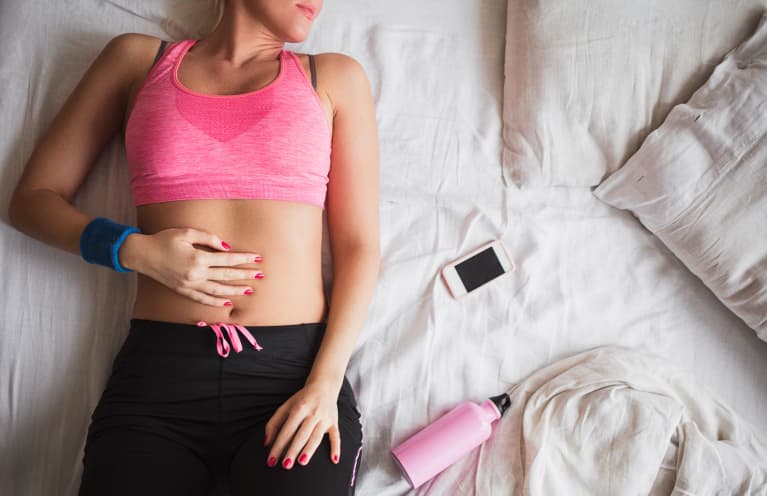 Our editors have independently chosen the products listed on this page. If you purchase something mentioned in this article, we may earn a small commission.
We all need consistent, quality sleep in order to perform our best. And when it comes to performance (and recovery), no one understands the importance of catching ample zzz's more than Olympic athletes. These five essential sleep tips from Olympians past and present can help anyone get gold-medal-worthy rest every night.
5 sleep tips from Olympians:
1.
Curate your wind-down routine.
One of the best ways to ensure a good night's sleep is to set yourself up for it with a proper wind-down routine. And someone who knew this well at the height of her gymnastics career is three-time gold medalist Gabby Douglas.
In an interview with Cosmopolitan during the last summer Olympics in Rio, Douglas said she gives herself ample time to wind down. "I curled up in my bed to meditate, which helps me learn to clear my mind and puts me in a good place mentally and spiritually," she said.
2.
Keep your sleep schedule consistent.
Part of getting quality sleep includes going to bed and waking up at the same time. American rower Sam Ojserkis kept this in mind while training for the Rio Olympics.
He told the Press of Atlantic City back in 2016 that he was up at 5 a.m. every morning and in bed every night by 8 p.m., adding that he could become "very monotonous." But when it comes to peak performance, it would appear monotony isn't a bad thing.
3.
Block out disturbances.
Whether it's noise, technology, or even our beloved pets, former swimmer and 12-time Olympic medalist Natalie Coughlin said she had to nix anything that disturbed her sleep when training for Rio in 2016.
She told Outside in an interview that as she's gotten older, sleep has become more essential. "I've started using earplugs, and I kick the dogs out of the bed. They were hurting the quality of sleep I got. It was hard on all of us," she adds.
If there's anyone to take advice from, it's got to be the most decorated Olympian of all time. We're of course referring to Michael Phelps, who has a whopping 28 medals (23 gold, three silver, and two bronze).
Back in 2017, Phelps told CNBC he took to using a sleep tracker to help gauge how long and how well he was sleeping. He was also interested in tracking how much time he spent in REM sleep, deep sleep, and light sleep.
5.
Treat sleep as part of your training.
This tip comes from neuroscientist and sleep expert Jeffrey Durmer, M.D., Ph.D., who advises the United States weightlifting team on all things sleep. Along with some of the aforementioned tips like having a consistent sleep schedule, powering down the electronics, and tracking your sleep, which Durmur recommends, he also stresses the importance of treating sleep like part of your training.
In a recent interview with ABC News, Durmur said, "If you can actually start to build that into your training routine, it will support all kinds of resilience, mental resilience, physical resilience, immune resilience…so you can actually perform at your highest level."
How to sleep like an Olympian.
Those tips just about cover the basics of quality sleep. Think consistency, winding down, removing disturbances, and simply prioritizing sleep every single night. On top of that, there are a few other things you can do to go the extra Olympic mile and nail the evening's main event. (Sleeping!)
Keeping your bedroom around 65 degrees Fahrenheit can help signal to your body that it's time for bed, and avoiding things like caffeine, alcohol, and large meals close to bedtime will also help you settle in easier. A sleep supplement like mbg's sleep support+ can also help you fall asleep faster, stay asleep longer, and wake up rejuvenated, thanks to ingredients like magnesium bisglycinate, PharmaGABA®, and jujube.*
And of course, other fundamental lifestyle factors like sufficient exercise, a good diet, and managing stress can go a long way toward ensuring superstar sleep quality.
https://www.mindbodygreen.com/articles/sleep-tips-inspired-by-olympians-2021