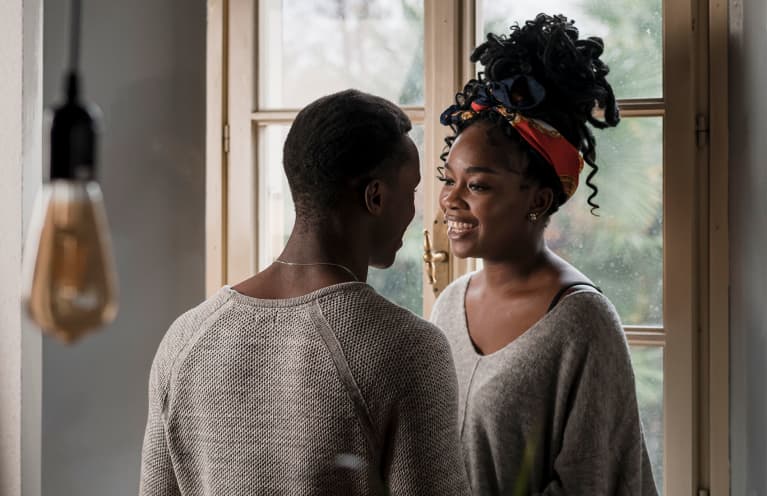 Our editors have independently chosen the products listed on this page. If you purchase something mentioned in this article, we may earn a small commission.
December 16, 2021 — 21:04 PM
One of the most prominent challenges adversely affecting couples today is their difficulty effectively communicating with each other in a way that feels safe, transparent, and non-defensive. Most people know communication is important to relationships, but we don't talk enough about how damaging a lack of communication can be. This isn't a case of a "nice to have"—it's a "need to have."
How communication gaps can erode relationships.
When one or both partners in a relationship struggle with feelings of vulnerability, it can erode the foundation of the relationship. In her book Hold Me Tight, Sue Johnson, Ed.D., clinical psychologist and one of the leading innovators in couples' therapy, encourages couples to recognize their "demon dialogues"—specific ineffective communication patterns that spur a lack of safety in the relationship, push your partner away, and reinforce feelings of insecurity.
If you're already feeling anxious in a relationship, then communicating in a cold or defensive way adds to that anxiety, which compounds the problem. And when one of the partners needs to feel safer and more assured but senses they're being pushed away, they may withdraw and shut down. Repeating these behavioral patterns is divisive and triggers poor communication in relationships.
The pandemic dramatically heightened and exacerbated these issues. The increased time couples spent together forced them to assess their relationships more closely. In turn, those who honestly faced what did or didn't work benefited by utilizing the chance to improve the areas they felt posed challenges.
Sustaining and fueling destructive communication gaps is detrimental to relationships, but it takes a joint effort by both partners to break those patterns. I've developed five techniques for my clients that have proved effective in helping them cope and communicate more effectively in their relationship, and I'm confident that if you practice them, they can help you as well.
Here are the five techniques you can practice to better cope and improve communication effectiveness in your relationship:
1.
Create a pattern of openness.
Create a sustainable pattern of being honest, staying connected, and remaining open to each other. Focus on getting issues out in the open rather than repressing them out of fear of conflict. Harboring issues under the surface only fuels resentment and compounds problems. Focusing on reciprocal mindful communication will help breed a stronger belief in the power of your bond and relationship.
2.
Develop mutual respect, guidelines, and expectations.
It's critical that you're seen, heard, and understood. Tell your partner how to meet your needs, emotionally and physically, and then strive to mutually respect each other and each other's needs. Find solutions that allow you both to feel satisfied and emotionally safe as a couple.
The idea is to develop a shared safe space that's based on mutually agreed upon, nonjudgmental understanding and vulnerability. It must be a transparent, shared, private universe where you share secrets that you wouldn't tell others. By doing this, you will create healthy reciprocity and a loving language that maintains mutual respect in your relationship.
3.
Communicate and express your feelings thoughtfully.
Be mindful and choose your words wisely when you communicate with your partner. Avoid guessing and acting on assumptions about what they may be thinking. Guessing and predicting your partner's reactions often leads to a frustrating negative feedback loop, or an argument.
Instead, thoughtfully communicate what's bothering you. Your partner will react better if you let them know exactly what you're thinking instead of what you assume they're thinking.
4.
Express appreciation and gratitude frequently.
Letting your partner know you have enormous love and respect for them is critical. Engaging in more loving communication creates a healthier balance and a more fulfilling relationship.
Remember to use complementary and encouraging words to express your respect for acts of service by your partner so they realize you're aware they love and support you. Invite them onto your island, and let them know they're always part of your team. Make each other feel special and not replaceable.
Effectively planning a balanced and regular date night schedule demonstrates that your relationship is a priority and is just as important as other things in your busy lives. It reinforces that you're a team and are committed to nurture and give the partnership the care and attention it deserves.
To make the most of date nights, decide in advance if there are topics for your date that you would prefer to discuss or want to avoid. Respect each other's topic choices. Focus on topics that keep the date romantic, light, and breezy and remind you of why you fell for each other!
Refining and making tweaks to your communication style can produce remarkable results over a respectable period. To break an existing pattern, you must develop and sustain a new one. Once you implement the new pattern, you'll experience noticeable growth in your overall feelings of security and safety in your relationship.
Reset Your Gut
Sign up for our FREE doctor-approved gut health guide featuring shopping lists, recipes, and tips
You are now subscribed
Be on the lookout for a welcome email in your inbox!
https://www.mindbodygreen.com/articles/how-to-avoid-communication-gaps-in-relationships