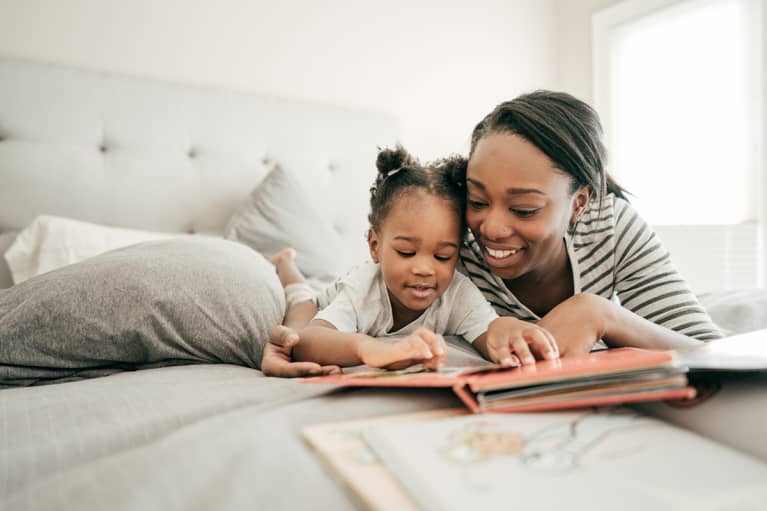 January 24, 2022 — 13:04 PM
Before I had kids, I watched numerous scenes in movies where mom kissed her kid good night, turned off the light, and walked out of the room. Who writes these scenes? Talk about misrepresentation! Hi, I'm Annabella Daily, founder of Daily Jungle, and I'm a Bedtime Survivor. I have three boys ages 8, 6, and 1, and they don't close their eyes unless I physically close their eyelids—well, almost like that. And many nights the bedtime routine for all three lovable rascals falls solely on me. 
Fellow Bedtime Survivors, I hear you. I've experienced it all: never-ending bedtime routines, early wakings, night wakings, visits to parents' bed—despite trying "it all." If the last thing you want is another "method" to end the madness, use these six tools instead to save your sanity and thrive through the hardest part of your day: 
I used to pour myself a glass of wine to gear up, but I learned intentions set a more powerful tone for bedtime routines: "Today, I respond with hugs," or "Today, I get curious before I react." When things go sideways or not as you had hoped, and the mama rage monster starts stirring up inside, go back to your intention. If you don't fully realize your intention, it doesn't mean you failed; rather it helps you show up more like the mom you really want to be, one evening at a time. 
The most soothing mantra for me is "This is how it is right now." Not wishing it to be different (I mean, we can't swap our kids, right?), but accepting the moment as is, and dealing with it without judgment.
Maybe it's a placebo effect, but a power pose can instantly change your reactions at bedtime. My personal favorite is the Wonder Woman flying pose: standing straight up, with one arm up, and a raised, clenched fist. It signals my brain to turn into a Wonder Mom and reminds me that I have the tools to deal with whatever is happening. 
4.
Calm down the emotional brain. 
5.
Make an emergency ritual. 
During or after the hardest evenings, I light my Palo Santo "holy wood" and walk through the kids' bedrooms with it, purifying any negative bedtime energies, allowing Zen sleep vibes to fill the space instead. 
6.
Establish an independent routine. 
Just like us, kids love rewards and being in charge of what we do next. So, I taught my older kids to do many of their bedtime steps solo. For example, more independent kids can start a nighttime hygiene routine: The Daily Jungle's Double-Duty Face Cleanser & Balm can help kids establish a beginner-friendly nightly skin care routine that cleanses their faces and soothes their young skin before bed. Read: No harsh, stripping soaps and products for their delicate skin. (As a bonus, mindbodygreen readers can try out a sample—claim yours here.) It's a total game-changer, and for additional advice and tips on independent routines, check out my free guide.  
While it may never be like in the movies, achieving a level of bedtime bliss—a few soothing moments to bond without battles—is what brings the magic to motherhood. And that, mama friends, is why we had our sweet children in the first place, isn't it? 
https://www.mindbodygreen.com/articles/entrepreneur-and-moms-nighttime-routine-with-her-kids