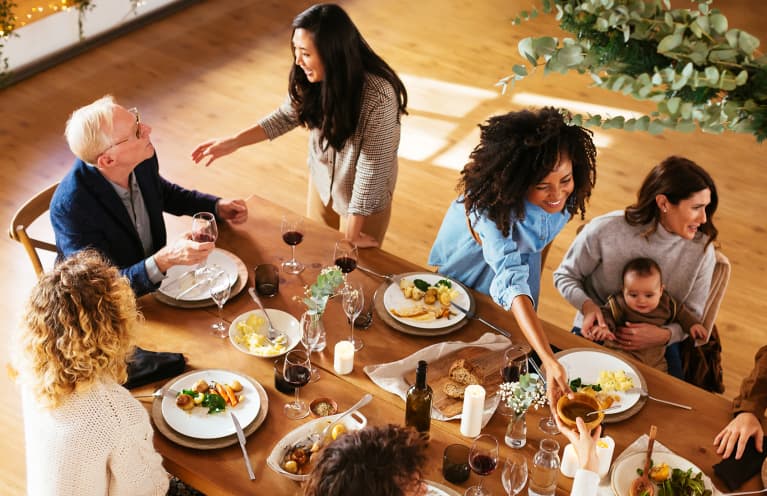 December 21, 2021 — 0:35 AM
If you haven't yet heard, the Mediterranean diet is a super-popular eating style that draws wisdom from countries and cultures surrounding the Mediterranean Sea. And really, there's more to it than just the nutrition—it's about the lifestyle, too.
The diet focuses on eating whole foods, including an emphasis on leafy greens, whole grains, healthy fats, and seafood over other animal proteins. Its popularity likely stems from how easy it is to follow, as it's a gentle set of rules that still allows for many people's favorites. Not only that, but considering the overlap of a few Blue Zones with the regions the diet considers, this eating style is a good bet for supporting longevity, too.
That's also why it's a perfect healthy diet to take inspiration from for the holiday season. Here are some of our favorite longevity-boosting dishes for any festive occasion, inspired by the Mediterranean:
1.
Roasted Salmon & Brussels Sprouts
This sheet-pan recipe combines the Mediterranean diet with the basic premise of the ketogenic diet. Salmon may not be a holiday classic, but Brussels sprouts certainly are. And the best part? It only takes about 20 minutes in the oven.
Get the recipe here.
2.
Butternut Squash & Kale Farrotto
If you have an Instant Pot, this is the recipe for you. Charm your guests (or just your family) with a creamy, fabulous risotto-style dish, but with the added health benefits of an ancient grain for the base. Plus, butternut squash and kale? A match made in heaven.
Get the recipe here.
3.
Crispy Lemon & Tomato Thyme Chicken Thighs
Brimming with Mediterranean flavors like lemon, tomato, and thyme, this simple chicken dish would be a perfect centerpiece of a holiday table. Start by cooking the chicken thighs on the stove to get them crispy, then finish it in the oven. Particularly perfect for a small group.
Get the recipe here.
4.
Braised Harissa Eggplants & Greens
Need a vegan-friendly option? This braised eggplant has plenty of spice and can be made all in one pan. Plus, the ingredients read like a greatest hits grocery list—kale, chickpeas, tomato, harissa, and tomatoes all come together for a warming holiday meal.
Get the recipe here.
5.
Tomato, Lentil & Eggplant Ragù
For another plant-based option, try this simple vegan ragù. Made with a base of eggplant and lentils to get that signature satisfying ragù texture, try serving it with creamy polenta instead of just pasta for a different take on red sauce and grains.
Get the recipe here.
Seeking a budget-friendly addition to your table? This classic soup costs only $1.15 per serving, making it just the thing for a nutritious-but-affordable holiday dish that could be the centerpiece or just an accompaniment. If it's the former, we recommend serving it with some good sourdough bread.
Get the recipe here.
7.
Baked Feta With Greens
Remember when baked feta was trending earlier this year? This is like a healthier version of that, skipping pasta for greens and tomatoes for chickpeas. Topped with a simple lemon-tahini dressing, it could work as a starter or a vegetarian-friendly main.
Get the recipe here.
Whether you actually use one of these recipes or just use the Mediterranean for inspiration, you're going to be off to a great start with an amazing menu for any holiday gathering—no matter how big or small yours might be this year. And while we're on the holidays, these Mediterranean diet cookbooks are perfect gifts for…well, just about anyone.
https://www.mindbodygreen.com/articles/mediterranean-inspired-holiday-meals