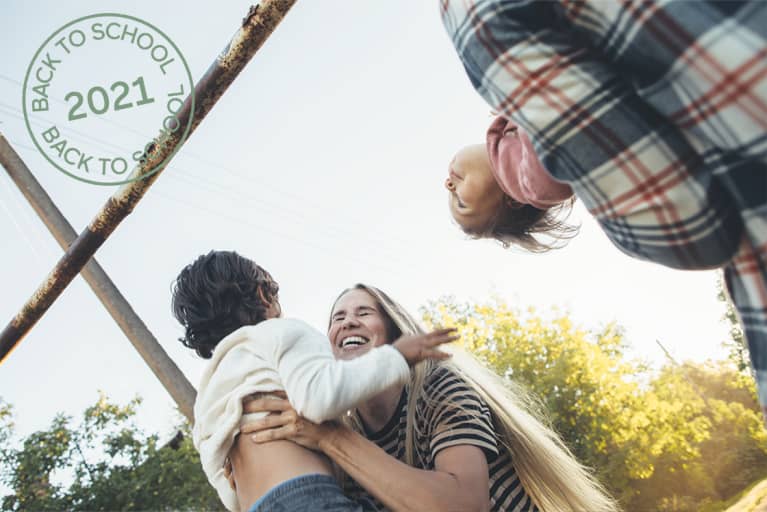 Our editors have independently chosen the products listed on this page. If you purchase something mentioned in this article, we may earn a small commission.
August 17, 2021 — 21:23 PM
This school year, it's time to color outside of the lines. Not only did the last year mean huge restrictions for kids, but even before that the increasing use of social media, extra curriculars, competitive schooling, and more means kids have felt the mounting pressure to do well and fit in. And we think this year, back to school should be less about getting back to normal—and more about embracing the joy of doing things your own unique and colorful way. 
Often, the best source of inspiration and advice is from other parents. That's why we decided to chat with parents in the mindbodygreen community to see how they were making the coming school year more joyful and exciting for their kids. Certainly, none of this has been easy—and we could all probably stand a few more moments of celebration and fun in our lives. 
So in an effort to make the best of a bad situation, here are how some parents are doing just that.
1.
Create special moments. 
"We have to acknowledge that kids have lost some things that make childhood so special. Instead we can recreate those special and longed-for moments that did not happen last year or create new ones that can help children play and connect. For example, plan something that your child has wanted to do that helps them explore their passion, such as a special trip or a day of fun with one parent one on one. Or having a silly day—such as a day when everyone in the family does everything the child wants (within reason, of course!) like going to favorite activities all day and ending with chocolate chip pancakes for dinner. These can help to get the new year off to a good start." — Caroline Maguire, M.Ed., parenting expert, author & mbg contributor 
"Remember, life is a game… and games are meant to be played. Develop new, engaging, and interactive ways to integrate learning into your children's school day especially outside of school hours. When you're asking your kids how their day went, or going over homework, listen for areas/subjects where you notice a little hesitation or frustration, and take note. These are opportunities for you to create a more fun, new way of learning around the subject. Need help coming up with ideas? Get into a good brainstorming session with some friends (or get your kids involved) in designing game ideas or watching videos that incorporate some of the learning skills they may be struggling with. The point here is to encourage learning and fun together… you might be surprised at what you learn too!" — Erica Lasan, joy strategist & mbg contributor 
3.
Set joy as an intention. 
"As we approach a new school year, my suggestion is that we, as parents, set intentions for joy this school year. Let's make sure we are laughing, playing and connecting with love to our kids, showing them how our interactions with each other nurture our soul." — Mallika Chopra, author of the JUST BE series and MY BODY IS A RAINBOW
4.
Make a COVID time capsule. 
"A classic that might be making a comeback this year is the 'time capsule.' Each kid and teen may have an idea that they would like to include that can help future students understand what it was like to live through the pandemic. Have them include their favorite ways they connected through COVID, favorite memories, and maybe their favorite viral meme. Another way to get creative is have them videotape TikTok dances and challenges they learned!" — Jennie Marie Battistin, M.A., LMFT, psychologist, parenting expert, and mbg contributor 
5.
 Start a new tradition. 
"A fun activity for Pre-K through third grade is to make a grow with me T-Shirt. Get a size L adult shirt with the year of their high school graduation on the front side. Then on the back side using washable ink, have them put their handprint and 2021. Then every year after, have them add their handprint and the year." — Battistin
6.
Make a fun to-do list. 
"Don't waste the little free time that you have each day (between work and school) trying to figure out what you're going to do for fun. Keep your joy on demand. Have a working list of activities and experiences ready to go—so you're prepped to go whenever fun-time strikes! Try to keep a list together with activities that suit everyone so there's little-to-no time needed to waste on debating." — Lasan
7.
Reflect with hope and gratitude. 
"Engage kids in reflective activity by writing two letters to themselves. In the first letter, have them write a letter to themselves about how proud they are for getting through the last school year and overcoming any challenges or problems. In the second letter, have them write about their hopes, dreams, and goals for this year that they can seal and read on the last day of school." — Battistin