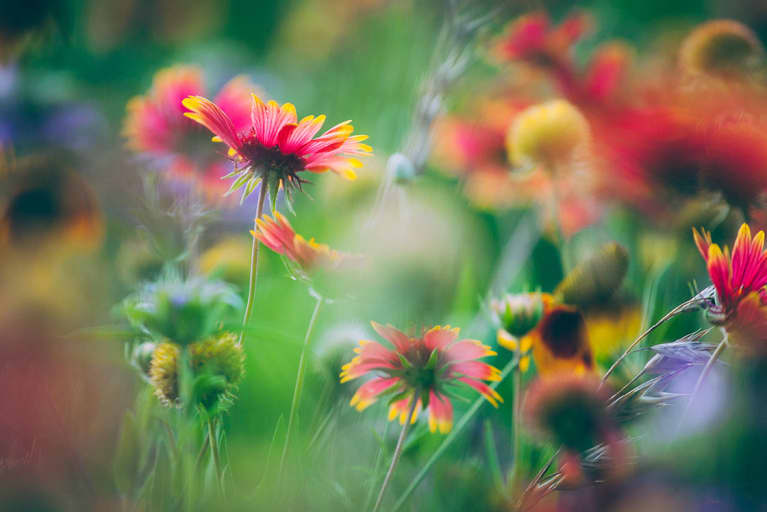 Our editors have independently chosen the products listed on this page. If you purchase something mentioned in this article, we may earn a small commission.
April 12, 2022 — 21:32 PM
If you want to add a patch of greenery to your yard but aren't able to mow and maintain it, a grass-free lawn is a colorful, environmentally beneficial alternative to hard landscaping.
Grass-free lawns are becoming increasingly popular, with many seeing them as a more eco-friendly alternative to traditional lawns, which often require more water and energy (from mowing) in order to keep them green and pristine.
How to start a grass-free lawn.
This project is made up of a selection of low-growing plants (listed below), which can be bought as plugs (young plants) or in larger pots that can be split apart. Once planted, they naturally spread to create a diverse and multicolored patchwork that will support a wide variety of wildlife over time.
Spring is the best time to complete this project, as that is when the plants begin active growth. If you are starting with smaller plants, don't expect a finished effect on day one; however, by their nature, these plants spread quickly, and you should soon see results. This type of grass-free lawn can be trodden on occasionally but will not take regular foot traffic.
Rake
Spade
Low-growing plants, either as larger plants or as plugs
Hand trowel
Hose with spray nozzle or watering can with rose
Clear all vegetation from the area in which you want to create your grass-free lawn. Loosen the top layer with a fork and rake it as level as you can.
If the area is uneven, level it out by moving spadefuls of soil into any hollow areas. Tread across the whole area with small steps to remove any air bubbles.
Arrange the plants in their pots across the area, spacing them out slightly. Group the varieties in free-form shapes for best effect.
If you have bought larger plants, divide each one into two to three pieces, making sure that each piece remains attached to a chunk of roots.
Plant the lawn-alternative plants, digging a small hole and firming each one into place. Make sure to distribute them evenly across the area.
Water the planted area carefully, using a hose with a fine spray nozzle (or a watering can with a rose, if the area is small) to avoid washing away soil from around the roots.
Get started with lawn-alternative plants.
You don't always need grass to create a green space. These low-growing, mat-forming plants are loved by pollinators and can be combined into an eye-catching patchwork if the use of the space is light. (They won't take as much wear as a regular lawn.) If you rent your home, speak to your landlord before starting your alternative lawn, as these plants can naturally spread over time.
Creeping thyme (Thymus serpyllum)
Also known as wild thyme, this plant is a close relative of the culinary herb. It has the same scent that you will recognize from the kitchen and, if left to flower, the pale pink blooms are great for bees, too.
Leptinella (Leptinella squalida)
This beautiful fern-like creeping plant from New Zealand grows best on lighter soils. It has flowers like small buttons.
Clover (Trifolium repens)
While some consider clover to be a weed, it is a great lawn alternative. Loved by bees, it is available in a range of colors.
Chamomile (Chamaemelum nobile)
Chamomile offers scented foliage. It grows best in sunny areas that are neither too dry nor too wet.
Corsican mint (Mentha requienii)
Corsican mint develops into a tough, evergreen carpet over time and releases a minty aroma when disturbed.
Creeping Jenny (Lysimachia nummularia)
Available in both green and golden forms, this is a great choice for poorly drained sites.
Wonderful for sunny sites with well-drained, often poor soils, sedum only tolerate light use.
It might sound strange, but if your lawn already contains more moss than anything else—especially in a shady area—why not embrace it? Simply remove any other plants from the lawn and let the moss thrive.
Excerpted from How To Garden When You Rent reprinted by permission of DK, a division of Penguin Random House LLC. Copyright © 2022 Dorling Kindersley Limited.
Reset Your Gut
Sign up for our FREE doctor-approved gut health guide featuring shopping lists, recipes, and tips
You are now subscribed
Be on the lookout for a welcome email in your inbox!
https://www.mindbodygreen.com/articles/lawn-alternative-plants