We've all wondered what life would be like as another person with a totally different story. Realizing just how short life really is, perhaps we've longed for the many directions life could have taken us. And if it weren't for reading, that might get us down. The pages of a book are a portal—a door into a different life, even a different world, that we can experience freely through imagination. Every book is an adventure at our fingertips.
The adventure of reading.
When a good read takes our mind on an adventure—there's more entertainment underway. As a book engages our imagination, our brain reaps a slew of benefits. And it started when we were kids—research shows that imaginative reading develops higher activity in the area of the brain that cultivates mental images and understanding verbal cues. As adults, studies show, imagining something can actually strengthen the part of the brain involved in its real-life execution. (You're that much closer to shapeshifting!) 
A good book may be an adventure in itself—but what happens when we take that book on an adventure? Double the fun. Reading is versatile: Sure, you can read in bed before you sleep, but you can also read on a mountaintop! Especially with all the forms of reading available now. Between print, audiobooks, and e-books, your latest Penguin Random House title can follow wherever you go. Let's see just how far we can take that with these five unexpected places for reading this summer:
It's not really summer without at least one road trip of car games, salty snacks, and spontaneous stops at roadside attractions. Road trips are a perfect, uninterrupted block of time to dive deeper. That could be into an album or conversation—but for us, it's designated reading time… And by that we mean listening. An audiobook turns your drive from A to B into a destination itself as miles disappear beneath the wheels. In fact, if you find yourself planning a road trip just to check some books off the list… We highly approve.
Because road trips tend to get us in a reflective state, we recommend loading up The Ugly Cry, by Danielle Henderson, to your phone. Raised by her grandparents after her mother chose a drug-addicted and abusive boyfriend, Danielle Henderson experienced a rather unconventional childhood. And in her memoir, we learn all about it. With themes of her grandmother's ferocious love and what family really means, this might get you a bit teary behind the wheel.
Something nature and reading have in common? They both have a keen ability to quiet the mind. As we make our way down a beautiful trail, we tend to experience a calming experience akin to cozying up with a page-turner. So why not combine the two? Next time you go on a hike, throw a novel into your pack. Celebrate your summit with an hour of reading amid killer views. Or if you prefer some entertainment as you trek, listen to an audiobook as you make your way up.
Speaking of climbing mountains… In the novel Serena Singh Flips the Script, by Sonya Lalli, main character Serena challenges the traditional script that women need domestic bliss to live a happy life. With its refreshing perspective on family, friends, and romance—this is a novel with a view.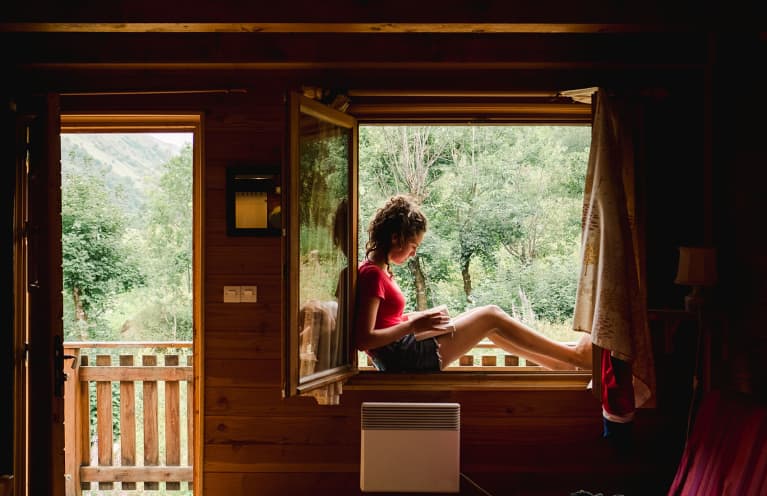 There's something about kicking back with a good book that reminds us of the carefree days of our youth—not a care in the world, just a story to lose ourselves in. How to recreate that youthful feeling? Find a treehouse. Tap into your network of suburban friends and families and see what you can come up with. If all else fails, find yourself a park bench under a big shady tree and pretend… That's what reading is all about, after all.
To really get your imagination churning, we recommend the brilliant magical realism of Gold Diggers, by Sanjena Sathian. This novel takes a closer look at immigrant identity, community, and ambition, as it follows protagonist Neil Narayan. While juggling the expectations of his Asian American family, Neil faces the classic pressures of the American Dream and a growing interest in his neighbor, Anita, the beneficiary of an ancient potion made from stolen gold.
If you're looking for something different to do on a warm summer day, pack up your book, an adult-sized flotation device, and head to a body of water. It's not hard to locate a blowup raft, and we'd be hard-pressed to find a better way to read. There's something about floating, sunshine, and a good book that turns an average day into paradise. Pro-tip: Pack sunscreen, stay hydrated, and opt for a paperback—your e-book isn't helping anyone at the bottom of a lake.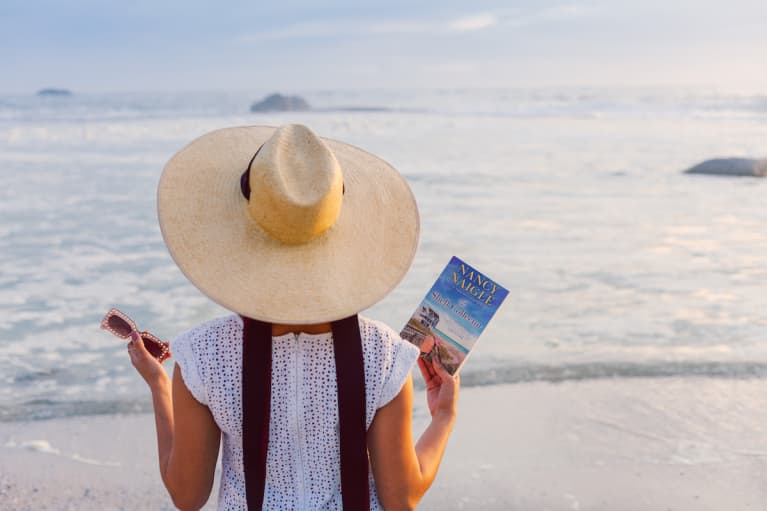 To uphold the adventures of your day on the water, check out Velvet Was the Night, by Silvia Moreno-Garcia. It's an edgy noir featuring a daydreaming secretary, a lonesome enforcer, and the mystery of a missing woman they're both desperate to find. It's set in Mexico City circa 1970, so don't be surprised if you close this book and forget where you are and how you got there.
We may read to expand our mind, to excel in a work project, or to simply stay in the know—but all of us love reading for pleasure the most. And to really amplify the sweetness of your reading session, take it to your city's botanical garden (or any place with impressive landscape). A good story, colorful flowers in the periphery, a subtle floral aroma… You've just met your inner Jane Austen.
Alongside taking in the beauty of life, we recommend Between Two Kingdoms, a memoir by Suleika Jaouad. After a leukemia diagnosis with only a 35% chance of living, Suleika's life dreams went up in flames. In this story, she shares the journey of overcoming cancer, connecting with the readers who wrote to her throughout her illness, and learning what it means to live again. Or, awaken your botanical mood with a stimulating poetry collection: Black Girl, Call Home, by Jasmine Mans. Her important themes of race, feminism, and queer identity, and masterful use of language, will make any moment more meaningful.
Other titles worthy of your summer adventures:
For many of us, the last year and a half or so culminated in a newfound passion for reading. But just because the world is changing, and summer adventure calls, doesn't mean you have to leave that habit behind! Your books can participate in and elevate your adventures. So stay in the loop with Today's Top Books by Penguin Random House for all your adventure-worthy titles.
And in case your curiosity is as insatiable as your imagination, check out how all that reading is actually boosting your brain. Plus, coming up: Ideas for starting your own book club!