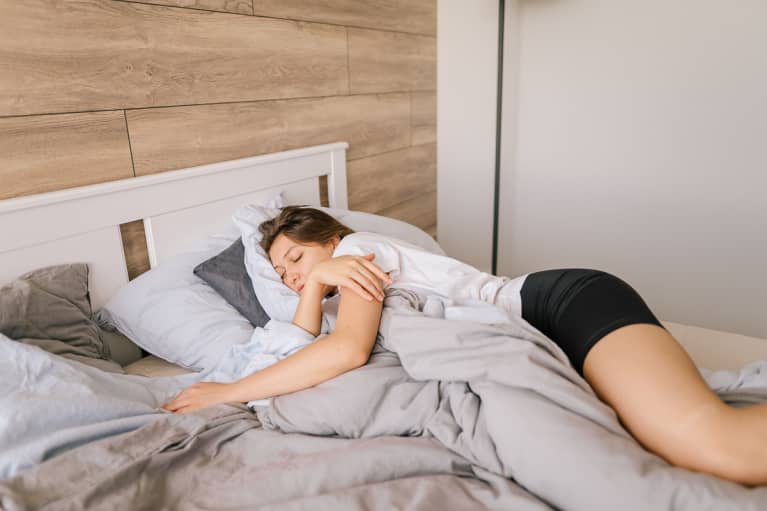 August 13, 2021 — 23:33 PM
Have you ever not slept well and thought "it'll be fine, I'll just take a nap later?" Well, as sound as that logic might seem, studies have proved time and time again that you can't really "make up for" missed sleep or sleep deprivation that quickly.
Researchers recently investigated a particular problem that happens when we miss out on sleep: poorer cognition—and it turns out that cat nap probably isn't going to help.
Investigating naps and cognition
The research, published in the journal Sleep, looked into whether short naps had any impact on cognitive impairment after a poor—or non-existent—night's sleep. What's a short nap? Anything less than an hour.
In the study, 275 college-age participants were tasked with completing a cognitive test before being either sent home with the assignment to sleep as normal or being asked to remain at the lab overnight.
Those who stayed in the lab were further divided into two groups. One group was allowed to take a 30- or a 60-minute nap while the other group wasn't allowed to sleep at all. The next morning, everyone was asked to repeat the cognitive task from the night before.
"We found that short naps of 30 or 60 minutes did not show any measurable effects," Kimberly Fenn, PhD, director of Michigan State University's Sleep and Learning Lab and study author, explains in a statement. "The group that stayed overnight and took short naps still suffered from the effects of sleep deprivation and made significantly more errors on the tasks than their counterparts who went home and obtained a full night of sleep."
The nap condition that may help support cognition
That doesn't mean that there wasn't any improvement at all in the nap group: more slow-wave sleep (SWS) during the nap meant less impairment on the tests.
Slow-wave sleep is the deepest stage of sleep that's associated with "high amplitude, low-frequency brain waves." It typically starts at least an hour after going to bed.
"While short naps didn't show measurable effects on relieving the effects of sleep deprivation," Fenn says, "we found that the amount of slow-wave sleep that participants obtained during the nap was related to reduced impairments associated with sleep deprivation."
Specifically, the researchers found that 10-minute long increments of SWS during a nap were associated with a 4% decrease in errors on the cognitive test. Though it's not a huge difference, it adds up.
"When someone goes without sleep for a period of time, even just during the day, they build up a need for sleep; in particular, they build up a need for SWS," Fenn further explains.
You can never really regain missed sleep, but you can do things to lessen the impact of a sleep debt. Napping is, of course, one of those things—but if what you're trying to recover is cognitive ability, a quick cat nap might not make too big of a difference. What's really important is hitting slow-wave sleep, which takes time, so this restorative stage might be hard to reach during a midday snooze.
At the end of the day, the best thing you can do is make sure you're prioritizing restful and restorative sleep during the night, so you're not left feeling the need to catch up.
https://www.mindbodygreen.com/articles/napping-and-cognition