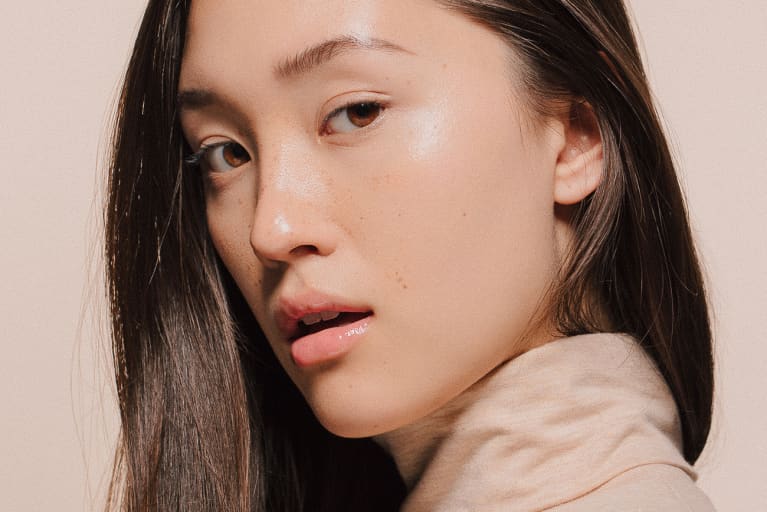 Our editors have independently chosen the products listed on this page. If you purchase something mentioned in this article, we may earn a small commission.
September 8, 2021 — 1:03 AM
We're in the last throes of the summer heat—and it seems to be where I'm located, at least, the most humid. Walking down the street is practically like swimming through the air. It's the sort of weather you wear. And while I love how hydrated my skin feels with all this water in the air, I know that for many people humidity means too much unwanted shine. And lots of it. 
If this is you, and you're looking for ways to deal with the humidity-induced glow—we rounded up the best, pro-approved tips to keep your glow effervescent, not oil slicked. 
1.
Use it to your advantage. 
Sometimes the best choice of action is to just roll with it, and let your skin shine away. Highlighters, after all, became such a popular makeup choice for a reason. "Lean into it if you have a lot of natural face oil. If you have oily skin, use it, enjoy it, and embrace it," says clean beauty expert and celebrity makeup artist Katey Denno about achieving a dewy glow. The key here is balance. You want to leave the areas that get shinier (like the T-zone) alone, and then play up the areas that need a bit of help. 
For example, as I've gotten older, my cheeks don't get as oily, so I often will add highlighter to the tops of my cheekbones to complete the look. (To do so, I use a lighter, shimmer-free option. Tower28's SuperDew Shimmer-Free Highlight Balm is heaven on earth.) However, I also know that my nose and forehead will do just fine on their own, so I leave those be. Check out our favorite highlighters for more inspo.   
If embracing the dew isn't really your look, we get it. In these cases, this makeup artist staple is a must have: a matte or velvet setting powder. Their main gig is to set your makeup and keep it from sliding down your face midday: Think of the powders you may use atop a blemish to keep your concealer in place or the ones you may dust across your T-zone to keep it shine-free—the formulas absorb moisture and keep you from looking like a highlighter. 
You'll want to find one with a texture you enjoy that matches your skin tone. "Some [setting powders] can be pressed, but most of them will be in a loose powder," says Makeup artist Criss Scortezz on his TikTok. And from there, it's all about application. Identify the areas that need the most work (again, it's usually the T-zone), and then gently and lightly apply the product into the skin, rather than dusting. See, with setting powders, it's more of a press-and-roll situation, with either a makeup brush or beauty sponge. You don't want to buff on the powder or your makeup might pill. 
3.
Eco-friendly blotting sheets
A classic, yet dependable, option: blotting sheets. "Use these on your skin during the day to help absorb the excess oil," says top facialist Taylor Worden, who works with clean and sustainable brand Alpha-H, about keeping skin balanced during the summer months. These use absorbent papers that can soften excessive midday oil. They're also handy as they're more portable than powders, and you can use them multiple times a day (using a powder too much can lead to buildup, as too much of any makeup product can tend to look cakey by the end of the day.) We love these gentle, sustainable sheets.
4.
Switch up your skin care with oil-controlling actives.
Listen, our skin is affected by the atmosphere around us—and thus you should be making adjustments to account for the seasons. And being smart about skin care can really help with oil-control throughout the day, making makeup tricks to fix it less of a necessity. 
While everyone's needs will be different, we recommend incorporating a light chemical exfoliant once or twice weekly (AHAs are particularly helpful: "They can be simultaneously exfoliating and hydrating, making them very beneficial to many skin types," says board-certified dermatologist Mona Gohara, M.D.). Using a light, yet effective daily moisturizer—such as these formulated for combination skin. And utilizing botanicals that have oil-controlling properties. ​​For example, "Niacinamide and green tea also have data with decreasing oil production," says board-certified dermatologist Mellisa Kanchanapoomi Levin, M.D.. Check out the best niacinimade serums.
5.
BB creams over foundation. 
Not only do you want to switch up your summer makeup for comfort (who wants to wear a thick foundation in the summer heat?), but it can help your overall look. We recommend switching to a light wash of BB or CC cream. These can provide you slight coverage, color-correcting, and skin care benefits—while also helping keep your sin dewy and fresh, not greasy. 
"Oilier complexions should ideally select an oil-free formula with a matte finish," says celebrity makeup artist Jillian Dempsey. "For dry skin, choose a moisturizing formula." Acne-prone skin may want to look for mattifying options (as acne-prone skin tends to also be oily), as well as noncomedogenic formulas. One you find the formula of choice, check out our best application tips.
6.
Don't strip or dry out the skin—invest in lightweight face lotions.
You may be tempted to start over washing or exfoliating away the oil—but as we've mentioned time and again, this will only make the problem worse. When our skin is irritated and we strip away our natural oils, it triggers the skin to enter sebum overdrive mode. 
"With the overproduction of sebum, that sebum is a little bit different in composition," celebrity esthetician Alicia Yoon, founder of Peach & Lily, tells mbg about dealing with oily skin. "There are more wax esters, it's a little bit glassier, and the oil can look more yellow versus clear." That thick, yellowish oil is the substance you might associate with "oily skin," but the actual amount isn't necessarily the problem. See, when you hydrate your skin, it actually produces different kinds of oils, says Yoon—the lipids that make your skin look supple and dewy, never greasy. What's more, supplying your skin with some much-needed hydration can even reduce some of that excess sebum.
Check out our favorite face lotions here.
https://www.mindbodygreen.com/articles/pro-approved-products-to-help-with-midday-shine-and-oil