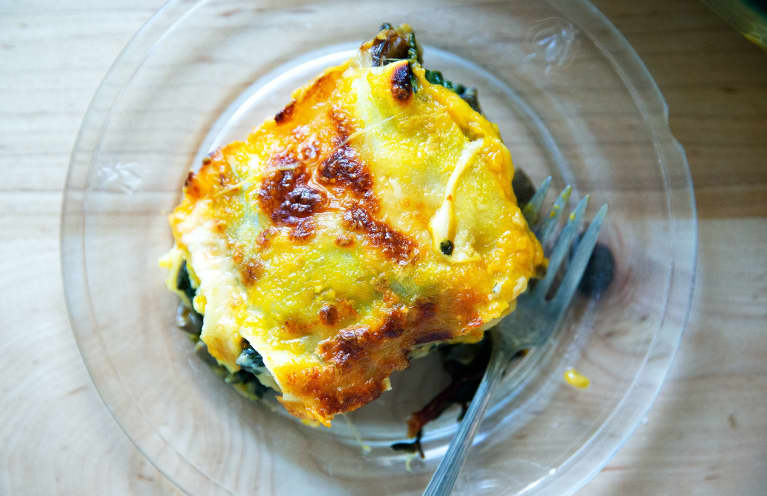 December 19, 2021 — 15:04 PM
When it comes to holiday mains, the lineup seems to be dominated by meat roasts or maybe fish—not a lot of options for someone following a more plant-based diet. It's a struggle I've experienced firsthand: Over a dozen years of vegetarian eating later, I've had my fair share of dinners made up of sides during the holidays. And while there's nothing wrong with that (the sides can be the best part, after all!), sometimes it's nice to have a veg-friendly entree option, too.
That's where this recipe comes into play: Developed by Ali Stafford of Alexandra's Kitchen, it's a vegetarian lasagna that doesn't leave anything to be desired. Made with a trifecta of winter veggies including Swiss chard, butternut squash, and oyster mushrooms, it's full of flavor—and she even included tips for adjusting the recipe to be gluten-free and vegan, too. And if you're not a fan of Swiss chard or oyster mushrooms, feel free to use any pairing of greens and mushrooms instead—it'll all work.
Butternut Squash, Oyster Mushroom & Swiss Chard Lasagna
For the butternut squash sauce:
¼ cup olive oil 
1 onion, diced
kosher salt
1.25 lb peeled butternut squash pieces
¼ cup olive oil, divided
1 lb. oyster mushrooms, roughly chopped
Kosher salt
1 lb. Swiss chard, leaves removed from stems to yield 8 to 9 ounces, roughly chopped
1 quart of the butternut squash sauce 
12 sheets no-boil lasagna noodles
4 ounces Parmigiano-Reggiano, grated (about 1 cup)
8 ounces low-moisture, whole milk mozzarella, pulled into small pieces
Notes:
To make this vegan, use vegan Parmesan and mozzarella in place of the traditional Parmesan and mozzarella. To make this gluten-free, use gluten-free lasagna noodles (the Tinkyada brand is wonderful).
To make the sauce: Heat the olive oil in a 5- to 6-quart heavy pot over medium heat. Add the onion and sauté until softened, about 5 minutes. Add the cubed squash, 2.5 cups water, and 1 teaspoon salt. If your squash pieces are not submerged in water, add more water just until they are barely covered. Simmer, uncovered, stirring occasionally, until squash is very tender and water has reduced considerably, about 15 to 20 minutes depending on the size of the squash pieces.
Transfer mixture to a food processor or blender and purée until smooth. (Alternatively, use an immersion blender.) Taste sauce. Add more salt if necessary. Transfer to a bowl or storage vessel—you should have 1 quart of sauce. 
To make the lasagna: Heat the oven to 375°F. Heat 2 tablespoons of the olive oil in a large skillet over high heat. When it shimmers, add the mushrooms and let cook undisturbed for 2 minutes. Season with salt, then stir. Cook for another 2 minutes or until the mushrooms are cooked and browned at the edges. Transfer to a bowl to cool. Return the skillet—no need to wash it—to the stovetop over high heat and add the remaining 2 tablespoons of olive oil. Add the Swiss chard leaves and let cook undisturbed for 1 minute. Season with salt. Use tongs to rearrange the leaves and encourage them to wilt. Cook for 1 to 2 minutes more or until the leaves have collapsed. Transfer leaves to a bowl to cool. 
To assemble the lasagna: Spoon ½ cup of the butternut squash sauce into the bottom of a 9-by-13-inch baking dish. Top with three sheets of the lasagna noodles. Spread a scant ½ cup butternut squash sauce over the noodles. Spread ⅓ of the mushrooms and ⅓ of the Swiss chard leaves over top. Spread about ¼ cup of Parmesan over top, then ¼ cup mozzarella. Repeat this layering until you have topped the third layer of noodles with the last of the mushrooms and Swiss chard, ¼ cup of each of the cheeses, and a scant ½ cup of butternut squash sauce.
For the final layer of noodles, bring a small pot or kettle of water to a boil. Pour it into a small vessel such as an 8-inch baking dish. Submerge the remaining 3 noodle sheets into the water and let sit for 2 to 3 minutes, using tongs to occasionally rearrange the noodles to ensure they are not sticking together. (Note: This step ensures this final layer of noodles, which might not be surrounded by as much moisture as the bottom three layers, will soften and expand properly once in the oven.) Use tongs to remove each sheet of noodles and transfer to the pan. Spread the remaining sauce—it should be about ½ cup—over top, then top with the remaining cheese. 
Cover the pan with foil and refrigerate for up to 24 hours or transfer to the oven and bake for 40 minutes. Remove foil, and bake for 10 to 20 minutes more or until the cheese has melted and the top is bubbly and evenly golden. Let cool for 10 minutes before serving. 
Reset Your Gut
Sign up for our FREE doctor-approved gut health guide featuring shopping lists, recipes, and tips
You are now subscribed
Be on the lookout for a welcome email in your inbox!
https://www.mindbodygreen.com/articles/butternut-squash-chard-mushroom-lasagna