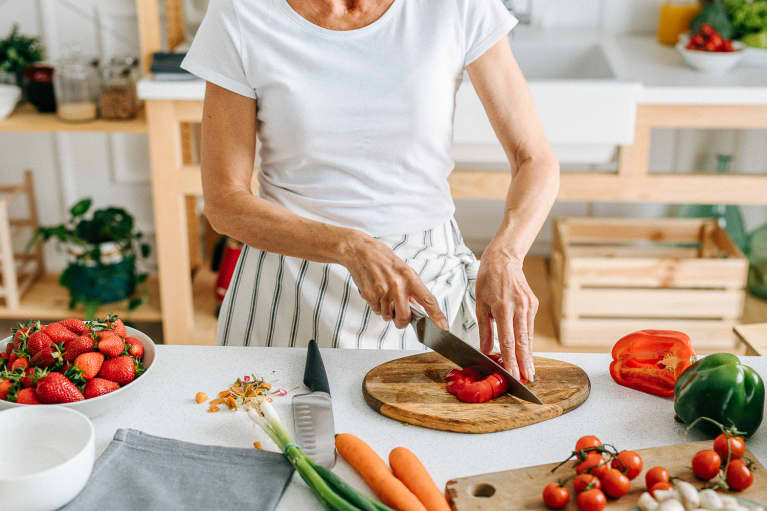 Our editors have independently chosen the products listed on this page. If you purchase something mentioned in this article, we may earn a small commission.
November 1, 2021 — 10:06 AM
Today, November 1st, is World Vegan Day and the kickoff of World Vegan Month, which runs the length of November. It's the perfect time to dip your toe into vegan (or at least more plant-based cooking) if it's not something you do often, or to try expanding your repertoire to some new recipes.
We love sharing creative, functional recipes that offer more than just a delicious meal, and often vegan recipes fit that bill. From snacks to soup to sweets, these are the 2021 recipes that have been most popular with you, our readers.
1.
Vegan Mediterranean Power Bowl
Our most popular recipe of the year overall also happens to be vegan—a power bowl which combines vegan eating with the ever-popular Mediterranean diet. It features a base of quinoa, topped with chickpeas, tomatoes, peppers, cucumbers and olives—plus hummus for extra protein and healthy fats.
Recipe here.
We hopped on the faux bacon trend that took social media by storm, with this recipe from TikTok-er wearegirlswhoeat using a food you'd typically toss: banana peels. It provides that bacon-y flavor you might miss on a plant-based diet and cuts down on waste—a win-win.
Recipe here.
3.
Oven Baked Cauliflower Steaks
Cauliflower is firmly cemented as a go-to substitute for everything from gnocchi to rice, but these spiced cauliflower steaks are seriously one of our favorite dishes with cauliflower of the year. They're like an upgrade on classic roasted cauliflower and feature ginger, turmeric, cumin, and coriander.
Recipe here.
4.
Creamy Vegan Cauliflower Chowder
Another cauliflower recipe, with a totally different take on the cruciferous veggie. This recipe uses it as the base for a creamy chowder. To top it off, this dish is complete with an olive thyme gremolata and crispy roasted potatoes, so it has texture as well as flavor, supported by a good dose of nutritional yeast.
Recipe here.
5.
Sweet Potato, Spinach & Chickpea Stew
Staying in soup land but leaving cauliflower behind, this one-pot stew packs in nutrients with its three primary ingredients. We weren't super surprised to see that you loved this one: We're particularly fans of the yogurt topping—just make sure to use an alternative yogurt to keep it vegan.
Recipe here.
7.
Chickpea, Red Lentil & Vegetable Soup
Back to soup, and to chickpeas, this freezer-friendly recipe doubles down on plant-based protein, which is great for people following a vegan diet. This flexible recipe encourages picking out your own vegetables, based on what you have on hand, making it the perfect weeknight dish.
Recipe here.
8.
Choco-cado Pudding Pops
Another popular category of recipes with our readers: healthier vegan desserts. These refined-sugar-free chocolate pops are made with avocados, which mean they also have plenty of healthy fat and a delectable creamy texture.
Recipe here.
9.
Pineapple Basil Sorbet
Another sweet perhaps more suited to warmer climates, this no-churn sorbet is fresh, sweet, tangy, and herby all at once, and a totally unique dessert that's impressive but still easy to churn out (pun absolutely intended) at home. The bonus? It's only four ingredients, and naturally sweetened.
Recipe here.
10.
Lemon Vanilla Layer Cake
Rounding out the top ten for this year: this dreamy lemon layer cake with a whipped coconut cream frosting. It features nutrient-packed berries, and it's also free of refined sugars. Swap out the honey to keep it vegan—consider something like date syrup or agave instead.
Recipe here.
So there you have it: the 10 vegan (or easily veganized) recipes of the year so far. The good news is we're always sharing more recipes, like our favorite easy vegan recipes, and you can check out our favorite vegan cookbooks so you always have recipes on hand.
https://www.mindbodygreen.com/articles/top-vegan-recipes