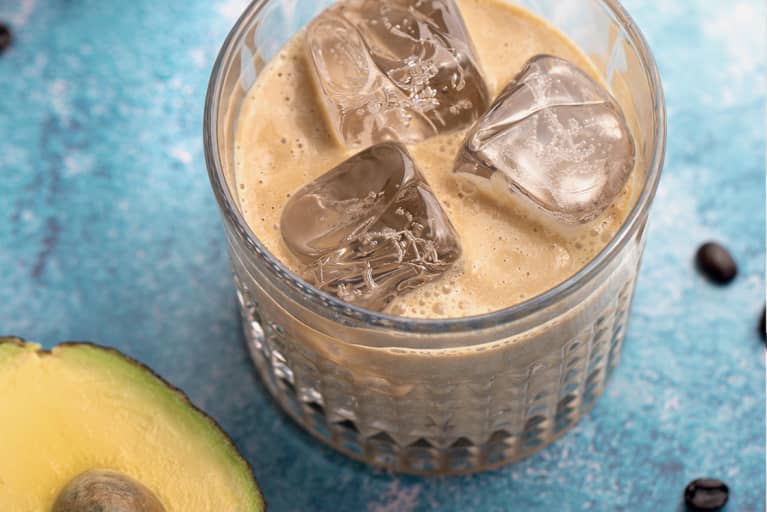 Our editors have independently chosen the products listed on this page. If you purchase something mentioned in this article, we may earn a small commission.
September 5, 2021 — 11:31 AM
Sure, you can make a pretty creamy iced coffee with your favorite plant-based milk, but it's challenging to match that rich creaminess of a dairy-based beverage (former milk-drinking friends, you know exactly what I'm talking about). Luckily, we have a genius solution, courtesy of cookbook author Hannah Kaminsky: avocado. Yes, that's right: avocado iced coffee. Before you start to think how bizarre that might sound, think back on bulletproof coffees with their added butter—and then reconsider: Is avocado really so out-there?
In truth, this coffee drink falls somewhere between an iced coffee and a smoothie, one that's packed with healthy fats thanks to the combination of avocado and coconut milk. The key to getting that good coffee flavor is a strong brewed coffee to start with, like a homemade cold brew or a dark roast coffee. Those healthy fats in the drink also may keep you fuller longer than a classic iced coffee—a bonus if your morning brew sometimes accidentally does double duty as your breakfast.
½ ripe avocado, peeled and pitted
½ cup full-fat coconut milk
¼ teaspoon vanilla extract
1 to 2 drops liquid stevia (see Note)
1 cup strong brewed coffee, cooled
Ice, to serve
In a blender, combine the avocado, milk, vanilla, stevia, and coffee until smooth.
Fill one or two glasses with ice, and pour the coffee mixture on top. Sip and savor!
Note: Feel free to use your favorite sweetener here, be it maple syrup, coconut sugar, or good old granulated, to taste.
Excerpted with permission from The Student Vegan Cookbook © 2021 Quarto Publishing Group USA Inc. Text and photography © 2021 Hannah Kaminsky.
https://www.mindbodygreen.com/articles/creamy-vegan-iced-coffee