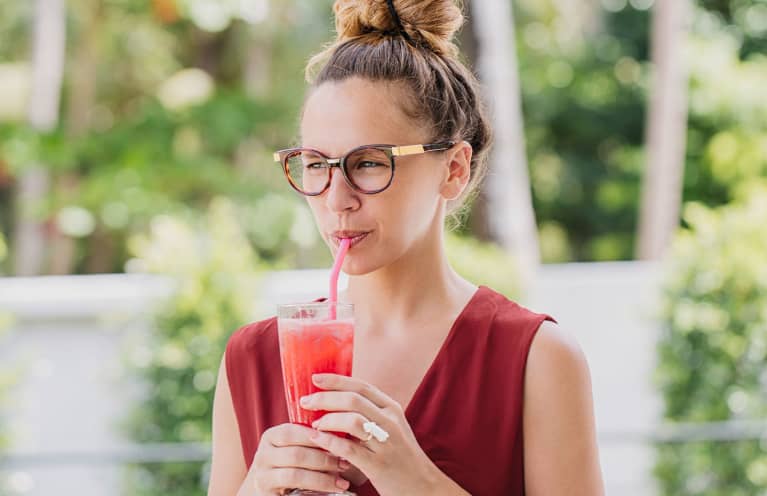 August 2, 2021 — 10:03 AM
When the wellness world identifies a darling botanical, it seems they tap just about every single way to use it in your routine. Is it safe for topical use? Extract the actives and transform it into a serum. Edible? Make it your new favorite meal—or, at the very least, an add-on to your dish du jour. Drinkable? Juice it, brew it, or turn it into a cocktail. Then there are supplements. Supplements—when formulated with integrity—offer high-quality, thoughtful doses of good-for-you nutrients, botanicals, bioactives, and phytonutrients.* 
With all of these options, you're likely curious about what's your best bet, no? Of course, this is entirely ingredient-specific (some will do wonders when applied to your skin; others make for ideal snacks), but for the superfruit pomegranate, it seems the research is clear: You may want to find this juicy ingredient in supplement form.* 
Why pomegranate whole-fruit supplements are the most effective option.* 
Listen, we love pomegranates in all forms. Please—by all means—snack on them, toss them in a salad, add the juice to smoothies, crush them up for a DIY mask, or apply a face cream with the extracts. (Certainly, I do all of the above!) But if you want to optimize the fruit's impressive properties, supplements are the way to go.*
Here's why: The concentrated dosage can give you substantial skin and full-body benefits in an effortless, daily ingestible.* Here's a quick rundown of the science-backed claims associated with the whole-fruit extract:
Antioxidant properties. Pomegranates are chock-full of polyphenols and one of the best sources of ellagic acid, a specific type of the antioxidant polyphenol. These plant-based phytonutrients have been shown to protect your body's cells (including skin) from free radicals, which can lead to premature aging in the skin.*
Photoprotection. When consumed, antioxidants can help buffer the skin against photoaging by both absorbing UV rays and helping neutralize UV-induced free radical damage, per research. As for a concentrated pomegranate extract, clinical studies have shown that this targeted phytonutrient-rich botanical has the ability to enhance photoprotection in the skin, meaning your skin cells are better equipped to deal with UV rays and their subsequent effects.*
Oxidative stress. A prolonged state or accumulation of oxidative stress directly contributes to the skin aging process. Pomegranate extract has been clinically shown to reduce biomarkers of oxidative stress.* 
And all you have to look for is a supplement with "at least 100 mg of the whole-fruit extract from a traceable pomegranate fruit source," according to mindbodygreen's director of scientific affairs Ashley Jordan Ferira, Ph.D., RDN. (She notes that if the pomegranate seed extract is part of a broader formulation, you can opt for a lower dosage, but if it's just the sole ingredient—and doing the majority of the work—you should aim for the higher end.) 
And while we are always fans of getting nutrients from whole foods and nutrient-dense meals, I'm going to wager that most people out there aren't eating pomegranates daily. Pomegranate juice is also an option (one that comes with great benefits, like photodamage resistance, too), but it also contains sugar. Finally, the topical oil or extract is great for surface-level fixes—brightening, hydrating, and the like—but it won't address full-body needs; additionally, it's often hard to tell if your product is formulated with enough of the ingredient to make meaningful differences in the skin.
This superfruit is adored for its nutrient profile, taste, and multiple means of use. And while each way to use it is valid, we do recommend finding a quality whole-fruit supplement if you want to optimize its properties.*
https://www.mindbodygreen.com/articles/why-whole-fruit-pomegranate-extract-is-most-effective-way-to-take-it