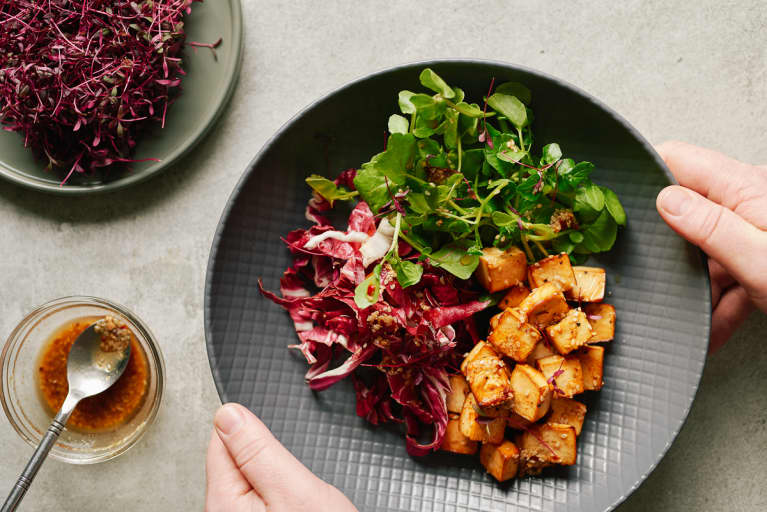 Our editors have independently chosen the products listed on this page. If you purchase something mentioned in this article, we may earn a small commission.
September 29, 2021 — 11:28 AM
Fast-forward just six months (yep, really!), and Young had reduced his total cholesterol levels by 25%. "I met with my doctor, and he was looking at me and said, 'Sergey, what have you done?' To my surprise, it was all changes to my lifestyle." 
Below, Young explains exactly how he lowered his cholesterol in that six-month timeframe. Of course, everyone's body is different, so you might need a different plan of action—but, spoiler alert, his tips are pretty easy to implement and are stellar for overall health, anyway: 
1.
Leaning on a plant-based diet. 
First up: Young tweaked his diet. A self-prescribed "red meat guy," he found that switching to a more plant-based diet was the catalyst for helping lower his cholesterol. "Lifehack No. 1 for me was a significant focus on plants," he says. ​​Research backs up the shift, as well: In a study of more than 10,000 adults published in the Journal of the American Heart Association, following a more plant-based diet was associated with better heart health, which is linked to balanced cholesterol.
He doesn't cut out meat entirely ("I probably eat meat once every two weeks," he declares), but the bulk of his plate features a smattering of healthy fruits and veggies. 
3.
Implementing more cardio. 
Young recommends opting for some form of cardio every day, if you can. When he was trying to lower his cholesterol, he relied on mostly swimming, but now he sticks to 30 to 40 minutes of training (be it swimming, running, or HIIT) to get his heart pumping and keep his vascular system strong. And if you are partial to a dip, know that a study in the journal Metabolism found ​​swimming improved body weight, body fat distribution, and LDL cholesterol levels in women aged 50 to 70 years. 
"Any movement is good. Let's just make sure we integrate it in our daily and weekly routine," Young says. "It's up to you what particular style of exercise you like." Even a daily walk can do the trick: "The beauty of walking is that you don't need to dedicate a lot of time to it. You can integrate it into your healthy lifestyle," he adds. 
For Young, changing up his diet, supplement routine, and exercise regimen helped finally kick his high cholesterol. You might not follow Young's exact advice to a T, but these three buckets can be helpful for supporting overall well-being, anyway. So who knows? You might reap some extra healthy benefits from his game plan: "Our bodies have this amazing capability to heal itself," he says. "If we treat it properly, we can do a lot to recover health-wise."
https://www.mindbodygreen.com/articles/how-a-longevity-expert-lowered-his-cholesterol-in-6-months