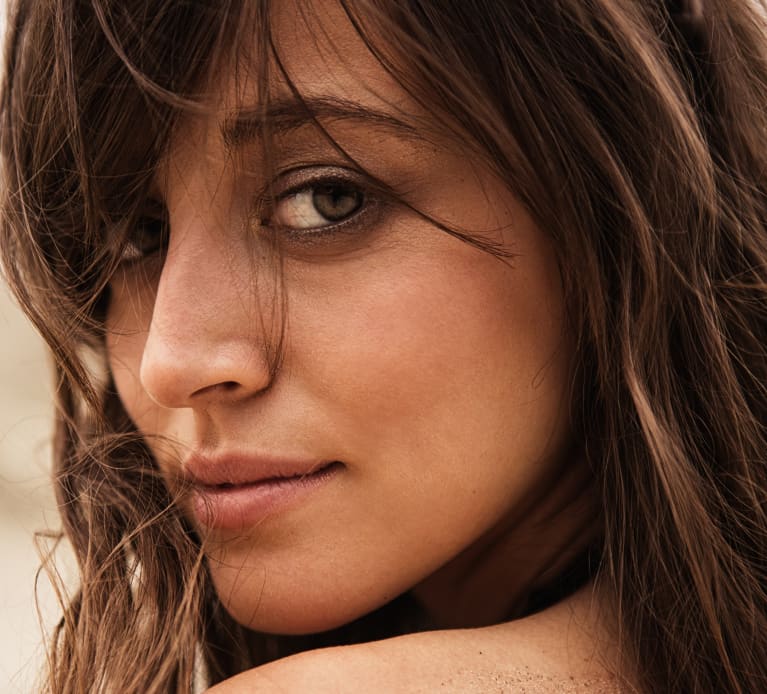 Our editors have independently chosen the products listed on this page. If you purchase something mentioned in this article, we may earn a small commission.
August 12, 2021 — 22:36 PM
While you can ultimately style your hair and makeup however you please, it can be helpful to lean on techniques that best suit your bone structure. But, sigh, determining your face shape can be frustratingly nuanced (even with our robust guide). Plenty of people can have a blend of two shapes—so how do you know if your face reads more ovular or rectangular? Diamond or heart shaped? 
If you have a diamond face shape (or think you might, but you aren't 100% positive), you sure have come to the right place. Below, we'll walk you through the best beauty tips for diamond faces—hairstyles, brows, makeup looks, you name it. 
How to tell you have a diamond face shape. 
"Diamond faces are very angular," Michelle O'Connor, texture specialist and artistic director at Matrix, once told us about the face shape. (Think high, high cheekbones and a pointed chin). It's often confused with heart-shaped faces, as both have that quintessential pointed chin. The difference? Diamond faces have a narrow jaw and hairline, whereas heart-shaped faces have that narrower jaw with a much wider forehead. 
Put it this way: If your cheekbones are the widest points of your face, with both your forehead and chin coming to a narrow point, you likely have a diamond-shaped face. 
With diamond face shapes, it's all about creating width at narrower areas and accentuating those naturally high cheekbones. Both makeup and hair techniques can do the trick, which we've rounded up below. 
To soften those angles, O'Connor suggests opting for textured, medium-to-long layers—or if you have short hair, an asymmetrical or piecy pixie looks divine. In terms of styling, "definition like a wave, curl, and bounce will soften those angles immensely," she says. 
2.
Stick to soft arched brows. 
As a general rule, you shouldn't mess with your natural brow shape too much—lest you run the risk of plucking them pencil thin. You can slightly modify them to match a certain shape, however: Brow experts recommend you stick to a soft or medium arched brow to complement those angular features. A sharp peak may only accentuate the narrower hairline and can even read triangular.  
3.
Use a pearly blush to accentuate the cheekbones. 
Diamond faces already have high, high cheekbones—accentuate them further by sweeping a blush in a "C" shape from the temples inward. "If you want to enhance your cheekbones, try applying a highlighting blush formula with added pearl that will reflect light on the highest point of your cheekbone," notes makeup artist Alexandra Compton, product development manager at clean beauty retailer Credo. She touts the Kjaer Weis Refillable Cream Blush for a luminous peachy hue.
4.
Side parts are your friends. 
Diamond-shaped faces and side parts are a perfect match, as the style softens up the look and creates width at the jaw and hairline. A good guideline is to start the slit at the arch of your eyebrow, celebrity hairstylist Marcus Francis previously told mbg about parting the hair, but you can totally opt for a deeper side part to add more drama. Diagonal parts (a side part that keeps extending diagonally towards the crown of your head) are also very flattering for this face shape, as it creates even more width at the hairline.  
If you have a dedicated middle part and are hoping to flip it over one the side, you may need the help of stylers and hair clips to keep the cowlicks at bay. See here for how to master the perfect side part (and help it stay put). 
5.
Experiment with bangs. 
Just as how side parts can soften up angular diamond features, Francis tells us that side-swept bangs can complement those sharp angles. Curtain bangs can also hide a narrower hairline (here's how to create them without a trim or hot tools, if you're curious), and baby bangs can simultaneously shorten and face and accentuate those naturally high cheekbones. 
6.
Strategically place highlighter on the forehead.
As Compton mentions, you'll want to apply your highlighter on the highest point of the cheekbones (if you want to accentuate them), as this reflects the most light and enhances them even further. 
Since diamond faces also have a narrower hairline, you can also highlight the middle of the forehead between your brows to bring forth the area—just make sure to blend super well and don't go too overboard with the shimmer, as it can read greasy.  
7.
Use bronzer to enhance the cheekbones or make the face appear fuller. 
With bronzer, you can take one of two routes: Either sculpt the face or create fullness. For the former, diamond-shaped faces will want to drag a contour line just under the cheekbones. Make the line precise and sharp, and buff the bronzer upward while blending. Hello, razor-sharp cheekbones. 
To shorten the face, bronzer also works like a charm. To create shadow on the lengthiest parts of your face (for diamond faces, that's the top of the forehead and bottom of the chin), swipe the bronzer in both places to focus the attention center. (See here for a full bronzer tutorial.) 
For all our diamond-shaped friends: There's a host of beauty tricks to enhance those high cheekbones and soften up angles (if you want). Use these tips as your guide, or, you know, just go about your normal beauty routine—it's your face, and you know makes you feel your best. 
https://www.mindbodygreen.com/articles/diamond-face-shape