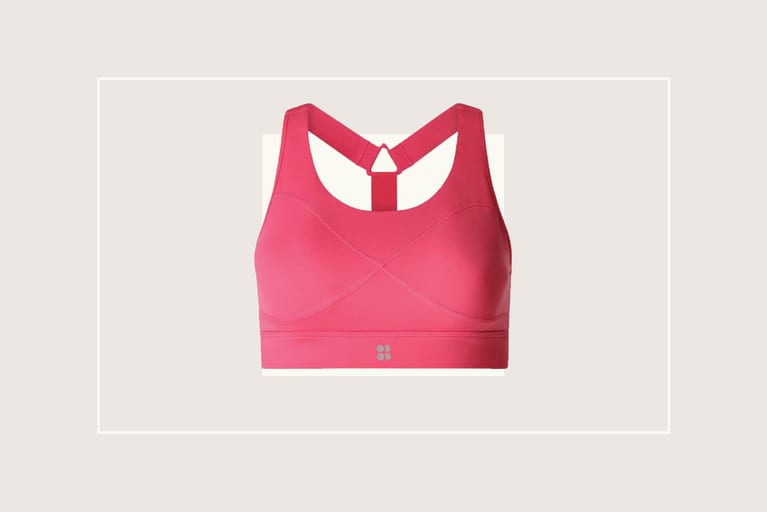 Our editors have independently chosen the products listed on this page. If you purchase something mentioned in this article, we may earn a small commission.
September 5, 2022 — 11:01 AM
There's nothing worse than hopping into a high-impact workout—whether it be a class, an at-home circuit, or even a run—and realizing that my sports bra is not doing it's job. The dreaded boob bounce not only makes me feel insecure, but it's also downright uncomfortable. All I want to do is get my sweat on to support my overall longevity and mental health, yet I can't focus on anything but keeping the girls as still as possible.
Now, I'll admit that I'm not a particularly large chested person, but I have enough going on to experience the frustration of a sup-bar sports bra. So when I discovered a new closet staple that could keep my chest lifted and supported during even a trampoline fitness class, I knew it was an item I had to share: Meet Sweaty Betty's Power Medium-Impact Sports Bra.
Why I love this Sweaty Betty Sports Bra.
I love nothing more than a matching workout set (it's the little things when you're working from home everyday). So when Sweaty Betty offered to send over the High-Impact Sports Bra and matching cycling shorts ahead of a trampoline workout class this summer, I was thrilled. The vibrant pink set was the perfect accompaniment to my lineup of gear, and I couldn't wait to try the popular activewear brand, which boast celeb fans like Halle Berry (who even co-created multiple collections).
As you may have guessed, my very first appearance in the activewear set was the fitness class. As is the nature of jumping on a trampoline, the opportunity was there for things to get uncomfortable. Yet I felt fully supported throughout the entire class, my chest snug and secure as I bounced in and out of rhythm. Hey, we can't all be coordinated aesthetically and athletically. (And if you're wondering, the class left me sore in all the right places the next day.)
Although it was my first time sporting the Sweaty Betty bra, it definitely won't be my last.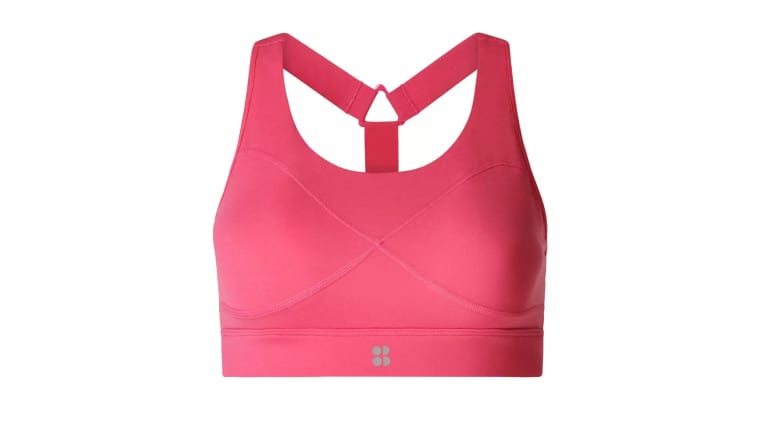 Sweaty Betty High-Impact Sports Bra
How this sports bra stands out.
The reason that I'm obsessed with this sports bra all comes down to the construction. The thicker strips transform this into an ultra-supportive design that even those with a larger chest will be impressed by (just ask my trampoline classmates). The T-bar back is also adjustable, so it's easy to personalize the fit of the bra to ensure you feel snug. In fact, I actually found my regular size (a medium) slightly larger than usual—yet I still felt strapped in despite the size discrepancy (though I would recommend sizing down).
While I removed the pads out of personal preference, they do add another layer of support and comfort, so it's really up to you. Plus, the unique figure-8 stitch on the front really highlights your, ahem, assets. I'm just glad the brand chose the color for me, because I would've struggled with the select of fun patterns and sleek colorways.
Besides the design, what I love most about this sports bra is the breathable fabric—it's the first time the brand's signature performance fabric was used for a sports bra. The popular Power fabric is sweat-wicking and quick-drying, which is a major perk when when I'm pushing through my workout. It's also incredibly stretchy, which is phenomenal because there's nothing I hate more than feeling constricted by my workout clothes.
My only complaint? Although Sweaty Betty does offer a handful of more sustainable items, such as the Super Sculpt leggings made from repurposed water bottles, this sports bra doesn't earn any stand-out points from the environment. While I know the durable pick will last for years to come, I love when a brand takes extra steps to stay green.
If you're going to invest in a high-quality sports bra, you want to make sure it's going to be worth your while. With that, I can confirm that Sweaty Betty's Power Medium-Impact Sports Bra has secured a regular spot in my workout outfit lineup for any exercise from running to trampoline workouts without having to stress about boob bounce or a sore chest. Available in sizes from XXS-XXL, ladies of all chest sizes can feel secure and comfortable in this frankly adorable bra.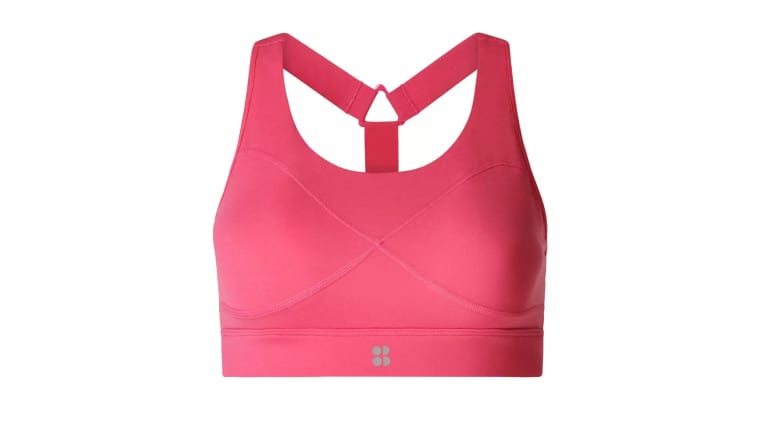 Sweaty Betty High-Impact Sports Bra
https://www.mindbodygreen.com/articles/sweaty-betty-medium-impact-sports-bra-review