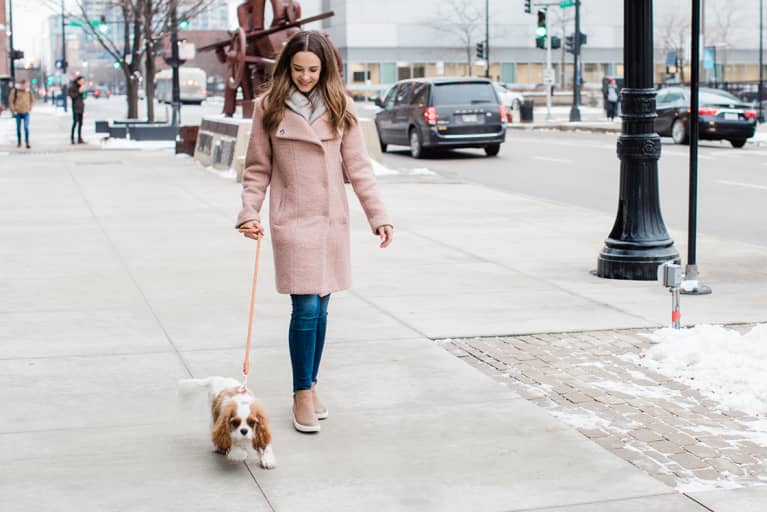 November 21, 2021 — 10:26 AM
As a registered dietitian, I take pride in steering people in the right direction when it comes to incorporating healthy habits that can make a big impact on their overall health. I strive to demonstrate a low-stress approach to healthy eating and creating healthy habits that are attainable and realistic for everyone's individual routine. To me it's all about the little things we do for our health on a daily basis. Those things make a big difference in our health in the long run! 
Because of my line of work, I understand just how valuable it is to consume a diverse range of nutrients and botanicals in your diet—but I also know how hard that can be on a day-to-day basis. This is where supplementation comes in: mindbodygreen's probiotic+ and organic veggies+ are two absolute game-changers for me. Here's why I made these two digestive-supporting supplements a part of my daily routine.*
I have tried plenty of other probiotics in the last few years but could never pinpoint whether they were working for me. Ever since I incorporated mbg's probiotic+ into my routine in 2019, I have definitely noticed a difference in my gut health.* That's why I trust it, continue to use it, and recommend it.
probiotic+ is unlike any other product out there—and there are tons of products out there. So many, in fact, I feel like people see them on the shelves and think, Oh, I should probably be taking a probiotic. Let me just grab the first one I see. Most consumers aren't putting any real thought into how a probiotic is made, whether it's gone through rigorous quality testing, and if the bacterial strains are targeting their personal needs. 
mindbodygreen, thankfully, has done their homework, so I can feel good about the product I'm buying. Their supplements have gone through four rounds of advanced analytical testing at state-of-the-art labs, and their probiotic+ contains a unique blend of bacterial strains (B. lactis Bi-07, B420, HN019, and L. acidophilus NCFM), designed to ease bloating, aid digestion, and elevate the gut microbiome.*
As a dietitian, I always recommend incorporating fermented foods in the diet to get those good bacteria, but it can be hard. Kombucha, sauerkraut, and kefir aren't always a part of people's daily diets. So again, consuming those gut-friendly bugs through a targeted probiotic supplement form on a daily basis is a simple way to help your digestion and enhance your overall gut health.* 
Gut health is so important for our mood, our immune system, and more. We're learning more and more about how gut health affects our health every day. Taking a probiotic is a great insurance policy to support the gut microbiome and to get you all of those good bacteria that can be hard to get from your diet.*
Why I love organic veggies+.
I think it's safe to say many people are not eating enough vegetables in a day, no matter how hard they try. Even as a dietitian, I'm aware that there are days when I'm not getting as into my diet as I should be—which is why I like having mbg organic veggies+ in the pantry. While it doesn't fill the fruit and veggies gap, it's still an added dose of nutrients and bioactives that I could certainly benefit from.*
Knowing that I can sprinkle it into soups or smoothies, bake it into my pumpkin bread, or even just scoop it into a glass of water (aka a two-ingredient green juice), gives me that extra (and organic!) fruit, vegetable, and prebiotic fiber goodness in my diet.* 
Both of these supplements together are like a powerhouse duo for my digestive system.*
This time of year, especially, with holiday gatherings and an abundance of baked goods and charcuterie boards, many of us struggle to incorporate the nutrition of fruits, vegetables, and fiber into our diets. Colder months are also a time when we want to keep our immune systems strong—having organic veggies+ is like a secret weapon in my pantry.*
Not only is it a USDA-certified organic whole foods blend with 31 powerhouse ingredients like fruits and vegetables, but it also contains digestive enzymes, three grams of prebiotic fiber (which is significant, considering most people aren't getting the daily recommended amount), probiotics, and hard-to-find sea veggies, making it a super-unique greens powder.
Why I think probiotic+ and organic veggies+ are a powerhouse duo. 
While they're entirely different products, organic veggies+ and probiotic+ offer synergy for gut and immune support.* They're also both super simple, yet impactful, additions to a daily routine. It doesn't feel like: OK, I need to do all of these things to take care of my body.
I simply take a probiotic in the morning with a glass of water and add a scoop of veggies+ to one of my daily meals. These are no-brainer ways for me to do something good for myself and my overall well-being. Both of these supplements together are like a powerhouse duo for my digestive system.*
https://www.mindbodygreen.com/articles/2-gut-healthy-supplements-registered-dietitian-takes-daily