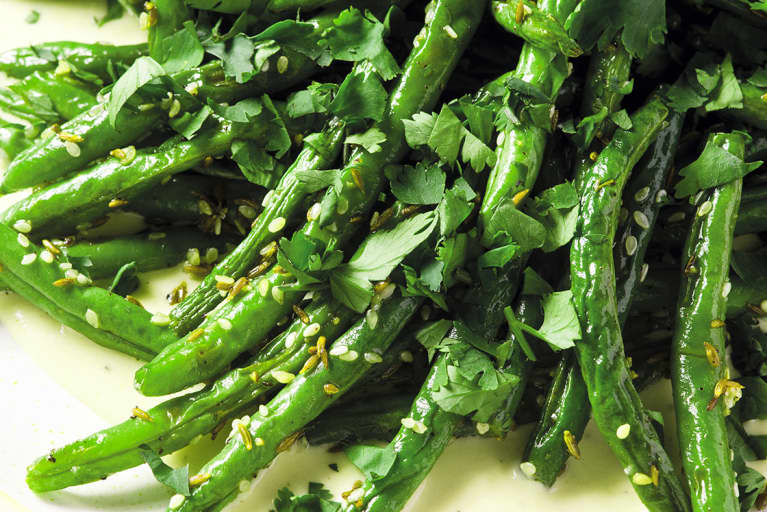 Our editors have independently chosen the products listed on this page. If you purchase something mentioned in this article, we may earn a small commission.
November 19, 2021 — 14:04 PM
One of those classic—and, in my family, polarizing—Thanksgiving dishes is a green bean casserole. Traditionally made with canned condensed soup, prepacked french fried onions, and, of course, green beans, it's a combo of three key flavors: a rich creamy base, fresh beans, and a crisp salty topping. But with heavily processed ingredients, it's not the most nutritious dish on a table.
While there are healthier ways to make a traditional version of the dish, I've always liked re-imagining holiday dishes with related, but unique, recipes. This take on green beans, from Christopher Kimball's newest book Milk Street Vegetables, has those same key flavors as the original recipe: fresh green beans, a creamy base, and salty crunch. Where it differs is in the lack of mushroom or onion flavor, instead going for cumin and sesame as the dominant flavors.
In terms of planning for your holiday, this dish is roasted in the oven just as the casserole is baked, so there are no worries about needing extra stove space. "Roasting coaxes the sweetness out of green beans and develops caramelized flavors in a way that steaming and blanching cannot," writes Kimball, though he does warn: "Keep an eye on the beans as they roast, as they can go from perfectly tender-crisp to mushy quickly."
Paired with a creamy sauce of tahini, lemon, and garlic, this novel way of cooking green beans is a fantastic way to add more texture to the dish—and your holiday table.
Sesame & Cumin Roasted Green Beans With Tahini Sauce
2 tablespoons lemon juice
1 medium garlic clove, finely grated
1 pound green beans, trimmed
1 tablespoon neutral oil
1 tablespoon sesame seeds
2 teaspoons cumin seeds
Kosher salt and ground black pepper
¼ cup tahini
2 tablespoons extra-virgin olive oil
⅓ cup lightly packed fresh cilantro, chopped
Heat the oven to 450°F with a rack in the middle position. In a small bowl, stir together the lemon juice and garlic; let stand for about 10 minutes.
In a large bowl, toss the beans with the neutral oil, sesame seeds, cumin seeds, and ½ teaspoon each salt and pepper. Distribute in an even layer on a rimmed baking sheet, and roast until the beans are tender-crisp and well browned, 12 to 15 minutes. Don't bother stirring the beans as they roast. They'll brown more deeply if they're left alone, and as long as they're spread in an even layer, they'll cook evenly.
When the beans are almost done, whisk the tahini and olive oil into the lemon-garlic mixture, then add 3 tablespoons water and whisk until smooth. Taste and season with salt and pepper. Spread the tahini sauce onto a serving platter.
Remove the green beans from the oven and transfer to the platter on top of the sauce. Sprinkle with the cilantro.
Excerpted from MILK STREET VEGETABLES by Christopher Kimball. Copyright © 2021 by CPK Media, LLC. Photography by Connie Miller of CB Creative, Used with permission of Voracious, an imprint of Little, Brown and Company. New York, NY. All rights reserved.
https://www.mindbodygreen.com/articles/roasted-green-with-tahini-sauce