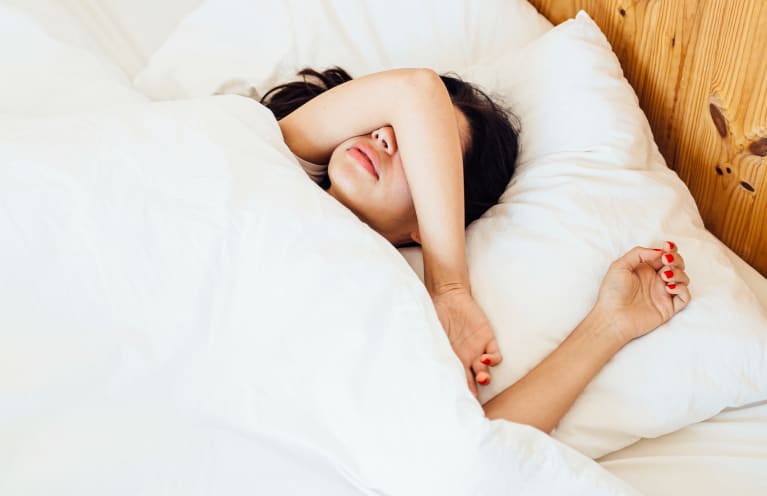 Our editors have independently chosen the products listed on this page. If you purchase something mentioned in this article, we may earn a small commission.
December 28, 2021 — 12:04 PM
There's nothing more frustrating than tossing and turning at night, desperate to get a good night's sleep. That's where melatonin may come in handy.
A popular sleep aid, melatonin's job is to help regulate the circadian rhythm and keep the sleep-wake cycle on track. But if you frequently take melatonin or have recently tried it to get on a sleep schedule, you might find it's not as effective as it should be. Here's why and what to do about it.
What melatonin is used for.
"The most popular use of melatonin is for people who have trouble falling asleep," says Alex Dimitriu, M.D., who is double board-certified in psychiatry and sleep medicine and is the founder of Menlo Park Psychiatry & Sleep Medicine in Menlo Park, California.
"Melatonin is also referred to as the 'hormone of darkness,' because it's produced by the pineal gland in response to low light, like the evening sunset. It works to help us prepare for sleep and enter those deep sleep stages," he says.
Those with a healthy circadian rhythm (or internal clock) should naturally secrete enough melatonin to send the signal for bedtime. However, factors like stress, excess light from screens, and caffeine can all inhibit its production. Taking melatonin in supplement form is one way people try to get levels of the hormone back on track, but this is also tricky (more on that later).
Melatonin has other nighttime perks, too, adds Jacob Teitelbaum, M.D., a board-certified internist in integrative medicine and sleep expert. "Research has shown that melatonin is a potent antioxidant," Teitelbaum explains, and it can promote digestive health to help people sleep better and more comfortably.
mbg's director of scientific affairs and nutritional supplement expert Ashley Jordan Ferira, Ph.D., RDN, offers up this additional insight: "Taking melatonin, particularly at higher doses, can be linked to undesirable desensitizing phenomena, such as nightmares, grogginess, and headaches." She goes on to say that, "For many people, they require incrementally more melatonin over time to achieve the same effect, which is a futile cycle I recommend folks avoid."
Why your melatonin might not be working.
Time for bed. You've popped a melatonin supplement, tucked yourself in, and wait to drift off to dreamland. And wait. And wait. There are a few reasons you might find yourself counting sheep. Some of the most common ones include:
1.
You have an erratic sleep-wake schedule.
Dimitriu explains that if you're someone who does shift work or works nights, like a nurse, it might be extra difficult to regulate your circadian rhythm.
2.
You have high stress levels.
"Stress, in general, can suppress the hypothalamic sleep control center," says Teitelbaum. "If adrenal stress hormones are too high at bedtime, it will keep your mind racing, making it difficult to sleep. Similarly, if cortisol levels drop in the middle of the night, your blood sugar will fall with it. This causes those middle-of-the-night wake-ups."
3.
You have been taking it for a while.
If you regularly take melatonin, particularly at doses higher than 1 milligram, you might find that its benefits start to wear off over time. This desensitizing effect is why functional medicine doctor Frank Lipman, M.D., recommends taking it for a short period, just to get your body to fall asleep at a new time (say, when you're traveling across time zones or adjusting to a new work schedule) instead of every night.
What to know about melatonin dosage.
When it comes to mixing melatonin with other sleep-promoting supplements, you can also do so if you proceed with caution. Ferira explains that, "lower physiologic melatonin doses that mimic typical nocturnal levels in humans (i.e., 0.3 to 0.5 milligrams) would be recommended if intended for use over the long term."
Melatonin supplements are not suitable for people with diagnosable sleep problems. "Supplements might support healthy sleep, and they might alleviate minor problems, but if you've got a sleep disorder, that's not what they're designed for," Michael Grandner, Ph.D., director of the Sleep and Health Research Program at the University of Arizona, previously told mindbodygreen.
If you're regularly struggling to fall asleep and sleep through the night, Dimitriu says it's smart to consult a health care provider about the problem.
What to do when your melatonin isn't working.
If you're ready to start snoozing and your melatonin isn't as effective as you'd like it to be, there are a few solutions that may help promote sleep:
1.
Practice good sleep hygiene.
"Sleep, as well as natural melatonin production, does well with rhythm," says Dimitriu. "Regular bed and wake times go a long way and often can achieve more than sleep aids can." Here's a primer on how to get into the groove of a regular bedtime.
2.
Eat protein before bed.
"Particularly if you are someone who wakes up at 2 a.m. or 4 a.m., a 1- to 2-ounce protein snack (like a hard-boiled egg) at bedtime for a few nights can tell you if blood sugar is the culprit behind your disrupted sleep," says Teitelbaum. Hungry for some ideas? Here are sleep experts' go-to nighttime nibbles.
This is one of Dimitriu's hard-set rules—and for good reason. Blue light (which often comes from devices) suppresses melatonin secretion, which means scrolling through social media before bed will do little to help your body naturally produce melatonin. This could leave your body at a deficit even if you take additional melatonin to help get you to sleep.
Aim to turn off electronics, dim the lights, and use softer, more yellow bulbs at least an hour before bedtime to keep your circadian rhythm in check.
4.
Try a different type of sleep supplement altogether.
Try a sleep-promoting complex in a multi-ingredient formula like the science-backed ingredients magnesium, jujube, PharmaGABA®, and/or L-theanine.* Magnesium will not cause drowsiness or make a person feel groggy, which is an effect commonly attributed to melatonin. Magnesium can help muscles relax, which in turn can help calm and bring on a better state of mind for sounder sleep.*
Ferira divulges that, "melatonin is, in fact, not my go-to sleep-centric supplement for clients. It's more of a last resort or personalized approach for certain individuals. For starters, melatonin is a hormone, so tread lightly. Secondly, there are loads of ways to optimize sleep hygiene that naturally support circadian rhythm syncing. Lastly, I strongly prefer nutrients, botanicals, and nonhormonal bioactives when it comes to supplements, for sleep or otherwise."*
If a good night's sleep has been elusive for you, mention it to your health care provider and look into nonhormonal sleep aids, particularly safe and effective minerals, herbs, and bioactives like magnesium, jujube, and PharmaGABA®.*