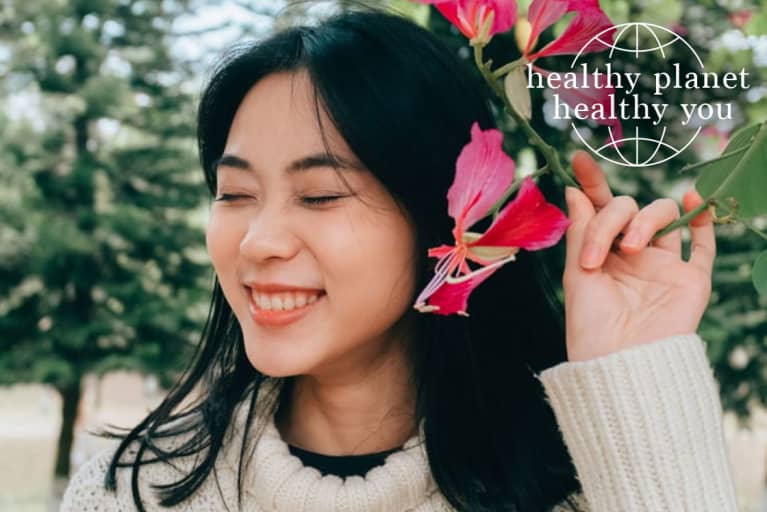 Our editors have independently chosen the products listed on this page. If you purchase something mentioned in this article, we may earn a small commission.
Our new series Healthy Planet, Healthy You explores just how tightly human health and environmental health are intertwined—for better and for worse. Each month, we'll share the latest news on how nature can rejuvenate us on one hand and damage our health when it's not cared for on the other. We'll end with timely tips and tools to help you care for your environment so it can care for you.
1.
Microplastics were just found in human blood for the first time.
Microplastics are tiny pieces of plastic debris that have been discovered buried deep in the ocean, up on the highest mountains, and in our food. The latest place the ubiquitous pollutant was found? Human blood. In a recent study on 22 healthy volunteers, 17 people had microplastic particles in their blood samples. The researchers say that this is a sure sign plastic needs to be further studied for its potential impact on human health—not to mention animal and ecosystem well-being. (Read the research here.)
2.
Yet another IPCC report underscores the health threats of climate change.
Continuing the urgency of previous reports, the latest IPCC update focuses on tools that could help us avoid the worst impacts of climate change. The TLDR summary: Plenty of them are already at our disposal—affordable renewable energy, electric cars, green building retrofits—but we need to start scaling them up (and stop taking fossil fuels out of the ground) much faster in order to avoid the worst climate catastrophes. (Read the report here.)
3.
Healthy aquatic environments promote childhood health—especially in girls.
On a more optimistic note, research continues to show the health benefits of preserving the nature we do have. Getting out into forests (or even a cluster of street trees), parks, and hiking trails can leave us feeling restored and reinvigorated, and water environments have plenty of perks of their own. A new study found that children who live closer to blue space (coasts, lakes, and rivers) tended to engage in more physical activity and have a higher self-reported quality of life than those who lived farther from water. The connection was stronger for girls than it was for boys in this research out of Australia. (Read the research here.)
4.
Green cover is associated with reduced health care costs.
By comparing the health care records of over five million people in the Kaiser Permanente health care network with satellite imagery in California, researchers found that those with higher levels of residential green cover had lower direct health care costs. On average, those in the greenest neighborhoods paid $374 less per year than those who lived in the neighborhoods that lacked green space—another sign that equitably preserving nature is an essential (and affordable) public health intervention. (Read the research here.)
Monthly focus: Spring cleaning.
In March and April, we talk a lot about cleaning at mbg—cleaning your home after a winter indoors, cleaning your mindset for the new season. Now is the time to consider how that cleansing and refreshing be applied to your environmental impact.
In the next few weeks, take a moment to check in under your sink and see what bottles can be used up or disposed of responsibly if expired. Take a "less is more" approach to replacing them, and look for cleaners that can tackle multiple jobs with one (ideally plastic-free) bottle.
On a less literal note, you can use the month ahead to clear away any wasteful habits you're ready to let go of and make a new plan for cleaning up your eco-routine. It can start with exploring the nature around you as the weather warms up, but don't let it stop there. Consider how you can then take action to protect these spaces for everyone moving forward.
These resources are here to help:
https://www.mindbodygreen.com/articles/healthy-planet-healthy-you-march-2022