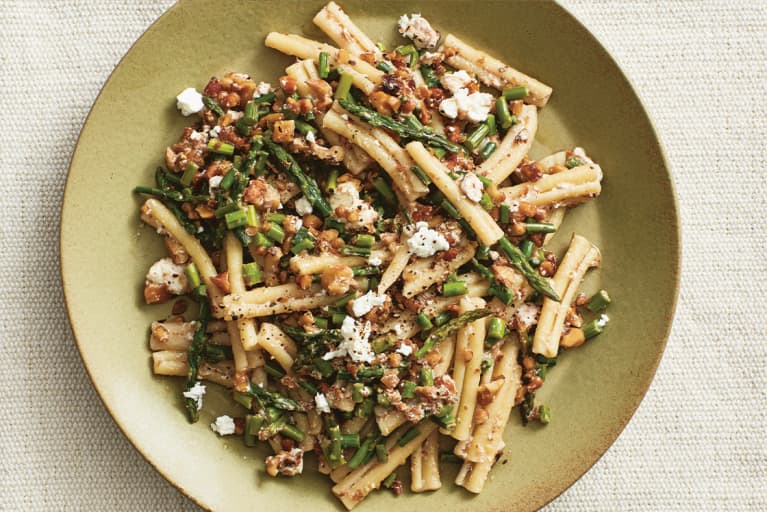 Our editors have independently chosen the products listed on this page. If you purchase something mentioned in this article, we may earn a small commission.
April 18, 2022 — 10:28 AM
When it comes to pasta, I'm easy to impress. A plate (or bowl) of noodles with a bit of olive oil, salt, and pepper is really all it takes. So when I find a pasta recipe that not only honors my hunger, but also supports various aspects of my health, I know I've hit the jackpot. And that's exactly what Ali Slagle's rosemary and walnut pasta does. The recipe developer and New York Times contributor shared this nutrient-dense and oh-so-delicious recipe in her new cookbook I Dream of Dinner (So You Don't Have To).
The dish features two cups of walnuts, which have been studied for their impressive brain-health benefits, namely due to their omega-3 levels. "They're such an amazing source of polyunsaturated fats, which are incredibly important for the integrity of the millions and millions of branches of little arteries that supply oxygen and nutrition to different parts of our brain,*" neurologist Ayesha Sherzai, M.D., once said on the mindbodygreen podcast. And if the walnuts weren't enough, this recipe also calls for a healthy portion of antioxidant-rich olive oil, which has been shown to support cognitive function and longevity.
Another thing I love about this recipe is its flexibility: Slagle provides substitutions for many of the ingredients, so you can use what you prefer or what you have handy! In terms of flavor? This pasta is "pleasantly, sneakily bitter from asparagus, walnuts, and rosemary," she writes in her cookbook.
Pasta with rosemary and fried walnuts
2 cups walnuts (or pistachios or hazelnuts)
1 bunch (about 1 pound) asparagus
1 pound short pasta (i.e. orecchiette, cavatelli, etc.)
½ cup olive oil
1 rosemary spring
4 ounces feta
Bring a large pot of salted water to a boil. Chop 2 cups walnuts (or pistachios or blanched hazelnuts) into pieces the size of a lentil.
Trim 1 bunch asparagus (about 1 pound) and slice crosswise ¼ inch thick.
When the water's boiling, add 1 pound short pasta (orecchiette, cavatelli) and cook until al dente. Reserve 1 cup pasta water, then drain.
While the pasta's cooking, in a large Dutch oven, combine ½ cup olive oil, 1 rosemary sprig, and the walnuts over medium. Season generously with salt and pepper and cook, stirring often, until fragrant and golden brown, 3 to 5 minutes.
Add the asparagus, season with salt and pepper and cook, stirring, until the asparagus is crisp-tender, 1 to 2 minutes.
Remove from the heat and pluck out the rosemary. Crumble in 4 ounces feta, stirring to combine until mostly melted.
Add the pasta to the walnuts and asparagus and cook over medium-low, stirring and adding dribbles of pasta water as needed, until the pasta is well coated.
Season to taste with salt and pepper.
Instead of asparagus, use thinly sliced cauliflower, cabbage, or leeks.
The rosemary could be thyme or sage. Or add fennel seeds, smoked paprika, or red pepper flakes.
Instead of feta, use goat cheese or ricotta.
Reprinted from I Dream of Dinner. Copyright © 2022 by Alexandra Slagle. Photographs copyright © 2022 by Mark Weinberg. Published by Clarkson Potter, an imprint of Random House.
https://www.mindbodygreen.com/articles/support-your-brain-health-with-this-delicious-spring-pasta