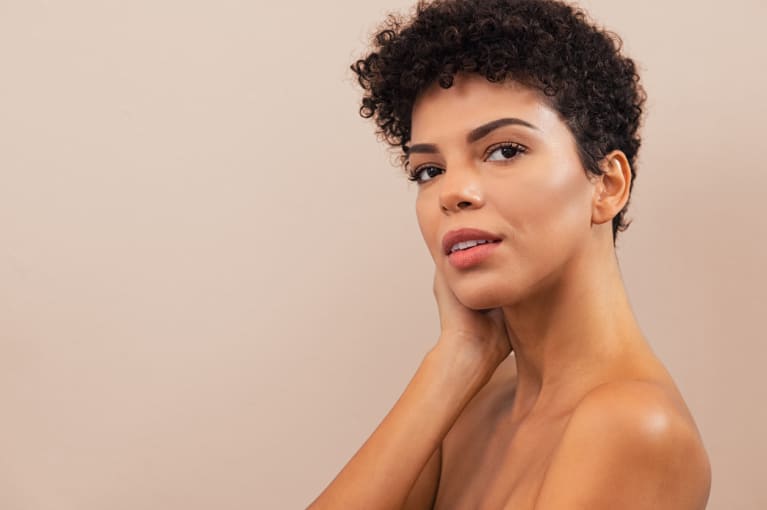 I consider myself to be a confident person, but sensitive patches of red, dry, not to mention just plain uncomfortable skin make me feel a little less so. I was tired of dealing with stubborn and bothersome skin concerns, and I had just about reached my breaking point having dealt with these issues off and on for years. Every decision I made was dictated by the status of my skin. Enough was enough—I was ready for smooth, healthy skin that didn't distract me from everyday life.
I made a commitment to bolster my skin health, and I began to research natural ways to support it beyond the soothing homeopathic solutions I whipped together on an as-needed basis. Enter vitamin D3.*
Learning how to support my skin health.
If you've been down the same rabbit hole as I (and most people who have dealt with skin concerns) have, it's likely you already know your skin's well-being is determined by how well you're taking care of yourself holistically.
In other words: Things like hydration, a well-balanced diet, sleep, exercise, and even stress management, socialization, and emotional health have a profound impact on how your skin looks and feels. The answer to healthy skin isn't a magical cream or serum—it's taking care of yourself in all areas of your life.
How I discovered vitamin D3.
I leaned into this holistic approach to health and made small, consistent changes in my daily life to support my skin as well as I possibly could. 
For example, I adopted an anti-inflammatory diet by consuming fewer foods that might have a part in some of the skin struggles I was experiencing, like wheat and sugar. And while I was following the recommended advice (like eating more leafy greens and taking care of my overall diet), my body still needed something more substantial to support my skin's health.
Why I love mbg's skin-nourishing vitamin D supplement.
When I first read the ingredient list of vitamin D3 potency+, making the switch was a no-brainer. In addition to this 5,000 IU vitamin D3 itself being organic (and coming from a sustainable plant-origin algal source), it also has an organic trio of avocado, olive, and flaxseed oils—all of which are super nourishing to skin cells.* (And as a bonus, healthy fats also aid vitamin D's absorption!)*
I also love mindbodygreen's high-quality amber glass packaging for its sustainability, ability to retain the supplements' quality (especially those organic oils), and its aesthetic (obviously).
I've been taking mbg vitamin D3 potency+ every night for about two months now, and it has made a massive improvement in my skin's clarity and hydration—even compared to the vitamin D3 supplement I was taking before.* I feel like my body is less reactive to foods thanks to upping my vitamin D intake, and my skin health wholeheartedly reflects that.* Even the tougher, more stubborn areas of my skin are improving!* 
I can't recommend mbg's vitamin D3 potency+ enough. After the health benefits I've seen in a short amount of time, I don't ever see myself stopping my daily vitamin D supplementation. 
If you've struggled with skin-related concerns like me, consider trying this incredibly nourishing vitamin D supplement for yourself—you won't regret it!*
If you are pregnant, breastfeeding, or taking medications, consult with your doctor before starting a supplement routine. It is always optimal to consult with a health care provider when considering what supplements are right for you.
https://www.mindbodygreen.com/articles/ravleen-singh-vitamin-d-potency-review