Breakouts pop up at the most inopportune times, don't they? It seems whenever I have a jam-packed week or special event coming up, an angry, stubborn spot makes itself at home on my chin. I try my very best not to poke and prod, but I do fall victim to finicky fingers every once in a while (I'm only human!). To keep myself from going to town on my face, I find it helps to physically cover the zit with a spot treatment or acne patch. Not to mention, both options come infused with skin care ingredients that work to zap the pimple over time—and I always like to have at least one blemish-busting product on hand.
Most recently, I tested a free sample of the Dr. Barbara Sturm Stinky Pimple Treatment on my inflamed zit, and come morning, I was floored. My pimple had all but vanished overnight. 
How the stinky pimple treatment works. 
The treatment comes from Dr. Barbara Sturm's new Microbiotic Collection, which focuses on bringing balance to younger, more acne-prone skin. In the formula, you'll find a blend of pre- and probiotics to nurture the skin microbiome, which is crucial when addressing inflammatory conditions like acne. Remember: The microflora on your skin is a vital part of barrier function, which makes the skin less permeable (meaning, bad stuff can seep through; good stuff can get out). 
It also contains panthenol and allantoin to help calm irritation and redness. Panthenol, in particular, can also help with the wound healing process, attract moisture, and encourage skin regeneration—all good things when you're dealing with blemishes. 
But let's address the stinky elephant in the room, shall we? Like its name suggests, the treatment smells…less than stellar. The formula contains shale oil, which has a pungent, sulfur-like odor. Topically, shale oil has been found to enhance wound healing and provide antimicrobial properties, so rest assured, the brand didn't add the stench for no reason. It smells the strongest upon application, but I don't even notice the scent once the formula dries down (just in case you were worried about wearing it during the day). 
On that note, the formula also includes rice starch, which has a mattifying, oil-absorbing effect. So if you'd like to treat and cover up a zit, you could easily apply a thin layer, let it dry, then dab on some concealer. 
Dr. Barbara Sturm The Ultimate Stinky Pimple Treatment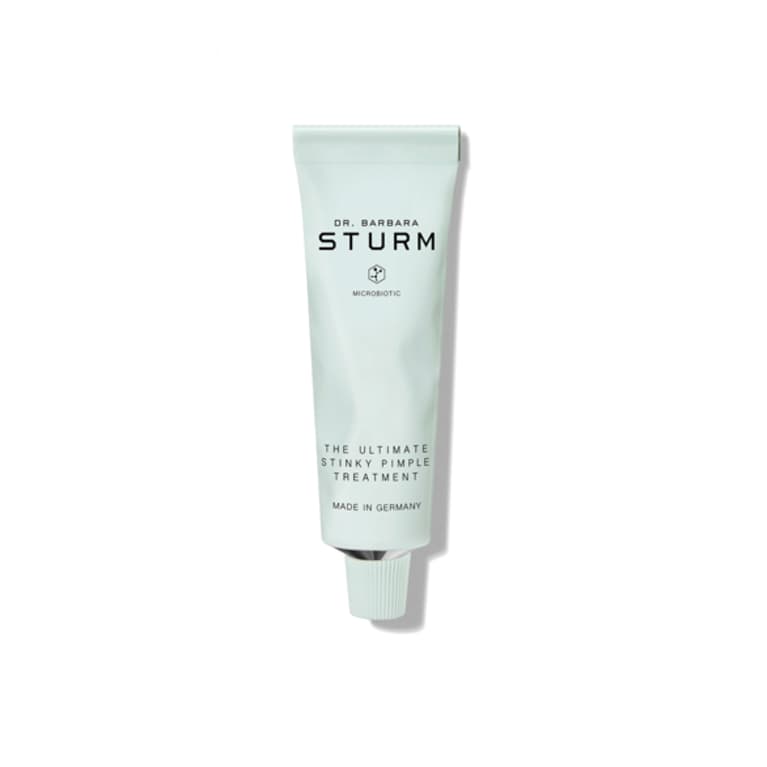 Dr. Barbara Sturm
Dr. Barbara Sturm The Ultimate Stinky Pimple Treatment
$35
Recently, I woke up to a tender, angry-looking blemish (lucky me!), and it was officially time to put the Dr. Barbara Sturm treatment to the test. After my full nighttime skin care routine, I dabbed the treatment onto the zit. I let the formula dry down for about 10 minutes, slapped an acne patch over the spot, and went to bed. The hydrocolloid patch plays double duty: It helps suck all the extra gunk out of the blemish and prevents me from smudging the smelly goop on my pillow.
The next morning, I was pleasantly surprised by how flat the blemish became. I fell asleep with a raised and pretty irritated zit, and when I woke up, the pimple practically halved in size. Thanks to the formula's soothing ingredients, the breakout was also way less red, which made it much easier to mask with concealer. I repeated this same process every night for a week, until the zit completely faded like a memory. Considering how long I have had to deal with stubborn blemishes in the past (and the subsequent hyperpigmentation from picking at the spot), I deem this routine a total win.  
The Ultimate Stinky Treatment has become my answer to tender, angry spots. Dr. Barbara Sturm is known for luxury skin care offerings, but this $35 tube is one of the brand's most affordable products. It does smell pungent as you unscrew the cap, but that's just the shale oil doing its work—and when you wake up with calm, clearer skin, it's easy to overcome a stinky scent.