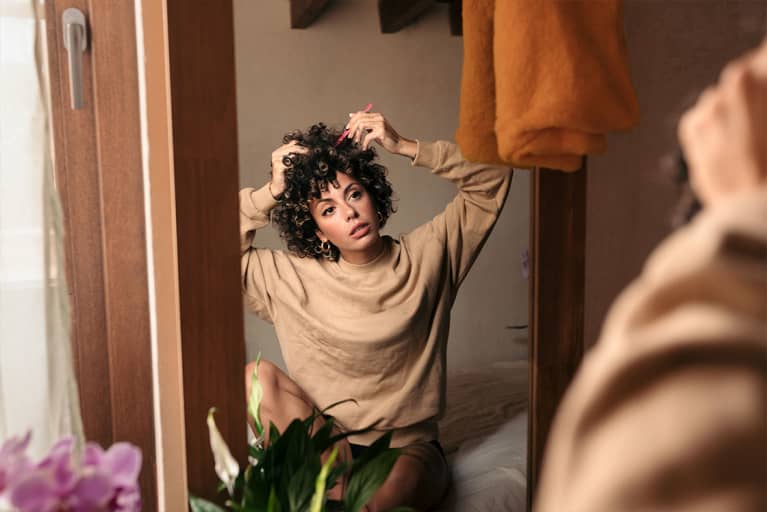 Our editors have independently chosen the products listed on this page. If you purchase something mentioned in this article, we may earn a small commission.
We know there are hair supplements out there with ingredients that boast incredible hair growth benefits (we see you, collagen), but what if your multi could not only address nutrient gaps but also promote long, luscious locks?* 
No, we won't pinch you, and you aren't dreaming, either—it turns out a high-quality, comprehensive multivitamin can truly cover all the bases for supporting whole-body health (including healthy hair).*
The thing is, no one seems to be talking about all the incredible ways a multi can promote hair growth.* Let's change that.
Key multi ingredients that promote hair growth.
It turns out there are quite a few mane-boosting vitamins and minerals that are commonly included in good multivitamin formulas (and a few that aren't as common, like botanical bioactives, but made it into mbg's ultimate multivitamin+). 
So, without further ado, here are the top multi ingredients that support hair growth.
Biotin may be the other darling of hair supplement formulas alongside collagen, but B7 isn't the only B vitamin that boosts hair growth.*
Folic acid (aka folate or vitamin B9) is heavily involved with new cell synthesis, which can support the hair growth phase by promoting keratinization.* Meanwhile, niacin (aka B3) does its part by promoting blood flow to the scalp, which helps bolster overall hair health.* 
This essential vitamin promotes hair growth on two fronts. First, it increases the absorption of critical hair-boosting mineral iron (more on iron's hair benefits in a moment).* Second, it works as a potent antioxidant to help maintain oxidative balance on the scalp.* 
This fat-soluble antioxidant vitamin is often touted for its skin benefits, but it happens to be a well-rounded beauty supplement ingredient that supports more than just skin health.* With free-radical-quenching and collagen-promoting properties, vitamin E is a valuable ingredient for helping your hair grow and grow.* 
According to Gaunitz, iron is the single most important micronutrient when it comes to hair growth.* Without enough iron from diet and supplementation, hair volume will decline to compensate for your body's overall iron needs, so ensuring you're getting enough of this essential mineral (and actually absorbing it) is critical.* 
Globally important for whole-body well-being and downright vital to skin and hair health, we had to include antioxidants as its own category in this list of mane management multi ingredients.* Thanks to their role in combating oxidative stress by fighting free radicals, antioxidants are able to help buffer against hair shedding, dullness, graying, and other hair concerns.*
In addition to the antioxidants already mentioned (i.e., vitamins C, E, and even D), mbg's ultimate multivitamin+ also includes carotenoids vitamin A (aka beta-carotene), lutein, lycopene, and zeaxanthin, along with master antioxidant glutathione, piperine, and resveratrol to really round out hair growth support and whole-body health benefits.* 
How to choose a mane-boosting multivitamin.
So, there you have it. Making sure your multi includes ingredients from this list of mane-boosting vitamins, minerals, and botanicals is a surefire way to promote hair growth and health.*
That said, you should make sure that the multivitamin you ultimately choose includes efficacious doses (i.e., the formula doesn't "fairy dust" any vital vitamins or minerals) and that the most bioavailable form of each ingredient is included.* Many multivitamins miss out on crucial micronutrients like B vitamins and iron, as well as phytonutrients (lutein, zeaxanthin, lycopene, resveratrol, etc.), so reading the label and doing your research is key! 
If you're looking for a clean, vegan, high-potency multivitamin that's next level for women and men that includes all of the nutrients above to help support hair growth and bolster your overall hair health, consider mbg's comprehensive multivitamin—your whole body (and hair!) will thank you.*
If you are pregnant, breastfeeding, or taking medications, consult with your doctor before starting a supplement routine. It is always optimal to consult with a health care provider when considering what supplements are right for you.
https://www.mindbodygreen.com/articles/how-quality-multivitamins-can-promote-hair-growth