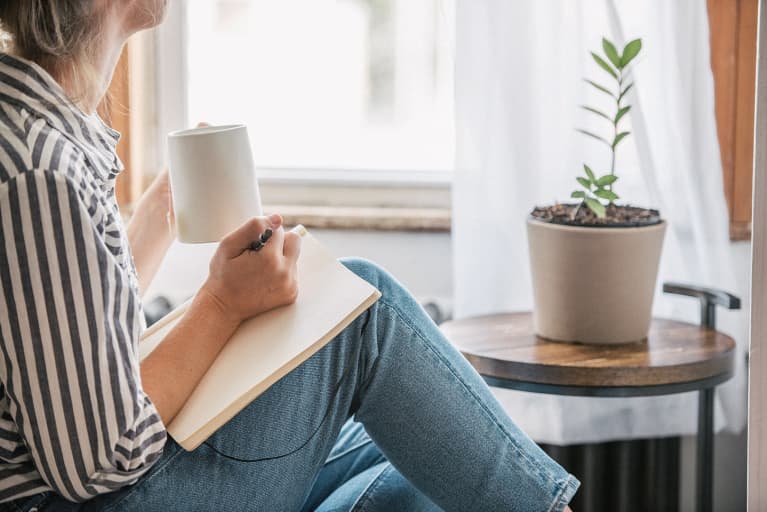 September 12, 2021 — 10:04 AM
How often do you wake up Sunday morning thinking about the work week ahead of you? What level of anxiety and stress do you feel about your to-do list on the weekends? Not many people dub Sunday their favorite day of the week—but what is it that makes this day so challenging? Simple: our culture places a tremendous value on productivity and does not place as much value on rest.
You may be having brunch with friends, but your thoughts are with your team, your projects, or the meal prepping that needs to get done. Instead of dealing with the Sunday Scaries though, you can be intentional about how you spend your day, and set up your week for both happiness and success.
Before you take active steps to make your Sunday more enjoyable, first you need to reframe Sundays in your mind as a great day! Be optimistic that you can make this day of the week one of your favorites. Your happiness and well-being will significantly increase by single-tasking and informal mindfulness. As you move through the day, use your five senses and breath to connect to each activity that you are doing.
When you notice your mind wandering—to work, to responsibilities, etc.—bring your attention back to yourself and the moment. You deserve time off and rest. Take it, and enjoy it.
Once you work on that, you'll be able to master the other four steps.
Neuroscience research shows that adults need seven to nine hours of sleep consistently per night. This amount of sleep benefits brain health, focus, memory, decision making, your immune system, and helps to ease stress and anxiousness. By choosing to go to sleep on the earlier side Saturday night, you will feel a lot happier all-day Sunday!
Yes, you might need to give up one more Netflix show or leave a gathering a little earlier, but if you struggle with anxiousness on Sundays, this could be a game-changer for you. Try to keep a consistent bedtime and wake-up time on the weekends as you do on weekdays. Set a reminder on your phone, place the word primer "rested" or "calm" in your bathroom, turn off technology an hour before you go to sleep on Saturday nights, and notice how happy you feel Sunday mornings when you wake up. (Check out our all-time favorite products and resources for better rest here.)
2.
Morning movement & meditation in nature 
You know that exercise is extremely valuable for your spiritual, physical, psychological, emotional, and relational well-being. You may have a Sunday exercise routine already in your schedule where you take a class or go to the gym. To set yourself up for a really great week and to feel happy on Sunday, start your day by moving outside. Ideas include walking, running, hiking, biking, swimming, roller-skating, outdoor yoga, or surfing. Feelings of joy, calm, awe, connection, and positivity will increase tremendously if you move your body under the open sky. Listen to great music or a podcast or the sounds of nature all around you. Do not let bad weather deter you, a run in the rain is equal to a therapy session to me!
After you finish your Mother Nature Movement, find a quiet place to meditate for 10 to 20 minutes. You can sit in complete silence with your breath or follow a guided meditation. Consistent meditation changes the physical shape of your prefrontal cortex and makes you feel calmer and more resilient. You will have more tools to deal with the week's challenges and will bounce back from adversity. 
3.
Reflective & forward-looking journaling
It is very easy to have the habit of thinking and worrying about the projects and work that you have coming up in a new week. Our brains have a negativity bias and are constantly scanning the world for "danger" and potential events to be concerned about.
Create a ritual where you sit down in a quiet place and consciously review your previous week. During this exercise, reflect on all areas of your life, not only what you achieved or accomplished. What did you learn? What was challenging? How did you grow? What made you feel content and proud? Grab a cup of your favorite tea or coffee and write in a notebook that makes you smile when you hold it.
The next step is to journal about the next seven days. How do you want to feel during the week? What will you prioritize to take care of your mind, your physical body, and your spirit? Write down your big goals and create boundaries so that you accomplish what you want and need to. Be thankful that you had the opportunity to finish another week and that you get to create a new one. 
4.
Tech-free family or friends time
Sundays are for savoring. The number one predictor of happiness is human connection. This means spending time with people that you care about and who care about you. The happiest people in the world according to the 2020 World Happiness Report, are the Scandinavians and they spend a lot of time with friends and family daily. A happy Sunday includes time with friends and family where you are present.
I challenge you to leave your phone in your bag and ringer off if possible. Imagine that you will not see this friend or family member for a while and savor the time together. Show up fully and practice active listening. When your mind wanders to your calendar or email inbox, bring it back to where you are and congratulate yourself for noticing. Try a new activity, do charity work together, find an event where you can learn something new, and connect in nature.
With intention, reframing, and choosing behaviors that increase your joy, you can absolutely turn Sundays into one of your favorite days of the week.
https://www.mindbodygreen.com/articles/design-a-happy-sunday-for-a-successful-week