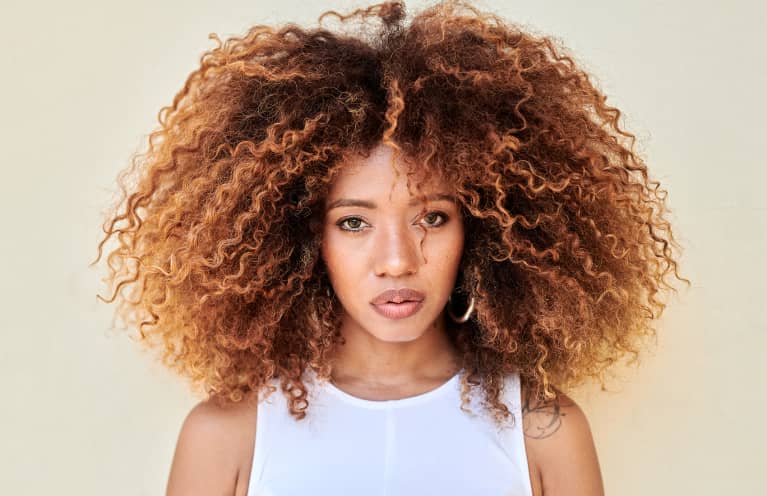 September 27, 2021 — 9:03 AM
"Curls are not made to be perfect. People have so many different curl patterns that grow out of their head that go in all different directions. Once I learned that about my own hair, it helped me embrace the chaos in life. It helped me embrace the differences and diversity of everything," says curly hair expert Sunny, founder of the wellness and hair salon Lumiere Vive, on the most recent episode of Clean Beauty School. "So when I look at curls, it's not just the hair itself; it's a spiritual experience of just embracing every part of who you are." 
In this episode, we dive into our love of curls, dealing with damage and so much more. She also gives us some pretty impressive hair care tips—including these underrated steps to care for lush, full, healthy hair: 
First things first: "If the hair is heat damaged, there's nothing I'm going to be able to do. There's no treatment that's going to help. If your hair is burnt, you're going to have to trim or cut it off," says Sunny. Yes, heat damage can be that harsh on the hair, especially if it's fragile to begin with (like coils and curls tend to be). 
Sunny says she'll never give hard advice on how much is too much ("If you want to heat style your hair, I'm never going to tell someone not to. If you end up with damage, well you lived your life," she jokes). Instead, it's more important to understand your own hair's tolerance to heat, keeping your hot tools on the lowest setting, not focusing on one section too much, and always using heat protection.
2.
Eat well & stay hydrated.
We say this a lot around here: Healthy hair and skin start internally. "Eating healthy and drinking a lot of water is my No. 1 tip for growing your hair because if you're eating poorly and you're really not drinking a lot of water, your body and your hair is going to show it," she says. 
Don't know where to start? Here are some of our favorite healthy foods: Eggs offer protein and biotin, berries provide antioxidants to reduce free radical damage, fish can provide omega fatty acids, and avocados can offer lipids and vitamin E.  
When people think curls or damaged strands, the most common advice is to load up on hydration. Don't get us wrong: You should! But you also need to be smart about cleansing and removing buildup. 
"People don't really know that buildup is something that can loosen your curl pattern. If you have a lot of oils, sweat, dirt, and products on your hair—it's going to weigh the hair down and stretch out the pattern," she says. "If your hair isn't full and bouncy, it's a sign you need to clarify your hair." 
Clarifying shampoos are stronger cleansers that can open up the cuticle to remove excess buildup. (Check out our favorite clarifying shampoos.) Because they are so strong, you'll want to be smart about how often you use them—Sunny says once a month or so is a good start. 
https://www.mindbodygreen.com/articles/best-curly-hair-tips-from-a-top-expert