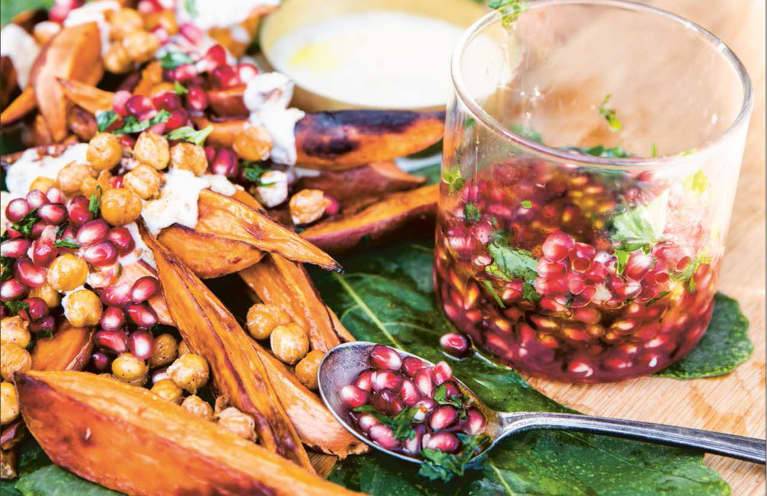 Our editors have independently chosen the products listed on this page. If you purchase something mentioned in this article, we may earn a small commission.
September 12, 2021 — 13:04 PM
Fall is nearly here, which means we're back into one of my favorite seasons for food: roasted root veggie season! And while simple baked sweet potato fries are undeniably delicious, these ones from Helene Henderson of the Malibu Farm restaurants, goes one step further. Get ready for the ultimate version of this classic side.
From her new cookbook, Malibu Farm Sunrise to Sunset, this recipe pairs baked pieces of sweet potato with a tangy tahini sauce and pomegranate seeds. On their own, sweet potatoes are packed with vitamin A, vitamin C, manganese, vitamin B6, magnesium, and potassium. Then the pomegranate seeds add antioxidants, while tahini offers some healthy fats to balance the dish's nutrients.
Make it this weekend, bookmark it for the upcoming holiday season, or both!
4 sweet potatoes
Olive oil
1 cup Pucker Up Tahini Sauce (below)
¼ cup chopped fresh parsley, for garnish (optional)
½ cup pomegranate seeds (optional)
Preheat the oven to 400°F.
First we need to zebra-peel the skin on our sweet potatoes. A little skin holds the sweet potatoes together; too much skin gets chewy. With a vegetable peeler, peel the potatoes in lengthwise strips, removing half the skin. Then cut the sweet potatoes into wedges, 4 to 6 wedges per half potato, depending on how thick you cut them. Place the wedges on a sheet pan that is greased with olive oil. Do not crowd your pan.
Bake for about 8 minutes, or until the underside is browned and crisp. Turn the fries over to brown the other side, about 5 minutes. Remove and dry the sweet potato fries on paper towels.
To serve the sweet potatoes, drizzle them with the Pucker Up Tahini Sauce. Garnish with the parsley and pomegranate seeds, if using.
½ cup tahini (sesame seed paste)
Juice from 1 lemon
¼ cup hot water
1 garlic clove, grated
3 tablespoons olive oil
Salt to taste
1 tablespoon honey, agave, or maple syrup (optional)
Spoon the tahini into a small bowl, and then add the lemon juice. The mixture will seize up and get stiff, so thin it with the ¼ cup hot water to make a smoother sauce. Add the garlic and olive oil, and season to taste with salt. For a sweeter sauce, stir in the honey, agave, or maple syrup
Note: Can you make your own tahini? Yes, of course. Just throw your toasted hulled sesame seeds (about 1 cup) into a food processor and grind them fine. Add a little salt and 2 tablespoons olive or vegetable oil to make a paste. If you have toasted sesame seed oil gathering dust in the fridge, add 1 teaspoon; if not, skip it. And, if desired, add 1 tablespoon honey, agave, or maple syrup for a sweeter sauce.
Reprinted from MALIBU FARM SUNRISE TO SUNSET by Helene Henderson. Copyright © 2021 by Helene Henderson. Published by Clarkson Potter, an imprint of Random House, a division of Penguin Random House LLC.
https://www.mindbodygreen.com/articles/sweet-potato-fries-with-tahini-sauce