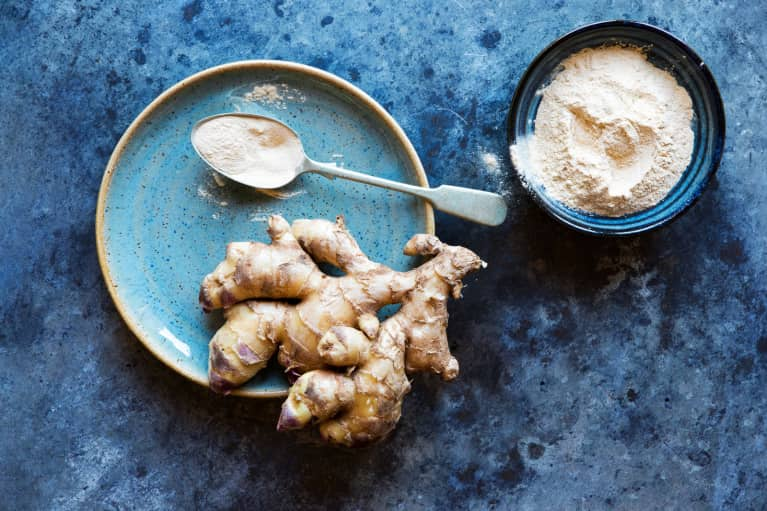 November 3, 2021 — 14:27 PM
Cooking with ginger is an easy way to add flavor to any meal. With health benefits that range from boosting digestion to easing inflammation, there's good reason to use it regularly. The only thing is, peeling fresh ginger can be something of a hassle, and I often find myself scraping half the flesh of the ginger away in the process. Well, as it turns out, there's a much better way to go about preparing it.
What's the best way to peel ginger?
Apparently, the best way might be to not peel it at all. Leave it to Kanchan Koya, Ph.D. (aka @chiefspicemama) to totally blow our minds with a fun fact: Ginger skin is edible, so peeling isn't necessary. According to Koya, the skin actually "contains two times the beneficial polyphenols as the flesh and importantly, unique and distinct compounds." Since the skin is somewhat fibrous, this technique works best when you're using the ginger in things like broths or tea, when the ginger will be sieved out.
But Koya also gives a tip for peeling the ginger, for those times you don't want texture in the final plate: Instead of reaching for a knife, use a spoon—you'll preserve more of the ginger by scraping the skin off with a spoon, as opposed to slicing it with a knife or peeler.
How to use ginger this fall
This time of year, ginger, is particularly perfect for creating warming dishes that will also help support your immune system. "Ginger is not just a flavorful addition to your meal; it's been used for thousands of years as a tool for soothing the stomach due to its calming herbal bioactive properties," writes functional medicine practitioner Will Cole, IFMCP, DNM, D.C. on mindbodygreen.
We love using this potent ingredient in soups, stews, and drinks to really enhance that warming flavor with a warm and cozy dish. You can find all our favorite recipes here.
https://www.mindbodygreen.com/articles/best-way-to-peel-ginger