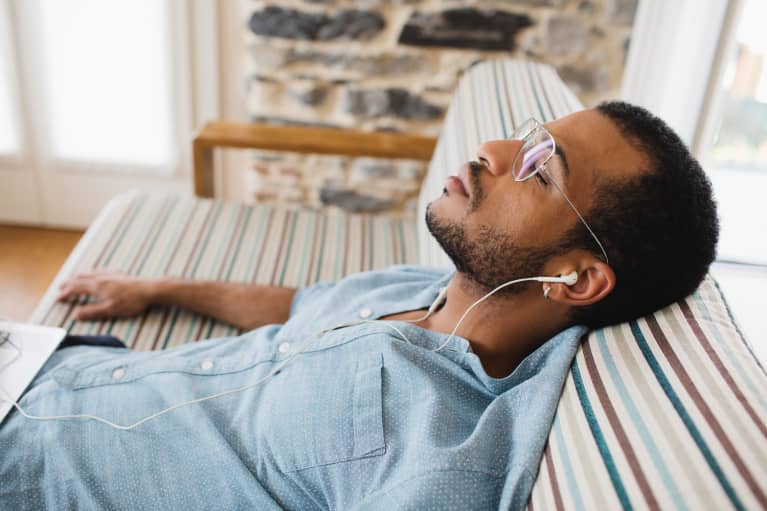 Our editors have independently chosen the products listed on this page. If you purchase something mentioned in this article, we may earn a small commission.
November 20, 2021 — 1:04 AM
If you ever feel like you're failing because your sleep habits aren't the best, maybe this will comfort you: Even the man who is tasked with making sure Americans have the best health information available (aka the U.S. Surgeon General) struggles with it too.
Vivek Murthy, M.D., MBA, the current surgeon general, appeared on the Smartless podcast with Jason Bateman, Sean Hayes, and Will Arnett this week, and he fessed up to some less-than-stellar sleep habits himself.
The 3 things that stop him from getting optimal sleep.
When explaining just why sleep is an issue for him, Murthy pointed to a few different things—many of which are abundantly relatable. (And because the hosts did ask, no, it's not texts from the president keeping him up.)
"It's a couple of things," he shared. "One is I've never been somebody who's consistent about sleep across my life, so it's been kind of a lifelong struggle. The second thing, I've generally operated as a night owl most of my life, but I have to get up very early." And the third? He's got kids.
"They're three and a half and five—and my 5-year-old son just refuses to sleep if I'm not actually next to him in the bed," said Murthy. "It's embarrassing because I'm probably a bad parent for this, but we just let him sleep with me, and my daughter sleeps with my wife, and we somehow figure it out… It's what we do for our kids."
What the surgeon general says he should be doing (that we can all learn from).
As a foremost leader in the health space, Murthy knows exactly where he's going wrong—and what he should be doing instead.
"What I really should be doing is I should be sleeping somewhere around eight hours," he said. "I should be sleeping at a consistent time at night. And I should be keeping distractions away from me, like phones."
All those factors are components of what's known as sleep hygiene, which is broadly defined by the CDC as "good sleep habits," like turning off electronics before bed, not eating or drinking alcohol too close to bedtime, and going to sleep at the same time every night.
The problem for Murthy and, we suspect, many other people, isn't a lack of desire to do these things: "That's something I want to do," he says, "but I've struggled… I haven't prioritized and executed on getting to bed."
He's not the only expert who struggles to prioritize a healthy sleep routine in their own life. mbg's co-founder Colleen Wachob got less than ideal sleep for two decades before finding a solution that worked for her (which you can read more about here!).
Moral of the story: Nobody's perfect. Practicing good sleep hygiene is just that—a practice. If you keep missing the mark on healthy sleep habits, don't beat yourself up. Instead, remind yourself why deep sleep is so important to overall health, and make it as much of a priority as you can, given the other constraints in your life.
https://www.mindbodygreen.com/articles/surgeon-general-sleep-advice