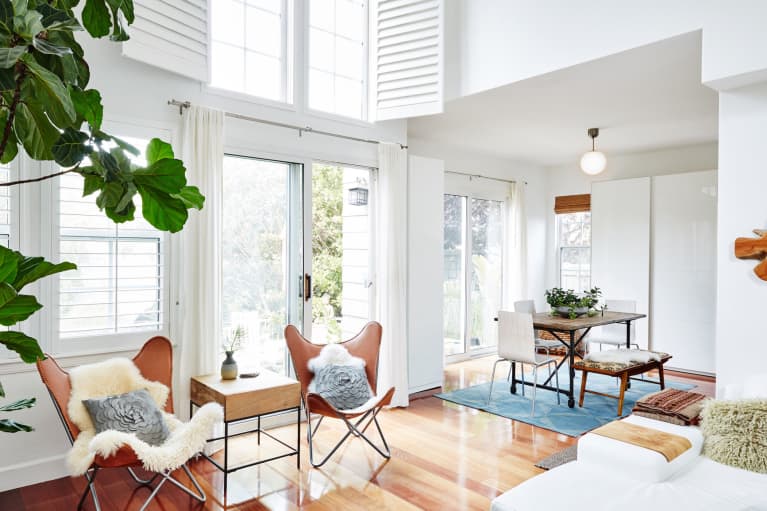 Our editors have independently chosen the products listed on this page. If you purchase something mentioned in this article, we may earn a small commission.
August 11, 2021 — 18:04 PM
The average person takes around 20,000 breaths per day, the majority of which usually occur indoors—either at work or at home.
This means that keeping your home's air in tiptop shape and free of potentially harmful particles should be a top priority. If you live in a remote area with high outdoor air quality, opening your windows is one way to clear allergens and irritants from your air. If you live in a polluted city or have a preexisting respiratory condition, you might want to consider buying an air purifier. But keep in mind: Not all air purifiers are created equal.
The most important thing to look for in an air purifier.
While all air purifiers are able to remove particles from the air, the size of the particle they are able to remove is what matters most. Particulate matter, VOCs, flame retardants, phthalates, sulfur dioxide, and nitrogen oxide are some of the most important things to filter from the air—all of which are incredibly small.
The technology behind each purification system is what will allow it to remove particles that are invisible to the naked eye. The smaller the particles it can remove, typically the better quality air you will breathe, so I look for products that remove the smallest particle possible (often measured in microns) without any harmful emissions, consistently.
I've found that many companies make claims about what the purifier is capable of removing instead of what it actually removes regularly. You don't want an air purifier that "sometimes" removes pollutants; you want one that always removes pollutants. To find one, you'll need to look into how each model performs during air-quality testing. After digging into the research, there are two models that I trust and recommend:
One of my favorite air filters is the Super V Whole Home Air Purifier from Intellipure. When pitted against other popular air purifiers, Intellipure models perform very well in side-by-side air-quality comparisons.
This unit is on the pricey side since it essentially converts your central A/C system into a massive air purifier. This serves two functions: First, it prevents these microparticles from getting into the coil loops of your A/C. Once they're trapped in there, they can build up over time and cause mold or other air-quality issues. Second, it turns the "lungs of the home" into a purifier that can improve air quality across multiple rooms.
In summertime heat waves especially, A/C systems are prone to malfunction when they run all the time, especially without the proper filtration. Installing an air-purification system into your HVAC reduces the likelihood of this happening and provides better air quality in the process.
If you don't have a central A/C or don't want to shell out for a larger system, I also love the technology behind the portable unit made by Pure Wellness. Again, the key to success is how small of a particle it can remove and how often it can do it. This unit can remove 99.99-plus% of harmful viruses, fungi molds, and bacteria down to 0.007 micron in size—a fraction of the diameter of human hair.
While an air purifier isn't going to solve an air pollution problem like mold, it can certainly help reduce the amount of dust and other pathogens that come into our homes. When shopping for a new one, I believe that the size of the particle it can filter is the most important factor to look for. With that being said, if you think you have a problem bigger than an air purifier can handle, I always recommend contacting an air-quality professional to assess further.
https://www.mindbodygreen.com/articles/mold-expert-on-air-filters