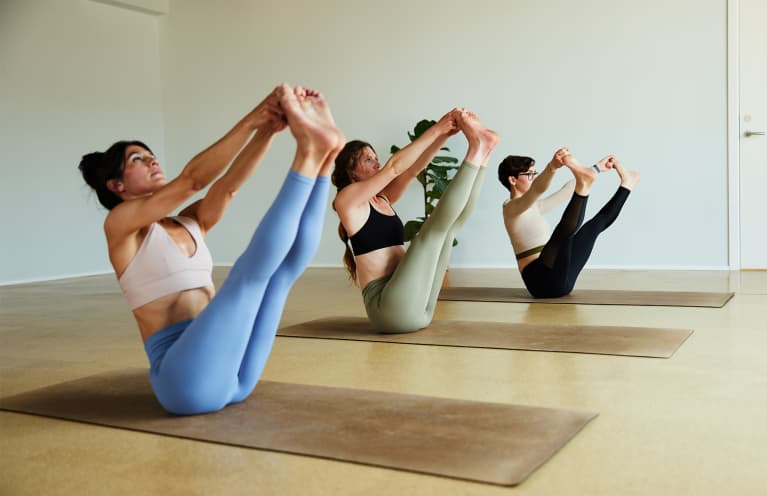 October 12, 2021 — 12:32 PM
For many women, pregnancy brings about lifestyle changes. All of a sudden, diets shift toward satisfying cravings and keeping upset at bay. Skin care routines change toward more baby-safe formulas. And for many, they prioritize rest and relaxation when they can. 
Well for Emily DiDonato—supermodel, entrepreneur, content creator, and mom-to-be—it meant tweaking her fitness routine, too. 
As she told me recently on an episode of Clean Beauty School, she's typically a fan of hyper robust workouts, like high intensity interval training (HIIT) and lifting weights specifically. But as she went along in her pregnancy, she started a newfound Pilates routine. (Oh, and if you want to listen in, check out her episode recap here.) 
The real reason this model started doing Pilates. 
"I've been doing Pilates once or twice a week since I've been pregnant just because my doctor recommended it. She said women could do Pilates give birth faster. She swears by it," DiDonato says.
Record scratch—what? I figured parents-in-waiting would be intrigued to know more, so I dug in and it's totally true. A study published in BMC Pregnancy and Childbirth in July of this year found that regular mild to moderate Pilates during pregnancy helped improve the birthing experience for participants. 
The study found that practicing during pregnancy significantly reduced the pain intensity, length of the labor (specifically during the active and secondary phase)—and overall just increased maternal satisfaction of the entire process. The study authors noted that a larger sample size would be needed to confirm the findings, but pretty optimistic findings from the onset. 
"Otherwise I don't know if I'd do it—since I like more high intensity workouts—but anything for a smooth labor I guess" she jokes. 
As this website has espoused before, Pilates comes with many benefits (read up here!), and now we can add labor to the list. Pregnant people, take notes.
https://www.mindbodygreen.com/articles/pilates-helps-women-give-birth-faster-and-with-less-pain