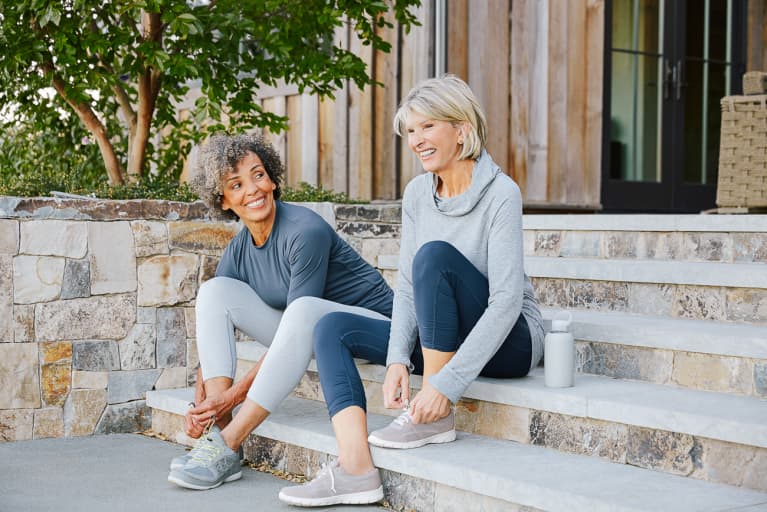 August 13, 2021 — 16:20 PM
I've heard many a middle-aged family member tell me their metabolism "just isn't what it was in their 20s." And while aging does usher in several changes, a new study published in the journal Science says changes in your energy expenditure (i.e., metabolism) may not happen as early as you'd think. 
To get the most accurate and comprehensive data on metabolism's average peak and decline, researchers gathered various studies into one single database, called the IAEA Doubly Labelled Water (DLW) Database. Together, the researchers analyzed the daily energy expenditure of more than 6,600 people between 8 days and 95 years old. 
In order to figure out how many calories each participant burned in one day (doing vital activities like breathing, digesting, pumping blood, and everyday movement like using stairs, washing the dishes, fidgeting, etc.), researchers used a urine test method called "doubly labeled water," which measures how quickly certain molecules are flushed out of the body. Based on the data they gathered, here's what the researchers found.
Much to the authors' surprise, growth spurts in puberty did not play a role in a speedy metabolism. The actual peak happens much, much earlier in life—as in, the first 12 months. 
At 1 year old, babies are burning calories 50% faster for their size than an adult does. "Something is happening inside a baby's cells to make them more active, and we don't know what those processes are yet," study co-author Herman Pontzer, Ph.D., said in a news release. 
Following that first year of life, the research shows that metabolism slows down by about 3% every year until it levels to a new normal in the 20s.
This might explain why kids start becoming pickier (i.e., experiencing an "appetite slump") at around 2 years old. As parenting expert Emily Oster, Ph.D., explained during an episode of the mindbodygreen podcast, "At some point early on in toddlerhood…kids get less hungry. That's fine. They don't need as many calories, [so] they aren't eating quite as much as they did before." 
When metabolism starts to slow down.
Another surprise to the authors? Midlife (and menopause, for that matter) did not play a role in slowing metabolism. Between participants' 20s, 30s, 40s, and 50s, their energy expenditures remained stable. They didn't start declining until after 60 years old, and even then it was gradual (about 0.7% per year.) 
Loss of muscle mass and the slowing down of cells are two possible explanations for this change later in life, Pontzer explained. "All of this points to the conclusion that tissue metabolism—the work that the cells are doing—is changing over the course of the lifespan in ways we haven't fully appreciated before," he said. In other words, a healthy metabolism may have more to do with cellular health versus chronological age alone. 
"These changes shed light on human development and aging and should help shape nutrition and health strategies across the life span," the study states. And while the body does begin changing in its 60s, it's never too late to start implementing longevity rituals to help enhance your quality of life and potentially extend its length.
https://www.mindbodygreen.com/articles/study-findings-metabolism-peak-decline