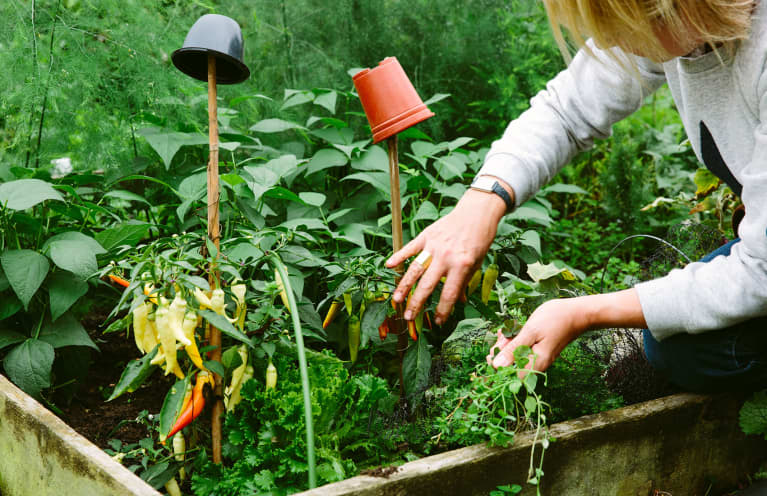 Our editors have independently chosen the products listed on this page. If you purchase something mentioned in this article, we may earn a small commission.
August 3, 2021 — 18:10 PM
Peter Piper was on to something: Peppers are one of the best vegetables to pick at home for canning, grilling, and of course, pickling. They come in lots of nutrient-dense and often anti-inflammatory varieties—all of which are voracious growers in a hot, sunny garden.
"Anyone can grow peppers—I'm convinced," Ashlie Thomas, a North Carolina–based organic gardener, recently told mbg. "You underestimate their production…they can take a while to germinate, but once they get going, it's on."
From shishitos to serranos, bananas to bells, here's your starter guide to growing all sorts of peppers at home.
If you're new to growing peppers, Emily Murphy, an organic gardener and the author of Grow What You Love, recommends buying a few plants instead of starting from seed. That way, you can take a season to see which varieties you have the most luck with and use the most in your kitchen. Just plant them a few weeks after your last spring frost has passed, as they need warm conditions to thrive.
Since they do take a while to germinate, "if you're going to grow them from seed, you'll want to start them indoors about eight weeks before you plan to transplant them out," says Murphy. While some varieties take longer to mature than others, two months is a good starting point. Again, use your last frost as a guide: If that tends to fall in early April, start your seeds in early February (these seed starting kits make the process super easy).
Be sure to place your seeds in lightweight but nutrient-dense soil. Murphy likes to use a mix of coconut coir, fir bark, and worm castings or a basic compost. Once they sprout indoors, you'll want to be absolutely sure that warmer days are ahead before putting them in the ground. Wait for two to three weeks after the last frost to be safe.
The name of the game here is giving your peppers as much warmth and light as possible. A southwestern-facing spot in the garden will give them maximum sun exposure, so that's where Murphy recommends trying to plant them first. If that isn't possible, look for the sunniest spot in your yard that sits next to a fence, wall, or building. "That way, you're benefiting from that radiant heat that's coming from that structure," she says.
"What's really cool about peppers is that they don't take up much space, so you can do companion planting a little more easily," Murphy adds. If your soil allows, pack them in tight and surround them with pollinator-friendly native plants or fellow fruits and veggies that have similar needs, like tomatoes.
Again, peppers crave the heat. In addition to placing them in a sunny spot, you'll want to make sure to give them soil that holds warmth nicely. That's where topdressing comes in: Apply a thin layer of mulch, straw, or compost to your pepper bed a few weeks into the growing season to trap excess heat and build soil health. Murphy cautions against adding these amendments too early in the season, as they could invite earwigs to your young and vulnerable peppers.
Once they've spent a few weeks in the ground, Thomas says that pepper plants will be "pretty low-maintenance and forgiving."
"The general rule of thumb is a gallon of water per plant per week," Murphy says. "When you translate that into real life, the best way to water pepper plants is at the ground level."
You can use a drip irrigation system or soaker hose, or just let your standard hose run on a very slow dribble at the base of your plants for a few minutes. The trick is to keep their soil moist but not soaking. "Peppers in particular really don't like wet feet," Murphy adds, so stick your fingers in the surrounding soil before you water. If it's still a little damp from the last soak, you can give it some more time.
While it depends on the variety, peppers will typically be ready for the taking eight to 12 weeks after they go in the ground. From there, depending on your climate, you can enjoy two to three months of near-limitless picking.
"You could get a ton of peppers off of five plants, honestly," says Murphy, who is enjoying lots of homegrown jalapeños, Fresno chilies, and hot peppers this year. Luckily, she says there's plenty to do with the haul, with sweet-spicy chili jam being her favorite preparation. You could also whip yours up into a veggie-packed lasagna, vegan shakshuka, zingy hummus, or fresh summer salad.
If you're looking to extract some of that sharp, pepper flavor without the mouth-numbing heat, you can play around with how long you leave your peppers on the plant. Sweet peppers tend to grow sweeter the longer they stay in the ground, while hot peppers only get hotter the longer you leave them.
"Picking hot peppers earlier may yield a milder pepper, depending on the variety," Murphy says. "The trick is to pick them when they're firm and smell good—otherwise, there's lots of room to experiment."
If you live in an area that gets lots of heat and sun, there could be a productive pepper patch in your future. Start gathering your seeds now, and you'll be ready to grow, grow, grow next summer.
https://www.mindbodygreen.com/articles/how-to-grow-peppers-at-home