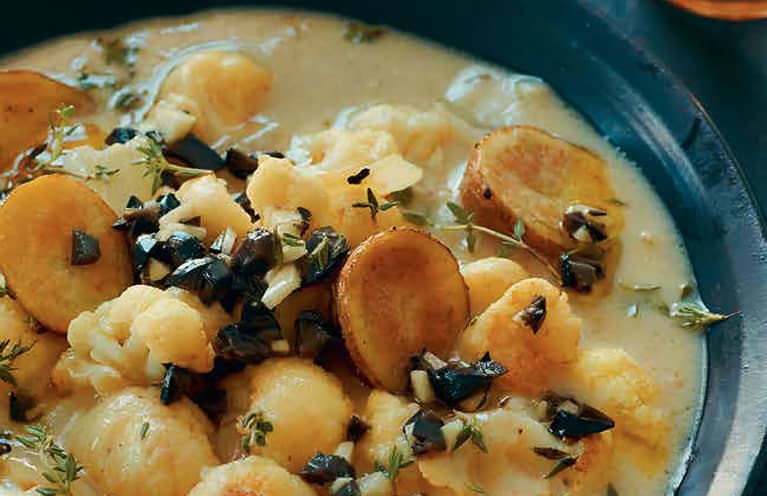 Our editors have independently chosen the products listed on this page. If you purchase something mentioned in this article, we may earn a small commission.
September 21, 2021 — 23:02 PM
Sometimes, you just want your dinner to be as warming and comforting as a hug—and if there's one food that's always that, it's chowder. But while most hinge on some seafood inclusion, this recipe from Danny Seo's latest cookbook Naturally, Delicious Dinners is totally vegan and gluten-free too.
"Talk about the perfect large pot of soup to make on a snowy day," Seo writes. "This is a creamy dairy-free chowder. It's the oat flour that gives it that thick, creamy consistency." If you don't have oat flour, it's handy enough to DIY if you have rolled oats: Just pop them in a blender or food processor until they turn to a flour texture.
In addition to the chowder recipe itself, Seo also provides directions for tasty toppings to add texture to the dish: some crispy potatoes and a gremolata. The latter is an Italian condiment made of chopped green herbs citrus, sometimes with other flavors (for example, this one features olives for brininess). "Good to know: when making the gremolata, avoid bitter undernotes by making sure to not use the pith of the lemon," advises Seo.
While his accompaniments sound divine, you could always just reach for a slice of fresh homemade bread or another topping, or just enjoy this slightly cheesy (thanks to nutritional yeast) chowder all on its own.
Creamy Cauliflower Chowder With Olive-Thyme Gremolata
3 tablespoons olive oil
1 medium onion, diced
2 teaspoons sea salt
1 medium cauliflower, cut into florets (approximately 6 cups)
3 cloves garlic, minced
¼ cup oat flour
¼ cup nutritional yeast
4 cups vegetable broth
For the roasted potatoes:
1 pound baby golden potatoes, halved
2 tablespoons olive oil
1 teaspoon sea salt
¼ cup pitted black olives
1 tablespoon olive oil
5 sprigs thyme
1 small clove garlic, minced
1 lemon, zested and juiced
To make the chowder: Warm olive oil in a medium pot over medium heat. Add onion and salt and cook for 2 minutes, stirring occasionally. Add cauliflower florets and continue to cook for additional 5 minutes.
Add garlic, flour, and nutritional yeast and cook for an additional minute. Add broth and bring mixture to a simmer. Cook, covered, for 20–25 minutes, or until cauliflower is tender. While the soup cooks, prepare the potatoes.
To make the potatoes: Preheat oven to 375°F. Line a baking tray with parchment paper.
Toss potatoes with olive oil and salt. Spread into a single layer on prepared baking tray. Roast for 25 minutes, or until cooked through and golden.
To make the gremolata: Rinse and chop olives coarsely and add to a small bowl with olive oil.
Remove stems from thyme for approximately 1 teaspoon leaves. Add to olive mixture, along with garlic and lemon juice and zest. Allow gremolata to marinate for at least 5 minutes before serving.
Serve chowder hot, garnished with roasted baby golden potatoes and olive-thyme gremolata.
Creamy Cauliflower Chowder With Olive-Thyme Gremolata recipe excerpted from Naturally, Delicious Dinners by Danny Seo. Photography credit: Alexandra Grablewski.
https://www.mindbodygreen.com/articles/creamy-vegan-cauliflower-chowder